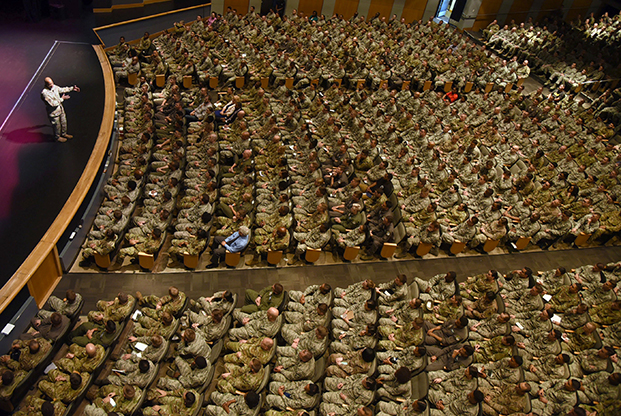 CMSAF Kaleth O. Wright addresses the concept of wingmen and Total Force resiliency at an enlisted all-call at Rose State College near Tinker AFB, Okla. Photo: Kelly White/USAF
TINKER AFB, Okla.—
Chief Master Sergeant of the Air Force Kaleth O. Wright wants airmen to have a plan. It should be specific and ambitious.
In his meetings with airmen, from one-stripers to senior noncommissioned officers, Wright asks airmen what they want from life, from their families, from their careers. Most in the room share generic answers: Be the best they can be. Be a good father. Make a difference.
Wright wants more.
"You are good people," he told a gathering of noncommissioned officers at Tinker AFB, Okla., recently. "But you are crappy dreamers." Welcome to the Chief Wright show. The popular CMSAF fills auditoriums regularly and attracts crowds of followers to line up afterward for pictures, like a rock star in combat utilities.
Achieving one's dreams means being specific, Wright says. Determine your goal and write it down. Early in his career, Wright decided he wanted to be Chief Master Sergeant of the Air Force. About 29 years later, he got the opportunity. Now, with about a year left in his four-year tenure, Wright says he still has one big goal to achieve: overhaul the enlisted evaluation system before he "drops the mic" and heads into retirement.
That done, Wright says he will hang up the uniform, move to Texas, start a second career coaching leadership. And open a cigar bar.
"I'm pretty excited about transitioning, and leaving it all on the field," Wright told Air Force Magazine during a series of visits to bases across the South in July. "I've had a great career, and I've really enjoyed it. But I really am ready to transition to something new."
Wright became Chief Master Sergeant of the Air Force in early 2017. As a dental assistant, he got off to a rocky start, full of discipline issues and a lack of motivation—"I was in my own way," he said. Wright found mentors and evolved into teaching, then leadership roles. He decided he wanted to reach the top of USAF enlisted ranks and, despite a large failure in his first test as a command chief (it took harsh words from an airman under him to light the fire he needed, he says), he made it.
Wright became the Air Force's top enlisted member in the midst of a budget crisis, job cuts, and low morale. Then he hit the road.
Since taking office, he's averaged 280 days traveling per year. That's 75 percent of his time, or 23 days a month, an op tempo as stiff as any in the service. He travels with a small team, piled into small executive transport aircraft, such as C-12 Hurons or C-21 Learjets, launching from his home base at JB Andrews, Md., to bases across the country and abroad, often traveling alongside Chief of Staff Gen. David L. Goldfein.
Fueled by tall cans of AriZona Arnold Palmer drinks and family-size bags Smartfood white cheddar popcorn, Wright blasts through hours-long itineraries, featuring visits with commanders, briefings on base initiatives, coining ceremonies to recognize exemplary performers, small group visits with airmen of all ranks, and finishing up with all-call gatherings.
When meeting with senior noncommissioned officers, Wright likes to test them with questions about Air Force priorities. Most of the answers are incorrect—points Wright uses to drive home his message that airmen need to take it upon themselves to learn more about the Air Force's broader mission.
Younger airmen quiz Wright about how to navigate their careers, sharing concerns about the promotion process, and posing questions about the generational divide between new airmen and elder statesman NCOs.
The visits "help us get a real-life worldview and understanding of what airmen are going through, like the challenges," Wright says. "It would be easy to ask the chiefs to send in a weekly report to say, 'Hey, this is what's good and what's bad.' But being out here, being on the ground with airmen and seeing the conditions that they work in, and see[ing] the conditions in which they live, it really helps us figure out how to prioritize where we should be advising, or pushing, or advocating. I think it's important—at any level of leadership—to get out in the spaces that people you serve actually live and work and gain that understanding so you can best help them."
Wright's regular contact with airmen, whether on bases, on Facebook, on his "Ask Me Anything" discussions on Reddit, and soon on a planned video game streaming event on Twitch, have made Wright a celebrity among airmen. During recent base visits, airmen showed off Wright memes in their offices, pictures of the CMSAF with catchy or inspirational phrases. Airmen brag online about their interactions, showing off morale patches depicting Wright, some featuring an Internet nickname—"Enlisted Jesus"—which makes Wright uncomfortable.
At all-calls, Wright shares his priorities and answers questions such as, "When are you making changes to the PT test" or "How can you improve the enlisted promotion system"
The all-calls are so popular that, at Tinker, officials had to employ a ticketing system and rent a 1,400-seat auditorium at an off-base college. After speaking for an hour-and-a-half, Wright posed for selfies while airmen, lined up single-file for more than an hour waiting their turn. Almost instantly, the photos were posted to Instagram and Facebook as excited airmen bragged about the interaction.
In the year ahead, Wright is pushing for a major overhaul of the service's enlisted performance management evaluation system.
"It's one of the more important things that we need to be able to do as a force is drive performance, to get the most out of the airmen that we have, to best utilize the skills that they bring to the table, to be able to provide them clear and concise feedback, and give them the best opportunity to succeed," Wright says. "So we need a performance management system that can give them all the best opportunities to become the best version of themselves and promote them at the right point in their careers with the right skills and the right experience."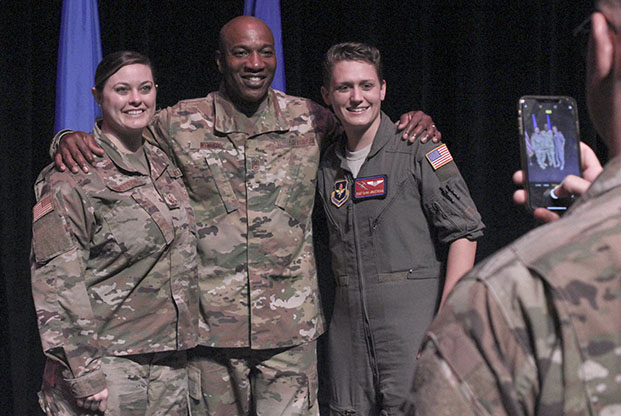 Airmen stand in line for up to an hour to take a picture with the top enlisted member of the US Air Force, CMSAF Kaleth O. Wright. Airmen brag about their interactions with Wright, showing off memes and morale patches featuring his likeness. Photo: Brian Everstine/staff
SPECIFICALLY, WRIGHT WANTS TO:
Revise the Weighted Airman Promotion System tests. Wright calls the exams a "dodo bird" headed for extinction. Airmen competing for promotion to staff sergeant and technical sergeant are compared based on enlisted performance reports, the promotion fitness examination, and a specialty knowledge test. Wright wants to drop the knowledge test, because the future performance of an NCO can't be predicted by an exam that one can study for in a few days and forget a few days later.
Increase performance reporting. Wright says feedback and "the whole continuum of development and promotion" should be improved to get a better grasp on how to effectively progress each airman's career.
Improve physical fitness. Wright is calling for a more holistically healthy Air Force, one where vegetables pair with birthday cake, and a fairer physical fitness system can be put in place. While the PT test is still alive for the foreseeable future, the Air Force is looking at ways to improve the test so airmen can focus more on "overall fitness, health, and wellness," Wright says, rather than be punished for falling short.
First, Wright wants to implement a "bad day" policy for the PT test: If an airman has a sub-par test, he advocates "no harm, no foul, no discipline," Wright says. Instead, airmen should have 45 days to "get yourself together" and retake the test. If the airman passes that first test, then it counts. Wright also wants the Air Force to stop judging short and tall airmen by the same abdominal circumference standard.
Currently, the Air Force PT test model functions as a carrot and a stick: An airman can pass their PT test with flying colors, earning a "baby carrot," like a positive mark on a performance review, Wright says. But when airmen fails, they get whacked with successive blows, from a negative mark up to expulsion from service.
The test is "too heavily weighted on the negative side," Wright says. Airmen who are good at their jobs can be passed over for promotions because of a bad PT test, while airmen without leadership skills get promoted because they have a good one.
Wright (center) and CMSgt. Manny Piniero (left) take an E-3 AWACS briefing from SSgt. Kasey Vance, an engine maintainer with the 552nd Maintenance Squadron at Tinker AFB, Okla., in late July. Photo: Brian Everstine/staff
BEREAVEMENT LEAVE
Another "common sense" change Wright wants: designated time off for bereavement for the death of a family member or similar emergency. Under current rules, airmen must use regular leave. This doesn't make sense, Wright explained, pointing to his own experience: For the first 17 years or so of his Air Force career, Wright played basketball and never had a problem getting approval for temporary duty travel for games. But when he needed to travel for family emergencies, he says, he had to use leave.
The Air Force needs to be more flexible, he argues. Often, approved personal leave lasts only a couple of days, too short to make arrangements when a parent has died when funeral or estate arrangements must be made, he says.
Wright would like the Air Force to allow up to 14 days of bereavement leave on top of other forms of time off, although he hasn't made a formal proposal.
Others are pushing back on the bereavement leave idea, he says.
"Someone looked and said, 'Hey, the average E-4 or E-5 has a set number of days of leave on the books already, and they should be using that leave,'" Wright says. "That may be true. But fundamentally, I think [bereavement leave is] the right thing to do."
Once this to-do list is done, and Wright passes his last PT test, he'll put in his papers. And though he could compete to fill the military's overall top enlisted position—senior enlisted adviser to the Chairman of the Joint Chiefs of Staff—that job doesn't interest him.
"It's not something I've thought about," he says. "I'll be right around 32 years when I transition, and for my last two jobs I've been traveling. I don't want to commit to four additional years of traveling the world, so I'm pretty excited about transitioning, and leaving it all on the field. I've had a great career and I've enjoyed it, but I really am ready to transition to something new."
Those 32 years of service and assignments all over the world—and the relationships they came with—will highlight his memories in retirement, Wright says, not necessarily the to-do list of changes he wants to check off.
"I won't say that I won't remember any of the 'we fixed this, we changed that, we made this better,'" Wright says. "I know, for a fact, what I'll cherish the most and spend the most time thinking about, and perhaps missing, [it] will be these trips, the time I get to spend with the team who are on these trips. I'm pretty sure I know somebody at every base in the Air Force.
"So that's what I'll spend the most time thinking about, all the relationships. Folks I've had the opportunity to influence, to watch … grow up and blossom throughout their careers."