Hangars once used to protect Tyndall's aircraft from the elements lie scattered across the flight line. Photo: Staff Sgt. Alexander Henninger
Two days before Hurricane Michael pummeled the Florida panhandle with 150-mph winds, it was still just a tropical storm. The biggest threat then seemed to be the potential for a storm surge and flooding.
Then the forecast worsened. The 325th Fighter Wing commander, Col. Brian S. Laidlaw evacuated the base, dispatching most of its aircraft and all but 90 base personnel, who weathered the storm in the base's most hardened structures. When it was over, even those buildings were damaged, and 95 percent of Tyndall's 1,300 structures were severely damaged or destroyed.
Now comes the hard part: Deciding what to do next.
Almost instantly, local politicians, Florida Gov. Rick Scott, and Vice President Mike Pence all pledged Tyndall would be rebuilt. But whether Tyndall will ever be a fully functional military base again or some shadow of its former self—as was the case after Hurricane Andrew destroyed Homestead Air Force Base in southern Florida in 1992—is still unknown.
Before that future can be determined, six questions must be resolved.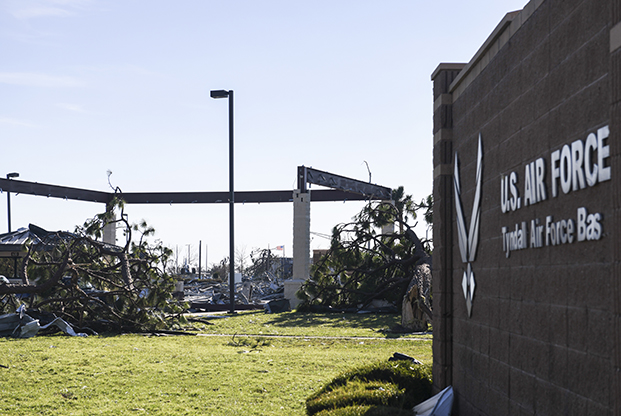 Hurricane Michael made landfall as a catastrophic Category 4 in the afternoon of Oct. 10. The storm virtually demolished the base, causing significant structural damage to the majority of the base and surrounding areas. Photo: SrA. Joseph Pick
1. WHAT'S AT STAKE
Tyndall has "probably a $2.5 billion-a-year economic impact," according to Florida Gov. Rick Scott, and is responsible, in one way or another, "for 20,000 jobs."
Sitting on an 14.5-square-mile peninsula of coastal flatland due south of Panama City, Tyndall has direct access to valuable and expansive military training ranges, ample runway for its training F-22s, purpose-built F-22 simulators, and a separate runway for target drones.
Total damage could top $3.4 billion, based on the estimated replacement value in a 2018 Florida Economic Impact Study. Damage to aircraft was also severe: 17 F-22s were not ready to evacuate when the call came and had to be left behind. Many were damaged—but not so badly they couldn't be repaired and flown off under their own power, over the weeks that followed. By Oct. 30, all but two had flown to JB Langley-Eustis, Va. Other aircraft were also damaged. Their repair costs had not been estimated by early November, but could easily run into tens of millions of dollars.
Tyndall is home to the schoolhouse for F-22 Raptor pilots; an operational Raptor squadron; Air Operations Center; and extensive USAF air-to-air weapons testing and training, hosting QF-16s and other types of target drones and T-38 trainers that serve as adversaries for F-22s.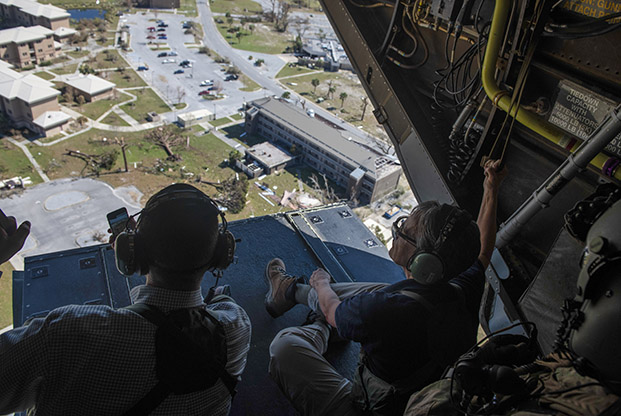 John Henderson (l), the Assistant Secretary of the Air Force for Installations, Environment, and Energy, and Secretary of the Air Force Heather Wilson survey the aftermath of Hurricane Michael from a CV-22. Photo: SSgt. Ryan Conroy
2. SHOULD TYNDALL BE REBUILT
Some argue the Air Force already has more base infrastructure than it can afford and that closing additional bases would benefit the service and the nation.
A 2016 Defense Department study that found the Air Force had 32 percent more basing capacity than it needs. Consolidating to fewer installations would save billions if Congress would permit another round of base closures. But lawmakers never warmed to the Base Realignment and Closure process, which is designed to minimize the influence of individual congressmen and also costs votes back home.
Congress rejected that report, countering that closures could preclude future expansion plans if the Air Force needed to grow. Indeed, just weeks before Tyndall was leveled, the Air Force rolled out an ambitious vision to grow the force by 24 percent by 2030, reaching 386 operational squadrons in order to meet the demands of the National Security Strategy.
Yet, will Hurricane Michael make a decision for the Air Force and Congress that was otherwise untenable? Should Tyndall be abandoned
Retired Gen. Herbert J. "Hawk" Carlisle, who headed Air Combat Command from 2014 to 2017 and is now president of the National Defense Industrial Association, says no. The Air Force may have bases it doesn't need, but Tyndall isn't one of them.
"There are too many attributes to that base and that area," Carlisle said in an October interview. "It's one of the places we need. So I don't see this as nature doing us a favor."
Retired Gen. Gilmary "Mike" Hostage, another former ACC commander, said Tyndall is a unique asset that can't be duplicated elsewhere.
"Tyndall is in an excellent location for us, right on the edge of the Gulf" of Mexico, where the training range lets Raptor pilot trainees fly at supersonic speeds, Hostage said, and missile tests can target unpiloted drones, because there is "relatively little populace around." The open airspace, even though it is shared with Eglin and Hurlburt, gives new F-22 pilots maneuver room to make mistakes without major risks, Hostage said.
"It would be very hard to move the F-22 training location," Hostage said. "Plus, the simulator infrastructure that's already established there would be expensive to replicate somewhere else."
Tyndall has eight full-motion simulators—formidable physical structures anchored to their concrete floors with elaborate electronic and hydraulic support. Initial reports from the base suggest the simulator facility was one of the few that took only minor damage in the storm. No other F-22 base boasts as many simulators.
As for the target drone operation, "there's really nowhere else to put it," Hostage asserted. Targets hit with live missiles fall into the sea, minimizing the risk of debris falling on people or property.
One mission that could go elsewhere, however, is the AOC, which is responsible for the air defense of the United State homeland. In fact, that mission was quickly moved to an undisclosed location, US Northern Command chief Gen. Terrence J. O'Shaughnessy said during an Oct. 10 press conference. "We have other nodes in other places where we can actually do the same command and control mission set and, seamlessly, transition."
Air Force Secretary Heather Wilson promised the Tyndall AOC and its staff of 800 will be back in business by Jan. 1, 2019.

An airman takes notes on the destruction at Tyndall Oct. 14. Special tactics airmen had a runway open for business shortly after 7 p.m. Oct. 11, the day after the devastating storm. Photo: Photos: TSgt. Sandra Welch
3. WILL TYNDALL EVER BE THE SAME
Near the end of his tenure at ACC, Carlisle said the Air Force studied bases and what they might look like in the future, in terms of amenities and support.
A base can be self-contained, "like the old days and the way it is today," he said, "where the base includes all the work infrastructure—the runways, hangars, office space, the simulators," as well as a base exchange, commissary, bowling alley, golf course, restaurants and housing. Or it coud be minimized, where the Air Force provides a work facility but all those other things are "available right off base, so we don't have to pay for that."
An in-between approach called for "some housing and … more sought-after facilities for family childcare, things like that," he said, while still not trying to replicate services available outside the gate.
While Tyndall is not geographically far from nearby Hurlburt or Eglin Air Force Base, the 90-minute travel time is not workable for routine commuting.
"That's a pretty long drive," he said, though "people do it."
The full complement of airmen and families at Tyndall was about 11,000 people. For now, at least, F-22 training is temporarily reassigned to Eglin, and a tent city has sprung up amid Tyndall's rubble, housing 1,300 construction and recovery airmen on what is effectively an expeditionary site.
Vice President Pence said the objective of the administration is "that the families that serve here are able to return here as quickly as possible," and that with the support of local congressional representatives, "we'll have the resources to rebuild Tyndall."
Sen. Bill Nelson (D), who was running for a fourth term, insisted Oct. 16 that Tyndall would not suffer the fate of Homestead Air Force Base, which was destroyed by Hurricane Andrew in 1992. Once slated for closure, Homestead eventually was rebuilt as a Reserve base, regaining about 80 percent of its former capabilities, Nelson noted.
But Tyndall, he said, is even more valuable, "critically located next to one of our greatest assets,"—the Gulf test and training range. A member of the Senate Armed Services Committee, he said Tyndall must be "rebuilt as a modern Air Force facility."
Rep. Neal Dunn (R), whose district encompasses Tyndall, said in a statement that the storm's destruction represents "an opportunity for us to plan for the future and build a base that fulfills the future needs of our airmen, whether that be state-of-the-art drone-ready simulation buildings" or modern hangars with up-to-date technology. "We will rebuild and come back better than ever," he said.
Nelson, Dunn, and Sen. Marco Rubio (R) said in a joint letter to Wilson they are committed to funding the base's reconstruction, and they followed with a letter to President Donald J. Trump saying it is "imperative" the base be repaired "as quickly as possible … to protect and promote US national security interests."
Tyndall could potentially be converted to an "expeditionary" base. But Hostage said slimming it down probably wouldn't save too much money in the long run. Reducing the mission or footprint at Tyndall might be perceived as weakening the base's chances in future BRAC processes, and Florida's delegation would fight against such a move.
Utimately, the only way to save large amounts of money is to close something down completely, he said. Facilities not rebuilt at Tyndall would have to be built at a neighboring base, "so, once I clean off the debris at Tyndall, why wouldn't I put it right back where it was?" Taking "a little bit away … isn't going to save anybody anything."
Closing Tyndall and turning it over to the local community would also incur cleanup and remediation costs, Hostage said. "My guess is that there's things lurking that would cause us all kind of remediation issues before we could turn it over to civilians."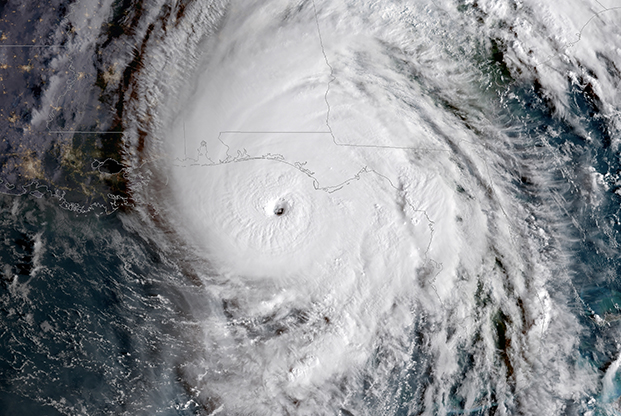 This Oct. 10 satellite image of Hurricane Michael shows the storm less than 90 miles southwest of Panama City, Fla. Photo by NOAA.
4. CAN BASES BE STORM-PROOF
Michael was the fourth major hurricane to make landfall in the US in less than two years and the second within a month. Coming on the heels of many other "once-in-100-years storms," hardening coastal bases is of significant concern.
Hostage said there are both physical risks and probabilities to consider. True, he said, a billion dollars' worth of Raptors—USAF's most capable and short-stocked fighter—might have been destroyed when they were left inside hangars that were never intended to withstand a Category 5 storm.
But investing in hardened facilities that can withstand 150 mph winds is a bet on the weather. "You're spending a lot of money on a very miniscule probability," Hostage said. "How frequently would I have to take a hit to justify spending the money to save a $300 million airplane?"
Few existing hangars were "meant to withstand the strength of the hurricane that hit [Tyndall], even though they had hurricanes like that back in the day," Hostage said. The engineering understanding, standards, and codes to build stronger structures didn't exist then, he said.
Today, that's different. The Air Force will not "replace flimsy buildings with flimsy buildings," Hostage insisted. "If all we did was rebuild … to modern code," Hostage said, "that would represent a significant improvement" in the base's resiliency to storms.
"We wouldn't be allowed to put up sheet metal-sided buildings with wooden frames" today, he said. "It wouldn't meet any kind of code."
Modern code calls for burying power, telephone, and fiber-optic lines and steel straps to help hold roof trusses to structures—and structures to foundations.
Too much of the Air Force's infrastructure is aging, and replacement and upgrade plans aren't keeping up with the need. "Our buildings are on a 100-plus year refit and refurbish schedule," Hostage said. "Our vehicles are on a 100-year schedule. And that's really absurd."
Hostage said it might be worth building some aircraft revetments in the US similar to those USAF has in Europe, the Middle East, or at Kadena AB, Japan—facilities really intended to protect aircraft from missile attack, but which would be equally useful in guarding against ravaging storms.
Rebuilding might not be limited to above ground structures. Modern commercial airports have eliminated fuel trucks, for example. "They bury all the fuel lines in the ramp so that all they do is move a small pump around to refuel the airliners. They don't drive fuel trucks around."
"The problem is, I have to have fuel trucks," Hostage said. The Air Force must remain expeditionary, able to pick up and operate anywhere, anytime, without those amenities. "I have to have people trained to maintain [those trucks] and use them and drive them around, so that when I go to an expeditionary location, I can move fuel around."
So while burying fuel lines "makes good sense from a local standpoint," it may not be a full-fledged solution. Still, "I think that's one of the things we should look at," Hostage added.
Either way, the Air Force will never be able to afford to eliminate all risk, Carlisle said. "You've got to be judicious and [use] due diligence for what potential things can happen to you." At Tyndall, he said, the Air Force will certainly "use all those lessons learned over time and try to minimize the risk and only accept what we absolutely have to."
That includes considering what nature may dish out in the future. "The most probable natural disasters, he said, must "be part of the calculus as you plan and put money into those facilities."

F-22 crew chiefs from the 1st Aircraft Maintenance Squadron, Langley AFB, Va., work on an aircraft at Tyndall AFB, Fla., on Oct. 24. Photo by SSgt. Matthew Lotz.
5. WHAT DID WE LEARN
Tyndall already had a detailed plan to evacuate its thousands of airmen, family members, and aircraft in the event of a major hurricane—and it worked. Chief of Staff Gen. David L. Goldfein said the plan was not only well thought out, but had been "exercised" in the recent past.
The proof of that it worked: No lives were lost. "Things can be replaced," he said. "People can't."
The Air Force took heavy criticism for having left so many aircraft behind. Some armchair generals opined that F-22s could have been loaded into C-5 Galaxies or driven out on flatbed trailers. But dismantling aircraft is not an overnight job. The bigger issue: Ongoing maintenance problems and parts' shortages. With a mission-capable rate under 50 percent, it was arguably a triumph that so many F-22s did make it out—and so few had to be left behind.
"You're never going to get 100 percent of your airframes," Hostage said. "There's always some airplanes that are non-flyable. So we put them in the sturdiest of hangars, put them in the sections of the hangars that are least likely to fall down. But when the hurricane scores a bull's-eye, there's only so much protection you can do."

This photo shows debris left in front of the 325th Maintenance Group building by Hurricane Michael when the storm hit the installation on Oct. 10. Photo by SSgt. Ryan Conroy.
6. WILL CONGRESS PAY
Saving Tyndall is not a question for the Air Force alone. Service leaders will get a vote, but the real battle will take place in Congress.
"Politics is politics," Carlisle said. While the Florida congressional delegation will lobby for the funds, rival priorities both inside and outside the Department of Defense are also vying for funds. Tyndall will not return to form without supplemental appropriation.
The biggest source of funds will "be some help from money outside the defense budget," Carlisle predicted. "Then I think there will be, as there is all the time, unexecutable programs that haven't been on track." The Pentagon can divert funding from those to more pressing needs like those at Tyndall.
It will have to be, Hostage said. "If you don't get money to fix Tyndall over and above the current budget … maybe we find a different place to do business and close it."
The magnitude of the task can't be appreciated unless lawmakers make the trip and see the scope of the damage themselves.
It's not just a matter of rebuilding. It's also a matter of taking care of people, he said. "How do you reintegrate all those families that have been devastated, all those homes? All the base housing has been pretty much destroyed. … How do you rebuild their lives, while trying to get that mission back up to 100 percent as soon as possible?"
The Air Force "can't be made to pull it out of hide," Hostage said. "I'm very worried that somebody is going to suggest that they do" and leave the Air Force to "limp along trying to Band-Aid things while hoping that someone will finally give the funding to do it right."
It will take at least a year to sort all that out and know what the future holds, Hostage said. Tyndall will hang in the balance at least that long. For now, the questions are clear. Answers will come only in time.