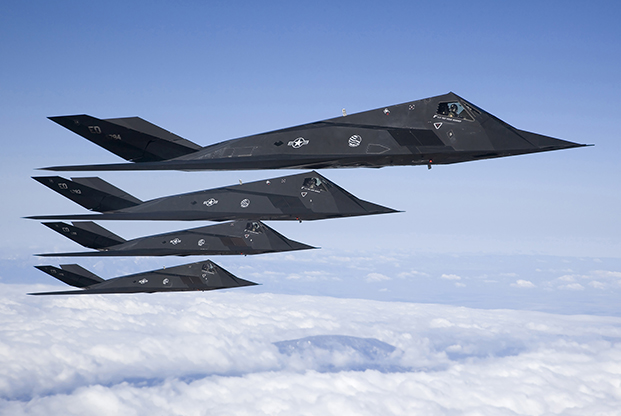 F-117 Nighthawks fly a sortie in 2007. The Air Force's first stealth fighter, the Nighthawk went from contract to first flight in two years. Photo: Bobbi Zapka/Edwards AFB
It is almost inevitable that the Air Force will be outbuilt and out-spent by adversaries, most notably China, in the decades to come. This means USAF will have to rapidly introduce disruptive capabilities to stay ahead of its enemies in what could be an infinite game of "great power competition," top combat commanders and industry advanced-technology leaders predicted at the Air Force Association's Air Warfare Symposium in February.
In 50 years, China's economy could well outstrip that of North America, Europe, and Africa combined, Air Combat Command chief Gen. James M. Holmes warned, and so the US itself will have to resort to asymmetric means to counter China's power. It will be impossible to match China—which is building its own air force in emulation of USAF—plane for plane, he said.
_Read this story in our digital issue:
The US "is coming to the end of the period where our joint force has dominated the landscape," Holmes asserted, assessing that the "high-water mark" of US domination occurred at about the time of the 2003 invasion of Iraq. China is closing the technology gap swiftly, he said.
"We're not going to win because we build more or better things," Holmes said. The US will win these potential future conflicts, but it will be because of good ideas from the ranks. If "given the opportunity," he said, airmen will come up with the ideas and operational concepts that will provide the edge. The new ideas—and new capabilities from industry, acquired through a much more streamlined procurement system—will allow the US to "stay in the game," Holmes said.
"This is up to us," he stated flatly.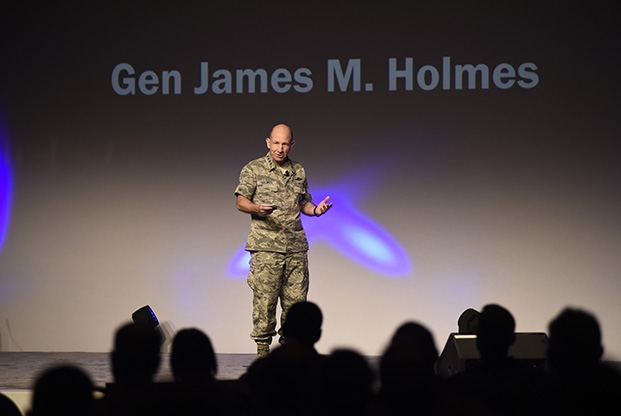 Gen. James Holmes, ACC commander, speaks at the conclusion of AFA's AWS18 in Orlando, Fla. The new "game" is not finite, where the players were well-known and rules mutually understood. Addressing "infinite" war is going to take a new type of thinking and a change in the speed of delivering new technologies. Staff photo by Mike Tsukamoto
In a speech concluding the symposium, which was focused on innovation in organization, technology, and creative thinking, Holmes said the US did not win the last big round of great power competition—the Cold War—so much as the other side "quit." It was an example of a "finite game" where the players were well-known and the rules were mutually understood.
Already, the US is engaged in an "infinite game," Holmes asserted, where not all the players are known, they shift frequently, and the rules are changing. Moreover, the criteria for winning are unclear, except when "everybody else quits," an outcome he does not anticipate.
Holmes warned that "hubris kills," and the US must not become complacent because it has been militarily successful for so long. Overestimating US capabilities—or underestimating those of an enemy—sets the nation up "for a fall."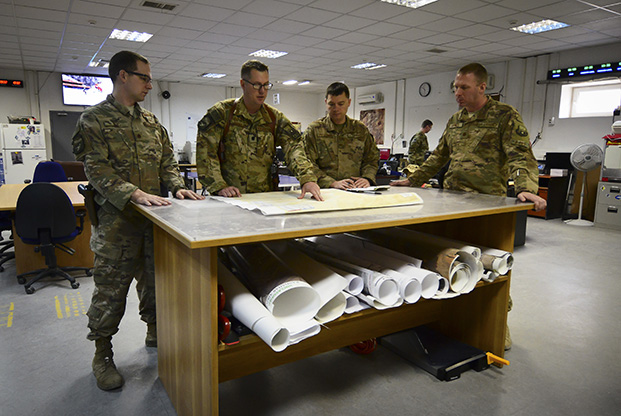 L-r: Maj. Jon Roe, Lt. Col. Patrick Schuldt, MSgt. Kevin Peterson, and Maj. Geoffrey Border review plans for the build up at Kandahar Airfield, Afghanistan, in February. Photo: 2nd Lt. Jenna Lenski
Industry and government leaders who specialize in quickly turning new ideas into advanced military assets said their model of developing technology may well become the norm in the coming years. Randall G. Walden, head of USAF's Rapid Capabilities Office—which is developing the classified new B-21 bomber and also runs the secretive X-37B spaceplane program—said the "secret sauce" in swiftly delivering leap-ahead technologies is culture. The successful technology organizational culture will have tightly focused goals, a short reporting chain, and managers with clearly defined responsibilities and the authority to make things happen, he said, adding that this model borrows from Lockheed Martin's Skunk Works operation. The members of an organization have to "know what they're doing" from long experience in high-tech endeavors, and they "have to do systems engineering right."
When they fail, he said, they need to "fail forward" and have top cover from leadership to be allowed to learn from their mistakes, which are an inevitable part of inventing new technology. Moreover, if policies are presenting an unreasonable obstacle, there must be the courage to change them.
Walden noted that China does not have to observe the so-called "5000-series," an onerous set of acquisition regulations, giving the Communist juggernaut an inherent speed advantage. For the US, sometimes the book will have to be thrown out to go fast, he said.
Robert F. Weiss, an executive vice president at Skunk Works, said a key element in succeeding quickly is to have a short time horizon in the first place, structuring a program for speed and making other considerations secondary if the need is urgent. He noted the P-80 fighter went from contract to first flight in 180 days; the U-2 spyplane was developed in nine months; the SR-71 spyplane in 32 months; and the F-117 in two years. "We're doing that today," he said of whatever secret projects Skunk Works is now developing. There needs to be "an urgency to get the job done," an attitude that must be shared by government and industry, alike.

A Chinese Chengdu J-20 stealth fighter in 2017. USAF says it is almost inevitable that the US Air Force will be outbuilt and outspent by adversaries such as China in the coming decades. Photo: Sunson Guo
Asked, "How rapid is 'rapid?'?" Walden answered that advanced technology has a window of six months to a couple of years.
Air Commodore L. S. Taylor of the UK Royal Air Force said there also must be a constant effort to avoid becoming risk-averse, to "supercharge, not subvert" the process of invention. He advised that high-tech military organizations not "fear failure," and "fail fast" to find solutions more quickly. Taylor also said militaries should avoid trying to find exquisite solutions and instead accept constant spirals of improvement. Militaries need to be more accepting of "good enough for right now" if they want capabilities in the field before they become obsolete, he said.
A dissenting note was struck by Scott Winship, head of Northrop Grumman's Advanced Air Warfare Development unit. Also a veteran of Skunk Works, Winship said, "I don't like the 'fail often, fail quickly,'?" idea. He prefers to "solve problems before they become big questions" as to whether a project is feasible.
Mark Cherry, head of Boeing's Phantom Works—the Chicago-based company's rapid development shop—advised attendees to "disrupt yourselves" and not wait to react to an external push to move toward revolutionary new systems. This will be key to "staying ahead of the other guys."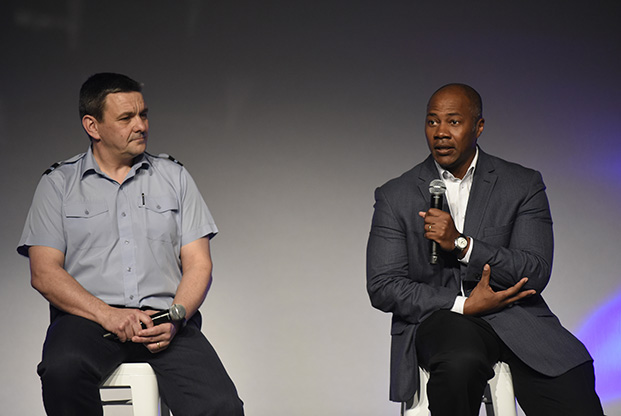 British Air Commodore L. S. Taylor (l), head of RAF's rapid capability office, and Mark Cherry, vice president of Boeing's Phantom Works, speak at the Rapid Capabilities Panel at AFA's Air Warfare Symposium on Feb. 22. Staff photo by Mike Tsukamoto
All the advanced development leaders said the No. 1 thing that government can do to grease the rails of technological innovation is to create a relationship of trust with their industry partners, instead of designing an adversarial system in which government assumes industry is trying to cheat. He said government should assume the contractor is doing his best to "protect the country" and shouldn't be presumed dishonest.
Weiss lamented that in the early days of Skunk Works, it took just half a day to write and sign a contract for a project such as the U-2. Getting back to a similar relationship of trust is something the government should aim for, he said. Cherry summed it up as "the speed of trust."
To help set the stage for a more rapid flow of new technology to frontline units, Holmes said the Air Force has created the Warfighting Integration Capability at the Pentagon, a hybrid of a study and permanent office aimed at anticipating the projects USAF should be investing in now to be ready for future threats and disruptions.
"What they're designed to do is think about how the Air Force will fight against a peer adversary in the future and then work backward about what capabilities will be required," he explained. While "individual projects" will flow from that process, "it won't happen overnight," he added.