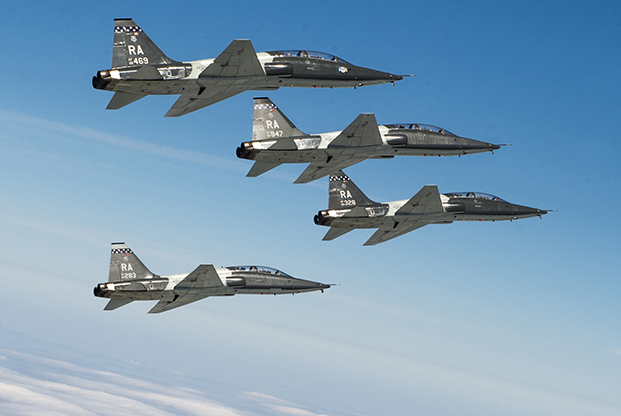 T-38s from the 560th Flying Training Squadron over JB San Antonio-Randolph, Texas, in March. Photo: SrA. James Crow
THE T-X, AT LONG LAST
June 11, 2018: Any minute now, the Air Force is set to finally conclude its almost quixotic quest to replace the nearly 60-year-old, supersonic T-38 Talon trainer, by announcing a winner of its T-X advanced trainer competition. With luck, USAF pilots will be preparing for fighter and bomber duty in the new airplane within six years.
Everyone with an interest in Air Force pilot training has their fingers crossed that this time it will happen. Prior to this competition, which started in 2013, each time the service conducted an analysis of alternatives (AoA), began to talk with industry about the art of the possible, and gear up for a contract, the T-38 replacement program was felled by budget cuts or some other hiccup. Then the AOAs got stale, the Air Force lost focus, and the whole process had to start over again. Depending on how you count, this T-X contest is about the fourth time USAF has tried to replace this T-38.
As replacement efforts failed, USAF was compelled to extend the life of the T-38. Those projects, dubbed Pacer Classic, have replaced structural members, wings, air inlets, cockpit displays, and various other elements of the "White Rocket" to keep the T-38 safe to fly and reasonably relevant to teaching the tasks of modern combat aviation. The Air Force is now working on Pacer Classic III. Even if the T-X comes off without a hitch, USAF will still have to extend a fair number of T-38s to stay in service while the new jets come online.
The announcement of a winner is already six months late. Sequestration fears have caused USAF to hold back, afraid it wouldn't have the money to award a contract last December, as planned. In the meantime, industry has had to stand by, keeping its design teams together at its own expense.
COULDA BEEN A CONTENDER
The T-X contest has taken some surprising turns. Northrop Grumman, as the builder of the T-38, was considered in many ways the "incumbent," and after discarding an entry based on the BAE Hawk, it designed a sleek, all-new T-38 successor. It then bailed out of the contest 18 months ago.
Lamenting what he called the Air Force's low-price versus "best-value" approach, Northrop Grumman CEO Wes Bush said he'd refrain from bidding—thanks anyway—suggesting his company felt there was no money to be made on the fixed-price project.
Former Lockheed Martin "Skunk Works" chief Rob Weiss also said out loud last year that the T-X contest had devolved into a "low-price shootout." After initial estimates pegging the program as a $20 billion effort to build 350 aircraft, the Air Force lowered the price to about $16 billion, with no reduction in scope or numbers of jets. The service also warned bidders they shouldn't assume a T-X win would lead to orders for Aggressor aircraft or companion trainers, two roles the T-38 has also borne over the years.
Besides new airplanes, the T-X contract requires a training enterprise, including simulators, part task and maintenance trainers, a course syllabus, software, and ways to simulate sensor operations aloft in a sensor-less jet. The aircraft must also have aerodynamic performance beyond that of the T-38 and aerial refueling capability.
The Air Force won't name the companies that tendered offers on the T-X a year ago in March, leaving that up to the companies themselves. Boeing, Lockheed Martin, and Leonardo of Italy have all said they're in. Other companies, who acknowledge they are long shots, have also suggested they've entered, but with brand-new airplane designs that have not yet flown. One aspect of the competition was to submit real-world flight data for the Air Force to evaluate.
Competitors offering "flown" aircraft include Boeing, with an otherwise unnamed "T-X" that was purpose-designed for this competition; Leonardo, offering the T-100 variant of its M-346 Master, which is flying with several US allies; and Lockheed Martin, offering the T-50A, a variant of the T-50 Golden Eagle it co-designed with Korean Aerospace Industries.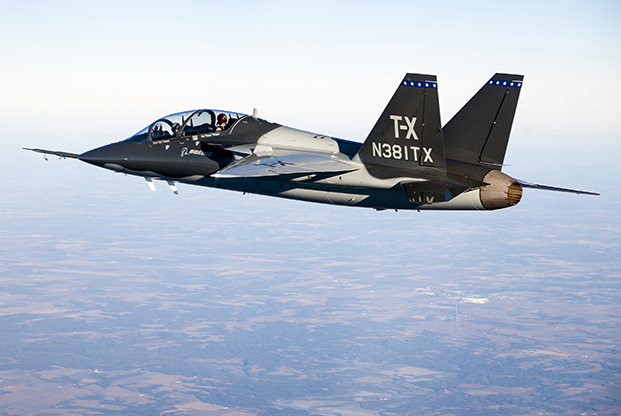 The Boeing T-X candidate on a documentation flight in 2017. Photo: Kevin Flynn/Boeing
Boeing—teamed with Saab of Sweden—said in 2016 it was "breaking the norm" with its entry, claiming its T-X offers a tenfold reduction in maintenance labor over the T-38, thanks to new manufacturing techniques eliminating lots of fasteners and sharply reducing production time. Darryl Davis, then-head of Boeing's Phantom Works advanced products shop, said the company's T-X was designed to the Air Force's "threshhold" requirements, meaning no extra capability was added if it increased cost. Davis said the design could add capability if USAF chooses to go in that direction later. Boeing would build the jet in St. Louis.
Leonardo is now the third prime contractor to front the T-100 for the T-X competition. General Dynamics was first to start down that road, then quit as the US lead in 2015, saying it had reorganized its business and the T-X pursuit no longer fit. Industry insiders said General Dynamics assessed the jet's performance as not up to evolving USAF requirements. Raytheon soon signed on, but signed off again in early 2017 with little official comment. Industry sources cited friction between Raytheon and Leonardo over Raytheon's efforts to pare down the T-100's proposed cost. Leonardo took over as a prime contender after Raytheon's departure. The T-100 would be built at Moton Field Municipal Airport, Ala.
Lockheed Martin's Weiss said that when the T-50 was designed, back in the late 1990s, the company actually had the T-38 replacement program in mind, thinking the Air Force would get around to that competition in the early 2000s. The T-50, in Korean service, has trained thousands of pilots and logged hundreds of thousands of flight hours. It went through a USAF-style test program, and there is a warm production line in Korea. Weiss boasted the T-50A variant jet is so "ready to go" that Lockheed could get the jet into US production about two years ahead of requirements if the service chose to accelerate the program. That would allow USAF to spend money on new T-50As instead of on modifying T-38s already facing imminent retirement, Weiss argued. If picked, the T-50A would be built in Greenville, S.C.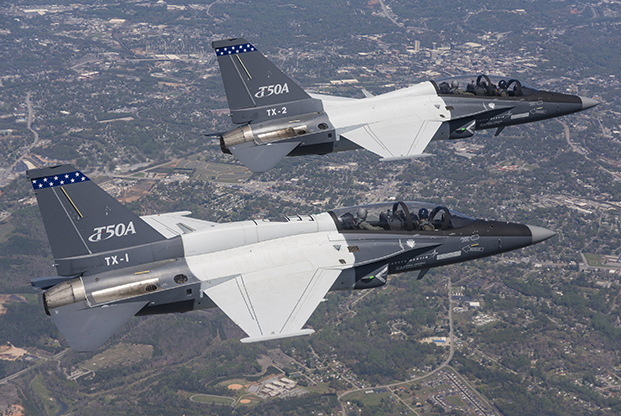 The Lockheed Martin T-50A during a flight for congressional leaders in 2017. Photo: Lockheed Martin
HANDICAPPING THE RACE
So, who looks best positioned to win the T-X
How USAF will weigh and grade aircraft performance, contractor prior performance, the efficacy of the training system being proposed, and other factors are all closely held, but a few things can be deduced about T-X contender chances.
Competitors that have submitted "paper airplanes"—those with no real-world, flying examples—are probably not in contention. USAF has made clear from the outset that it won't bear any more risk with the program than it has to. The service has said it prefers not to go through development of a brand-new airplane, husbanding it through design changes, critical design reviews, the inevitable design setbacks, and flight testing, no matter how efficient the new jet may look on paper. USAF also has a hard deadline to meet in getting T-Xs into the fleet, and it has staged its spending plans to accommodate T-X during a certain window.
The Leonardo T-100 is in service with five countries and its training system is proven. Italy is a partner with the US on the F-35, and the choice of the T-100 would signal that the US is serious about the "two-way street" in terms of buying allied weapon systems. Against it, though, the T-100 has twice been jilted at the altar by a US prime contractor for rumored performance and cost issues, and there are only about 70 M-346s in worldwide service. Call it a legitimate contender, but one that is facing long odds.
Boeing's T-X was tailored exactly to USAF's T-X aircraft and training system requirements. The company professes vast savings from the use of proven components alongside radical new manufacturing methods to slash production time and maintenance costs. Boeing submitted real-world flight data to the Air Force that may or may not have borne out those claims. The company also says that since its T-X's performance tracks so well with computer predictions, flight testing can be reduced, saving time and money and getting jets into the fleet quicker.
Against Boeing, however, is the fact that its airplane is a brand-new design. It will still have to go through all the steps of developing and validating the design, the time and risk of which USAF wants to avoid. Boeing's argument about flight-testing tracking simulation has been made before, such as by Lockheed Martin for the F-35, and the Air Force may not be in the mood to buy that argument again.
While Boeing is financially strong and has a robust backlog of airliner work, it has absorbed more than $3 billion in losses on the fixed-price KC-46 contract, and industry sources say the company is loathe to enter another loss-leader deal to get work offering minimal potential domestic profit margin.
The offset—as it was with the KC-46—is in the foreign sales market. Many air forces will likely choose whatever trainer USAF picks, because the volume of the Air Force buy will sharply lower the unit cost for foreign customers. Boeing said the foreign market for tankers justified its lowball bid on the KC-46, along with getting an inside track on future tanker purchases from USAF. But it's hard to see Boeing's financial strategists allowing another similar gamble, even with the enticement of a foreign trainer market of between 1,000-2,000 jets.
Still, Boeing wants the work to halt the decline of its small combat airplane business, which is slowing as orders for the F-15 and F/A-18 dwindle. Having a warm fighter-sized production line could also boost its chances for future work, such as with the Navy's FA-XX or USAF's Penetrating Combat Aircraft.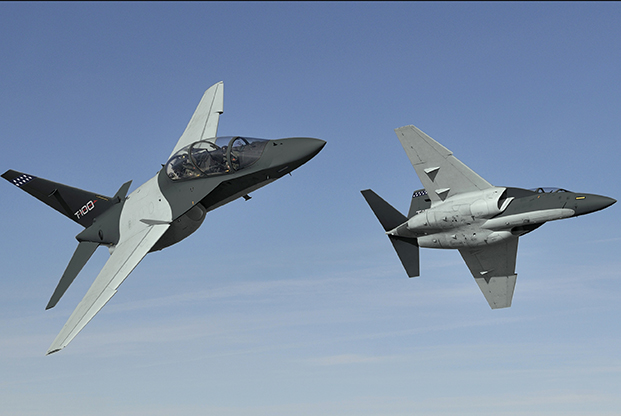 Leonardo's DRS T-100 offering. Photo: Leonardo DRS
WINNING FACTORS AND TIEBREAKERS
Lockheed Martin can legitimately claim it has an in-production trainer to offer, even though it will add an F-35-like cockpit display system and air refueling plumbing to transform the T-50 into the T-50A.
Lockheed can offer a quicker path to production for the Air Force, which makes no secret of wanting the T-X yesterday. Confronted with a persistent pilot shortage driven in part by lack of aircraft, USAF might be tempted to speed things up with a T-50A pick.
Given its low-risk offering, deep pockets to ride out fixed-price contract snags early on, maintenance commonality with both the F-35 and F-16, and ability to accelerate the T-X schedule if necessary, Lockheed would seem to enjoy at least a narrow edge in the competition.
The T-50, however, is a 20-year-old design and may not be able to take full advantage of new production methods. Lockheed Martin's past performance on the F-35, although improved, could also be a drag on its chances.
Whether T-50/T-50A production is efficient and risk-free enough to overcome potential savings from Boeing's radical new manufacturing methods is probably the point on which the T-X competition will hinge.
If the numbers come out a wash, though, with no clear technical winner, what factors might provide USAF with a tiebreaker? Is USAF willing to let Boeing's St. Louis fighter–making capacity wither away? Does the Air Force have "Lockheed fatigue," given that company's domination of the US fighter and helicopter markets? Will Boeing's ongoing struggles with the KC-46 sink its T-X chances
We'll probably see the answers shortly after the loser, perhaps inevitably, files its protest.