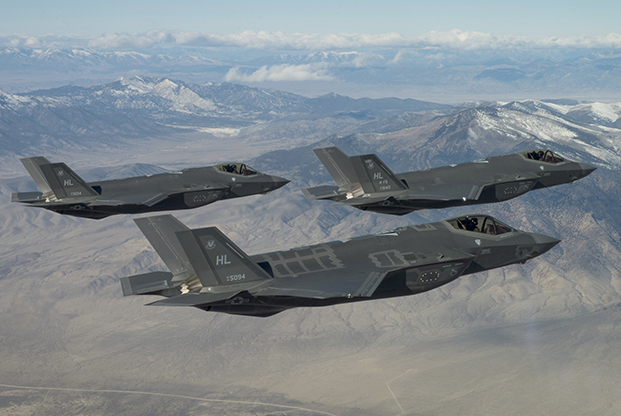 F-35s over the Utah Test and Training Range. The fifth generation stealth fighter could be threatened by Russia's Triumf air defense system, if the missiles are procured by Turkey. Photo: SSgt. Andrew Lee
TRIUMF OF THE WON'T
Perhaps the most serious rift in years between NATO allies and among development partners on the F-35 strike fighter has been playing out over the last few months. It's all about Turkey's decision to buy Russia's advanced Almaz-Antey S-400 "Triumf" air defense system.
In June, US senators inserted language into the 2019 National Defense Appropriations bill to block Turkey from fielding the F-35s that country has already purchased. The senators said they're immediately concerned about the F-35's stealth secrets leaking to Russia if the jet is flown in close proximity to the S-400. They're more broadly angered by the worsening authoritarianism of Turkish President Recep Tayyip Erdogan, who was recently re-elected and has been further consolidating his power while cracking down on his political opponents and the press. The bill would keep Turkey from receiving the technical information or support necessary to maintain and operate the F-35s. The already-passed House version of the Fiscal 2019 NDAA would stop all weapon sales to Turkey pending a Pentagon review of the tensions between the two countries.
Separately, in a July 5 letter, a bipartisan group of 44 US members of Congress urged Defense Secretary Jim Mattis to block the Turkish F-35 sale because of the S-400 deal. They said Turkey's decision to buy an air defense system not interoperable with NATO forces—but very much interoperable with the Russian military—reveals Turkey as "actively operating to undermine US interests around the world." The group noted that Turkey has attacked Kurdish forces allied with the US in Iraq and Syria and is building a lamentable record of "degradation of human rights and democracy under President Erdogan."
Turkey has signaled its "clear intention to build a strategic partnership with Russia" and this has "completely eroded the US-Turkey relationship," the lawmakers wrote. They said they have "no confidence" Turkey will employ the F-35 "responsibly" and added they can think of no more "compelling case for re-evaluating the delivery of US military technology to a foreign state" than Turkey's actions on the S-400, in its domestic politics, and in Syria and Iraq.Mattis has said he objects to the legislation and wants to work with Congress to have the provisions struck from the final version of the NDAA. In the ongoing fight against ISIS, the US relies on Incirlik AB, Turkey, as a base for aerial tankers and other aircraft and also as a storage site for tactical nuclear weapons.
The Triumf deal was inked last December, and it is reportedly worth $2.5 billion and will provide Turkey with four batteries of the air defense system. US emissaries, including Secretary of State Mike Pompeo, have personally lobbied Turkey to dump the Triumf deal, urging Erdogan to buy the US Patriot system, made by Raytheon, or at least a European system compatible with NATO forces. An Erdogan spokesman has dismissed these overtures, saying the S-400 sale is a "done deal," but he said Turkey will consider US or NATO systems when buying its next batch of air defense systems.
In April, the US Assistant Secretary of State for European and Eurasian Affairs, A. Wess Mitchell, told the Senate Foreign Relations Committee "there will be consequences" if Turkey buys the S-400, threatening sanctions under the Countering America's Adversaries Through Sanctions Act. The law requires commercial action against countries that buy from Russia's defense and energy industries.
Russian state media, citing Turkish government sources, said Turkey opted against the Patriot because it couldn't get the technology sharing it wanted, nor could it get the systems as quickly as the Erdogan government desired. Russia, on the other hand, was willing to "accelerate" the sale, with full technology transferred.

Congress fears President Recep Tayyip Erdogan (l) is cozying up to Russia with its planned purchase of the S-400 missile system. Photo: Shealah Craighead/White House
TECHNOLOGICAL TURKISH DELIGHT
Turkey was one of the original partners on the F-35, putting up nearly $200 million in development money in exchange for technology transfer on the project and industrial work share. Turkey plans to buy 100 F-35s—which would make it the third-largest F-35 operator, after the US and UK—and is aiming to be the second source to Northrop Grumman on the aircraft's center fuselage. It also makes composite parts for F-35s deployed worldwide. Turkey has other hooks in the program, as well: it's been given the go-ahead to build F135 engines for the F-35 under license from Pratt & Whitney, and the regional depot for the F135 engine will also be in Turkey, at Eskisehir, midway between Istanbul and Ankara.
Under license, Turkish aerospace companies jointly built more than 230 Lockheed Martin F-16s and are upgrading those still in service to roughly the Block 50 capability configuration. Turkey has sold some to other regional countries, notably Egypt.
Turkey has already purchased 14 F-35 aircraft; the first two of which were delivered in a glitzy presentation June 21 at Lockheed Martin's Fort Worth, Texas, facility. However, those jets have flown to Luke AFB, Ariz., to serve as a training aircraft for allied F-35 pilots, including those from Turkey. It isn't clear when Turkey will stand up an F-35 unit on its own soil, but it is slated to receive its first 25 or so aircraft by 2022.
In late June, Turkish foreign minister Mevlüt Cavusoglu, in a TV interview, said President Donald J. Trump had personally assured Erdogan that the F-35s would be delivered. The reassurance came when Trump called Erdogan to congratulate him on his re-election, Cavusoglu said. He reported that the two leaders also expressed their resolve to improve their bilateral relationship and increase cooperation.
Cavusoglu also shrugged off the potential security issues attending the S-400, noting that Greece has an earlier version, the S-300. NATO partners and Israel routinely practice against Greek air defenses with Greece's cooperation.
MORE SENSITIVE, AND WITH LONG LEGS
The S-400 is, however, a significant though "incremental" improvement over the S-300, with "more sensitive sensors" and "increasing range," Air Combat Command chief Gen. James M. Holmes told defense reporters in Washington in late June. Russia touts the system as having capability against stealth aircraft as far as 80 miles away.
The S-400, as an adversary, "limits the range, particularly, of your legacy aircraft … you have to work farther away" to be safe from the system's missiles, Holmes said. "It means you have to go farther off the tankers, so you have less time when you're forward."
Holmes said he would prefer not to fly the F-35 in close proximity to the S-400. The "how and when" is a "policy issue" on which he would not comment.
"We take steps—whenever we fly the airplane—to do the gain and loss analysis of 'where do we want to fly it, what do we want to do, who do we want to fly it with,' and we'll continue to work through those processes and make recommendations up the chain" of command, Holmes said.
A balance has to be struck, he said, "between demonstrating commitment and assuring your allies" and "preserving your state secrets."
It may be "hard to avoid" exposing the F-35 to adversary radars in the long term, though, Holmes said.
"The airplane's out there. We've accepted 300 of them" in the US services, and they will soon be based overseas by the US armed forces, "Alaska next, and to the United Kingdom after that," Holmes pointed out. Some European partners are already fielding their F-35s, he said. "So, I think the question … is not so much about 'will you,' it's about 'how will' you do it" and still strike the balance of power projection and secrecy.
Although the Turkish government says that only Turkish troops will crew the S-400 system—a series of vehicles involving both radars and missiles—it is likely that Russian advisors will teach the crews how to operate the system against a variety of threats. Not widely known is that the S-400 is not just an air defense system. It can be employed as a ballistic missile system, striking at ground targets with high precision. Turkey has said it needs the system to defend against ISIS and the Kurds—neither of which have an air force—and also against Iran, which does.
Russia has deployed the S-400 in Syria, giving it an an opportunity to attempt to spot and track stealthy F-22s operating there as part of the US-led coalition against ISIS.
The S-400 deal is just the latest in a series of moves in which Turkey and Russia have drawn closer together. The relationship has warmed markedly in the aftermath of the late 2015 shoot-down of a Russian Su-24 by Turkey when the bomber crossed into Turkish airspace during operations related to the Syrian civil war. One Russian pilot was killed in the incident, but the two countries agreed not to let the event escalate into war. A year later, shortly after Erdogan beat down an attempted military coup against him, Erdogan had one of the Turkish nationals that had fired on the Su-24 crew arrested and he apologized for the shoot-down. Russia has since voiced its support for Turkish attacks on Kurds and Erdogan's characterization of Kurds in Iraq and Syria as supporting terrorism.
The Pentagon is loathe to alienate a long-term stalwart ally with a large military. Several Defense officials said that making the S-400 a loyalty test will only antagonize Turkey and, as one said, "drive them into the arms of Putin." However, a Senate staffer said things may already have gone too far in that direction, and the legislation should be a wake-up call to Turkey to turn things around or face the unappealing outcome of becoming a Russian client state. "We don't have to stay to the end to know how this movie turns out," he said.