CAP CADETS VISIT SCIENCE MUSEUM
Fifty-three Civil Air Patrol cadets and six supervising senior members participated in a tour organized for the 2019 Joint Mid-Atlantic & Virginia Wing Conference and sponsored by the Richmond (Va.) AFA Chapter, which paid for cadets' admission to the museum and arranged for no additional cadet activity/conference fees.
The cadets formed teams to participate in the Soaring Satellites Challenge, designing a "satellite" that could hover at a specific height in a wind tunnel and competing for the longest hover.
More than 300 cadets and senior members gathered at the Richmond convention center during the conference. They participated in professional development opportunities, flight simulator sessions, and seminars, as well as discussing CAP's response to Hurricane Florence. Col. Bruce B. Heinlein, Mid-Atlantic Region commander, said that every wing within the region participated in Hurricane Florence relief efforts.
CHEESECON IN MILWAUKEE
Arnold Air Society and Silver Wings held their 72nd National Conclave—otherwise referred to as "Cheesecon"—at the Hilton City Central and Milwaukee Convention Center from April 19-22.
AAS-SW work together to develop future leaders, promote leadership skills, heighten military awareness, encourage professional development, and perform community service. They meet yearly at various locations, attracting almost 1,000 attendees.
Highlights of this year's event included a Pre-Trustee and Trustee dinner; a Profession of Arms Center of Excellence Workshop (PACE), focused on promoting the Air Force core values throughout the Profession of Arms and Air Force mission; an AFA luncheon and award presentation with then-undersecretary of the Air Force Matthew P. Donovan; an International Air attaché panel discussion with Brig. Gen. (Air) Georges Franchomme from Belgium and Group Capt. Stephen Richards from the UK; and ended with a USAA military banquet. The guest speaker for the event was retired Gen. Robin Rand, the new chairman, Board of Trustees for Arnold Air Society and Silver Wings. Next year's conference will be held in Las Vegas.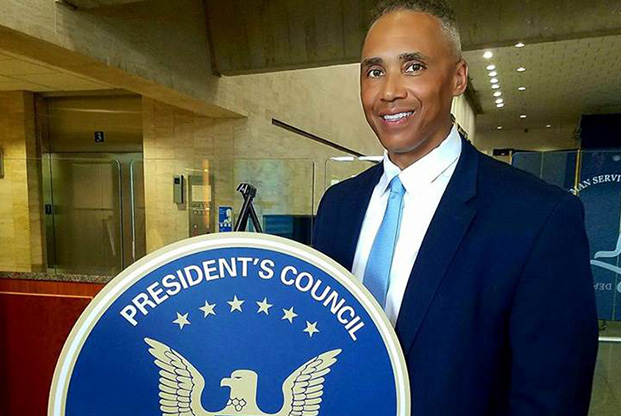 Rob Wilkins has been an advocate for health and fitness for many years and continues his efforts on the President's Council. Photo: Rob Wilkins
USAF VET ON PRESIDENT'S COUNCIL ON SPORTS, FITNESS, & NUTRITION
An AFA Life Member, retired MSgt. Rob Wilkins, has been appointed by President Donald J. Trump to the President's Council on Sports, Fitness, & Nutrition (PCSFN), whose mission, since 1956, is to increase sports participation among youths of all backgrounds and abilities, and to promote healthy eating and active lifestyles for all Americans. There are currently 23 members serving on the PCSFN.
Wilkins served 26 years in the Air Force as a unit fitness adviser, retiring in 2009, and has developed several fitness and exercise-related programs for unit personnel. He currently serves on the board of Boulder Crest Retreat for Military Veteran Wellness. He once trained to be a bodybuilder, and is also president of Rolling Thunder, Washington, D.C.
As a recognized Air Force fitness expert, he received an Air Force Commendation Medal for setting up life-saving health screenings for three military personnel, each diagnosed with diabetes, and he has also worked to promote health and fitness to children participating in the Special Olympics.
Other members on the president's council include MLB Hall of Famer Mariano Rivera, former NFL great Herschel Walker, and TV show host Dr. Mehmet Oz.
For a list of ways to be active and keep up with your physical fitness, go to: https://www.hhs.gov/fitness/be-active/ways-to-be-active/index.html.
Retired Col. Charlie Simpson speaks to the attendees about the Cuban Missile Crisis at a Cold War Museum briefing. Photo: Courtesy of the Cold War Museum
COLD WAR MUSEUM PRESENTATION
Members of the AFA Gabriel (Va.) Chapter and the Association of Air Force Missileers (AAFM) gathered at Vint Hill, Va., in April for a Cold War Museum briefing on the Cuban Missile Crisis by retired Col. Charlie Simpson, founder and director of the AAFM. In October 1962, the US faced the Soviet Union in a nuclear standoff, known as the Cuban Missile Crisis, when the Soviets placed medium-range ballistic missiles in Cuba. The confrontation resulted in our military attaining the highest level of alert—DEFCON 2—in our history. This presentation, originally presented to over 800 young missile and bomber crew members, maintainers, and security forces personnel at the 2012 Air Force Global Strike Challenge, covered the events leading to the crisis, the US response, and its resolution.
The Cold War Museum is an AFA Gabriel Chapter Community Partner. It houses unusual artifacts from signals intelligence, image intelligence, aerial surveillance, civil defense, Berlin, the East German Secret Police (Stasi), the Cuban Missile Crisis, the Pueblo and Liberty incidents, and more.