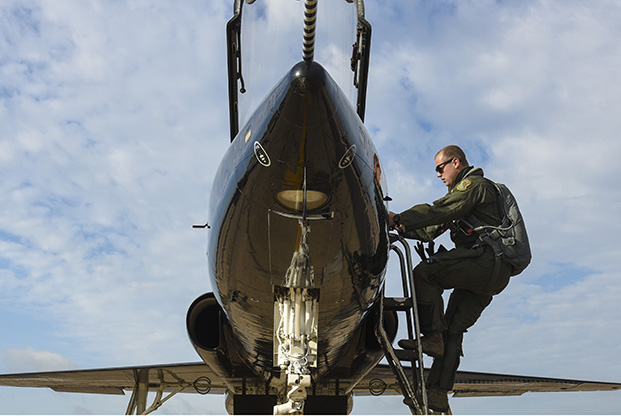 Then-1st Lt. Duston O'Brien, a pilot with the 71st Fighter Training Squadron, boards a T-38 at JB Langley-Eustis, Va. A1C Tristan Biese
In congressional testimony and speeches over the last few years, senior Air Force leaders have gotten almost rote in their message: USAF is simply too small to do all the missions being asked of it.
Lately, though, the language has become more urgent. Last fall, Air Force Secretary Heather Wilson and Chief of Staff Gen. David L. Goldfein began to compare the service to a rubber band that's been stretched too far, implying that at some point—possibly quite soon—it's going to break.
In 1991 the Air Force had 134 fighter squadrons; today, it has just 55. "Yet, we are much more active in combat than we were during the Cold War," said Wilson during an event at the Center for Strategic and International Studies in October. In order to "win any fight at any time … we have to restore the readiness of the force. That means, first and foremost, people. We are too small [to do what] the nation expects us to perform."
In recent years, budget constraints have pushed the Air Force to make a priority of capability over capacity leading to a drastic reduction in the service's personnel end strength.
In 2001, there were 357,000 Active Duty airmen, but USAF cut the Active force by 10 percent, leading to an all-time low of 311,357 in 2015, said Col. Dennis A. Haught, the Air Force's chief of program development for Manpower, Organization, and Resources.
It didn't take long for senior leaders to realize they'd cut too much, too fast, and that there was nothing to suggest the demand for Air Force capabilities would ease. In Fiscal 2016 the service moved to bring end strength back up to 317,000 Active Duty personnel.
That was the largest increase in accessions since the Vietnam War, Lt. Gen. Darryl Roberson, then-commander of Air Education and Training Command, told Air Force Magazine. "That was a really important number for us," said Roberson, because Congress didn't believe the service was capable of growing as quickly as it wanted to and had threatened to withhold funding for future growth if USAF didn't reach the targeted 317,000 airmen in Fiscal 2016.
The goal was met, though, and end strength is still increasing. In Fiscal 2017, USAF grew to 321,000 Active Duty people and is on track to grow to 325,000 in Fiscal 2018. The plan is to have 327,000 Active Duty in Fiscal 2019, toward a goal of about 350,000 in the coming years, Roberson explained.
As more airmen move into the training pipeline, AETC will have its hands full training them and will have to grow its own ranks to accommodate the surge. For example, AETC added 95 recruiters last year toward a goal of adding between 240 and 250 new recruiters overall to sustain the growth. It will also have to increase the number of instructors at basic military training and at the various technical schools to train the new recruits.
"We're not looking to spike up and come back down. We're trying to build back up and build a more stable and sustainable succession plan for USAF in the long term," asserted Roberson. He added, "That all costs resources. All of this takes a little bit of time and preparation to make it work smoothly."
Though there are shortages across the force, the most urgent need is to boost the number of pilots and maintainers, which most immediately affect combat capability. Other populations that need to grow include intelligence, security forces, nuclear forces, and cyber communities.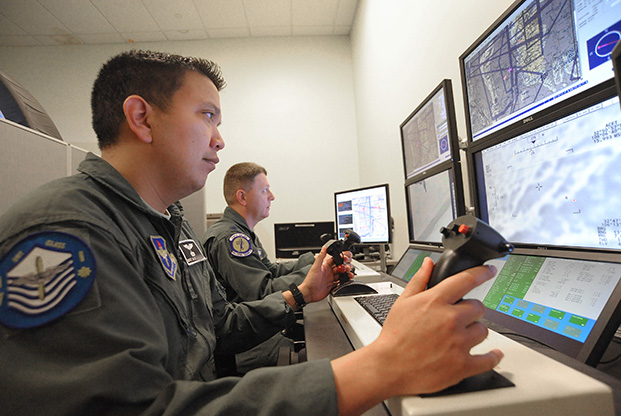 MSgt. Alex (full name withheld, in the foreground), an Enlisted Pilot Initial Class student, works with Lt. Col. Aaron, a course director, during a simulator flight at JBSA-Randolph, Texas, in May. Joel Martinez/USAF
NOT JUST THE AIR FORCE
Goldfein and other leaders have called the pilot shortage a "national crisis," and the service is working with commercial airlines, academia, and the rest of the Defense Department to find creative solutions that will help close the gap.
The Air Force closed out Fiscal 2017 about 2,000 Total Force pilots short, including remotely piloted aircraft pilots. About 1,300 are fighter pilots, service leaders said.
"The shortage in our manned platforms continued to grow by about 250 pilots" in FY17, although that loss "was offset by improvements in the health of our RPA force," according to a service spokeswoman.
The biggest shortfall is with fighter pilots, Brig. Gen. Michael G. Koscheski, director of the recently stood up Aircrew Crisis Task Force, said. He is concerned that future growth in the airline industry will cause the fighter pilot shortage to infect mobility forces, as well. In fact, the spokeswoman said the "greatest negative trend" between Fiscal 2016 and Fiscal 2017 was "in our bomber and mobility pilots."
The task force has put together several "tiger teams" looking at all aspects of the problem. It was expected to brief senior Air Force leaders at their top-level Corona meeting in November on its initial recommendations, but USAF has already started rolling out some solutions.
_You can read this story in our print issue:
Though the service can't compete with commercial airline salaries, it's trying to ease the financial burden on pilots and their families by raising flight bonuses. USAF is also taking steps to keep pilots doing what they joined to do—fly—instead of sending them to nonflying jobs as they move up in rank.
In June of 2017, the Air Force announced it was increasing the Aviation Bonus Program, under which aircrew can receive a signing bonus for up to 13 years of service, earning up to $455,000. That's a significant bump from the previous maximum total payout of $225,000.
The service also has increased the monthly aviation incentive pay, commonly referred to as flight pay, for both officer and enlisted aviators for the first time since 1999. Beginning Oct. 1, flight pay increased to a maximum of $1,000 per month for officers. Enlisted aircrew members also saw an increase, to a maximum of $600 per month.
"We need to retain our experienced pilots and these are some examples of how we're working to do that," said Wilson. "We can't afford not to compensate our talented aviators at a time when airlines are hiring unprecedented numbers."
The Air Force is also trying to tap another resource: ex-pilots. In August 2017, the service announced the Voluntary Rated Return to Active Duty (VRRAD) program, which initially allowed up to 25 separated pilots to return to Active Duty for up to 12 months. The goal was to voluntarily bring back retired pilots to fill "critical-rated staff positions," which would allow current pilots to remain in operational units.
"As you can imagine," Koscheski observed in October, that program "wasn't super appealing, being only one year." The Air Force wanted to expand the authorities, enabling more retired pilots to come back to Active Duty and for a longer period of time. President Donald Trump signed an executive order in October that did just that. Specifically, Trump eliminated the cap on the number of retirees who are able to return to duty and extended the time of service to three years instead of one.
Koscheski said the move "changes the decision calculus," enabling some recently retired pilots to return to flight status and serve as instructor pilots. However, he acknowledged that if history is any indicator, the service isn't likely to bring in more than a few hundred retirees. Just before the executive order was announced, between 10-15 pilots had expressed interest in the program and just three were on contract, said Koscheski.
"Each pilot that comes back is one staff position we won't have to fill for three years, so that helps with requirements," he added. However, "our long-term fix for the pilot crisis is to grow our way out of this, so it's going to take awhile to get in place what we need to start producing more pilots."
On Sept. 7, 2017, the service also announced the Second Assignment In-Place Pilot Program, which allows a limited number of Active Duty, late-career fighter pilots and weapon system officers to remain at the same base for a second tour. The goal is to improve the quality of life and potentially retain aviators with more than 20 years experience, according to an Air Force release.
"We're going to break paradigms, go outside of traditional methods of producing Air Force pilots, and look at all options out there on how to solve some of these problems that we're facing," said Roberson.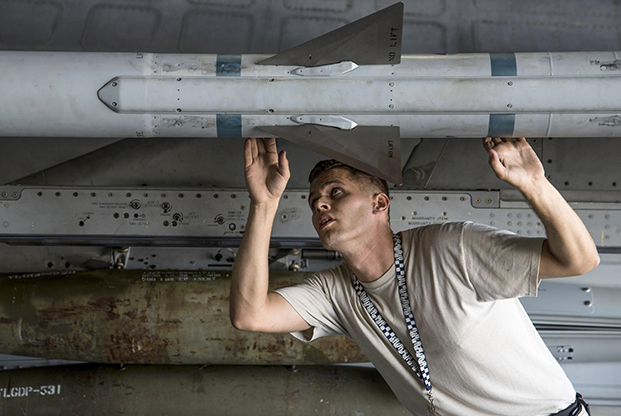 SSgt. Jeffrey Kohler inspects an AIM-120 missile at Shaw AFB, S.C. The pilot shortage gets the headlines, but keeping enough weapons, fuel, and maintenance airmen is an issue for USAF as well. Paul Holcomb/USAF
MAXING OUT THE PIPELINE
AETC produced 1,100 pilots in 2016 and 1,200 in 2017, Roberson said. He anticipated that number will grow to 1,400 pilots per year in the "next couple of years," and then top out at 1,600 per year in the future. At that point, Roberson said, "we're going to have to figure out a way to get at producing pilots that is outside of the resourcing capacity of the United States Air Force."
For example, the command is looking at universities such as Embry-Riddle Aeronautical University in Daytona Beach, Fla., where "pilot training is a part of their culture." Roberson said he'd like to see the Air Force take advantage of such programs, as well as similar programs at companies that train pilots, "to help us train to a certain level." After earning a few hundred hours in the cockpit at the university, students could enter the Air Force training pipeline.
Because this problem affects the whole country and not just USAF, Roberson said the service is also looking to develop a "national academy for pilot production." This would involve partnering with the airlines "in a way we have haven't done before." Under one concept, students who graduated from the national academy would serve a certain number of years in the military, but then be guaranteed a civilian flying position after that.
There isn't a silver bullet, single-point solution to the problem, though.
"It's going to be 100 little things. It's going to be a journey we're going to be on for the next 10 years," said Goldfein at a Heritage Foundation event in Washington, D.C., last April.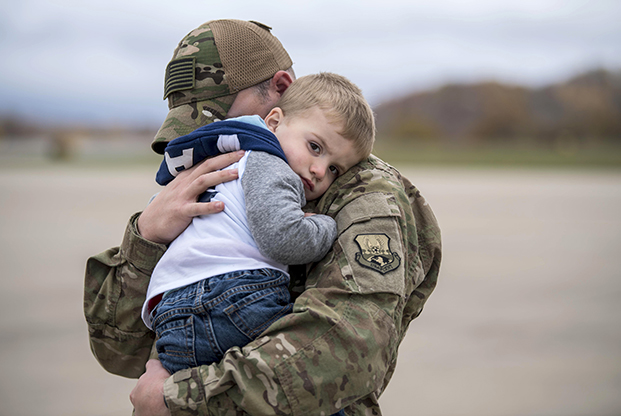 Family and friends greet airmen returning from a deployment to Southwest Asia last November at McLaughlin ANGB, W. Va. Capt. Holli Nelson/ANG
MIND THE MAINTAINER GAP
Before the fighter pilot shortage stole the national spotlight, USAF's focus was on a critical shortfall of maintainers. At one point, the Air Force was short some 4,000 maintainers as it worked to bring the fifth generation F-35 strike fighter online while still maintaining legacy aircraft it once hoped to divest, such as the A-10 and U-2.
Because of the increase in end strength over the last couple of years, Roberson said USAF has "come a long way" and is "definitely closing the gap" in maintenance manpower. The biggest challenge now is experience. It takes time to train all the new maintainers coming into the service, which is placing a heavier burden on the more experienced maintainers.
"They are now having to take more on their backs to make sure these young, larger numbers of maintainers are getting the [on the job training] they need to become the maintainers we need them to be down the road," said Roberson. "It stresses the whole system, but we're closing the gap."
The Air Force is scrambling to fill the ranks of its cyber specialists, whose expertise is urgently needed as cyber attacks and cyber crimes skyrocket.
Haught said, "There is a lot of movement in the cyber realm" and the service has grown in response, but the "end- game target" is still not quite clear.
One thing that's certain is the service will have to change how it trains in order to recruit the right kind of talent. Roberson tells a story about a Microsoft executive who wanted to join the Air Force and serve his country. Because the Air Force doesn't have any type of "gifted and talented" program, the service was going to start his training on Day One as if he knew nothing about cyber.
"That was one of those cases where we had to take a step back and say, 'What are we doing?'?" said Roberson. "We need more flexibility. … We have to be more agile."
Roberson did not name the Microsoft executive, though he did say he is now an "Air Force cyber warrior," and that the service was "able to accommodate [him] based on his talents." He said such flexibility could filter down to other career fields, though that hasn't happened yet. That's a huge part of what AETC's new "Continuum of Learning" initiative is all about.
"The Continuum of Learning is a way of describing our deliberate effort of taking training and education and combining them with experiences," Roberson said at AFA's Air, Space & Cyber Conference last September, where he unveiled the overhauled training concept. "We have to do a better job to transform what we've been doing for the last 70 years—from a pipeline, industrial-age kind of production system—into a much more modern learning system."
There's little time to figure it out, though. Those new recruits are already showing up for duty, and the Air Force will have to show Congress it can use every person to maximum benefits or the long hoped-for growth may stop abruptly.