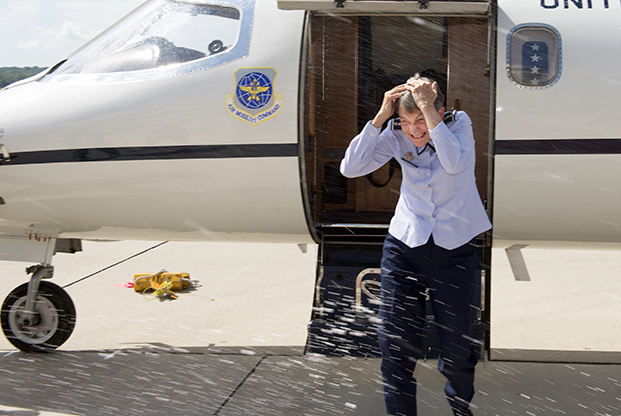 Gen. Ellen Pawlikowski is showered with champagne after her final flight to Wright-Patterson AFB, Ohio. Pawlikowski was the AFMC commander from 2015 until her retirement in September. Photo: R. J. Oriez/USAF
For a month in mid-2015 the Air Force boasted three four-star women among its leaders—momentarily coming close to matching the share of women in the officer corps as a whole, about 21 percent.
It's unlikely that will happen again anytime soon. The percentage of women among the Air Force's general officers today is just 7.7 percent compared to 26.5 percent of all officers.
After Gen. Maryanne Miller took command of Air Mobility Command on Sept. 1, and before Gen. Ellen M. Pawlikowski retired as chief of Air Force Materiel Command, the Air Force had two four-star women among its senior leaders. But by the end of September, the number was back to one.
The fact that women are now routinely rising to the top ranks is a mark of success. Indeed, one sign of progress is that when Miller took over AMC, much of the press coverage focused on her being the first Reserve general to take charge of an Active Duty Major Command, rather than noting she was also the first woman to take that job—and the first woman pilot to make four stars.
Women have proven they can succeed at any level in the Air Force and the number of women succeeding in the officer ranks is significant.
The Air Force has no affirmative action program in place to promote women to the general officer ranks. But it has in recent years begun concentrating more on retaining women at critical career inflection points. Women make up more than 23 percent of the officer corps through captain, then fall off rapidly at the field-grade ranks of major to colonel, when those choosing to have children find themselves squeezed between family and career demands.
Chart by Dashton Parham/staff
Then-Air Force Secretary Deborah Lee James sought to ease those pressures when she doubled maternity leave to 12 weeks in 2016, and new mothers may now defer deployments and physical fitness tests. Women may also apply for a "career intermission," switching to the Reserve for up to three years. And they now have up to a year after giving birth to decide if they wish to separate from the Air Force; in the past, they were forced to make that decision more rapidly, and some found they later regretted choosing to leave.
An Aircrew Crisis Task Force report on the pilot shortage argued earlier this year that USAF should recruit and train more women and minorities as pilots. Women pilots say, however, that rules regarding pregnancy and flight status have not kept up with the times or medical knowledge. They complain that their prime childbearing years overlap with the time in their careers when they need to maximize flying hours; choosing to have children cuts into flying time, as well as the ability to take on career-essential jobs and schools. One solution: Let women fly longer into a pregnancy and, perhaps, join a later officer-year cohort when they lose flying time after childbirth. That would help them better compete for promotion.
Lt. Gen. Jaqueline D. Van Ovost, a command pilot with more than 4,200 hours who served as director of the Air Staff, said rolling into a later year group would enable women who choose to have children to still "go on and get command slots." Women could maintain flying proficiency by having regular sessions in simulators. That beats the alternative: losing the millions of dollars invested to train those pilots in the first place.

Lt. Gen. Jacqueline Van Ovost, staff director at Headquarters Air Force, speaks with Col. Jocelyn Schermerhorn, 11th Wing and JB Andrews, Md., vice commander. Van Ovost, a command pilot, participated in a seminar about retention solutions hosted by AFA in March. Photo: Amn. Michael Murphy
WISE COUNSEL
If the Air Force is to attract and retain the workforce it needs in the future it must continue to evolve the accommodations provided to women, Pawlikowski told Air Force Magazine in a wide-ranging interview about her 40 years of commissioned service.
Today's Air Force has more and more "dual-career families, in which both the man and the woman are pretty successful," she said. Traditionally, couples have had to make a choice about whose career would take precedence, Pawlikowski said, driving "one or the other to make the decision to get out, for the sake of the family or the work-life balance." But young officers today are less willing to make that choice, she said—and shouldn't have to.
The first Air Force women four-stars all faced such a choice. "Each of the three of us"—Gen. Janet C. Wolfenbarger, Gen. Lori J. Robinson, and herself—"by the time we were approaching that three-star, four-star level, our husbands were no longer serving on Active Duty," Pawlikowski said. "I was extremely fortunate that my husband decided that he really wanted to be a high school math teacher. … Which enabled me to have someone with the flexibility to find a job wherever the Air Force took me. Because high school math teachers were always in high demand … and he was able to be with the children when they were home."
Wolfenbarger's husband retired as a colonel; Robinson's husband retired as a two-star Reserve officer.
A lot of married women officers in the Air Force are married to other military members, "so you end up with this constant challenge of, 'how do I keep my family together and progress my career?' And it's more acute in the military," she said.
She added, "We lose a lot of people because of a spouse career." It's therefore critical that the Air Force "seriously look at what we can do to enable our military members, especially as we're an all-volunteer force, to be able to establish that work-life balance." She acknowledged that USAF has "done a number of things in the last three to five years that has helped us to move toward" that goal. "And it benefits everybody."
"The Air Force of today is very, very different from the Air Force that I started with," she said. "We've gone through many significant transitions in terms of the introduction of women into the leadership." The "things that the Air Force has done to help women progress through the ranks—and I don't mean preferential treatment—have been, I think … positive for the force across the board."
Pawlikowski asserted that the Air Force has been uniquely progressive in addressing the needs of women and families, and its progress continues to evolve.
"Keep in mind that, until about 1972, women who got pregnant were separated," she noted. The idea of child-care centers on Air Force bases was a remote and laughable notion when she was commissioned in 1978. "If you were a woman on Active Duty and you were worried about childcare, that was your problem," she recalled. In a recent meeting, however, she said the top USAF leadership had a lengthy discussion about the need for 24-hour childcare at Creech AFB, Nev., because remotely piloted aircraft operators are often "flying" on a clock many time zones away.
"It would have been unheard of, 20 years ago, that we would have had a bunch of four-stars talking about that," she observed.
When Pawlikowski joined ROTC in 1974, women had only recently been allowed to become line officers, with the same rights and opportunities as men (a 1972 legal case ended the practice of denying females spousal, housing, and other benefits, and it had only been since 1967 that women were allowed to become general officers). There were "no scholarships" available to women when Pawlikowski joined, she added.
She acknowledged that she, Wolfenbarger, and Robinson were among the first female four-stars because they happened to excel in non-pilot specialties. Women entered flying later, and that means that female pilots in transport and other flying specialties only later became eligible to be generals. Women in combat flying roles—fighters and bombers—will be along soon, she said, as they only got started in that field in the early 1990s.
It takes approximately 25 years of service for airmen to first pin on as general officers, and then "It's about at the 33-year point when you make four stars," she noted.
Pawlikowski said she favors "this opportunity to take a break" for women seeking to start a family, "because I think that the women of today want to have a family."
She recalled when Brig. Gen. Wilma L. Vaught (Ret.) gave a speech in 1983, when Pawlikowski was at McClellan AFB, Calif., Vaught agreed to meet with the three women officers on the base. "?'You're not going to be able to have a family,'?" Vaught told the three women at the time. "?'In order for you to progress to where I am, you're going to have to be 100 percent dedicated to your career.'?"
That, Pawlikowski recalled, "really irritated me—why is it that the [male] lieutenant sitting next to me can have a family but I can't?"
When Pawlikowski pinned on her first star years later, Vaught was invited. The new one-star made a point of introducing Vaught to her daughters. "?'I've been waiting 20 years to tell you [that] you were wrong,'?" Pawlikowski said. "But the fact of the matter was, she was right—in 1983. Many women in my year group chose to … leave to have a family" and became "highly successful doing other things."
Women of today "want to have the flexibility to take three years off, maybe, until their children are older, and not have it be an insurmountable" hurdle for a successful career. Not only that, "these are things that, frankly, my male counterparts would like to do, too. And so I really think the Air Force needs to continue on this journey … of really looking at the quality of life aspects of our military."
As to whether the "time off" idea will fly with the rank and file, Pawlikowski said, "The jury is still out. We've had that program now for maybe three years." She added, "I'm hopeful."
The promotion of Gen. Maryanne Miller and others is a positive sign, Pawlikowski said, that the Air Force has "an appetite" to step outside of its traditions and try new things. As the first Reservist to command an Active Duty major command, Miller is setting a precedent that will reduce objections to similar arrangements in the future.
"But it will be interesting because there will be cultural challenges," Pawlikowski said. And those will chiefly reside with more senior officers and retirees. Younger people typically don't have a problem with new approaches, she said.
Just over the course of her own career, Pawlikowski said, the Air Force has gone from spouses being almost entirely women—"where the wing commander's wife was equivalent to the wing commander"—to today, when spouses are male and female, and "spouse clubs … are struggling."
Millenials, market research shows, "just don't join things," Pawlikowski noted, and the Air Force must do a good job articulating "what's in it for me?" She believes USAF should emphasize that serving is not just a job, but "you're part of a family, and a family that takes care of each other, and it goes beyond just the member." The service must accept that "you don't get 'two-for-one' when you hire a squadron commander. And that's particularly challenging when the spouse may also be a squadron commander."
Once upon a time, much of that support was provided by other members, she said. Recalling how, when her husband sat alert, husbands not on alert were ready to help "if my toilet backed up and I needed help cleaning up the mess." Now, "just like industry, we're probably going to have to offer more of that institutionally, instead of it being a volunteer spouse network." The old system of members helping each other still happens and is laudable, but physical realities get in the way, she noted. When she commanded USAF's Space and Missile Systems Center in Los Angeles, family housing was "35 miles south of the base," and it was impractical to invite members to "a social function after work."
So, "that type of environment is very difficult to replicate. … Culturally, we have to figure out how we're going to adapt to that with this generation of airmen."
Pawlikowski said 1980 marked a true watershed for the Air Force, because that was the year that women first graduated from the Air Force Academy. She noted that she and Gen. Robin Rand of Global Strike Command, who retired this summer, were "the last of the '70s. … All the other four-stars, now, are post-1980," and with the exception of combat pilots, women were able to serve in almost any capacity from that date forward.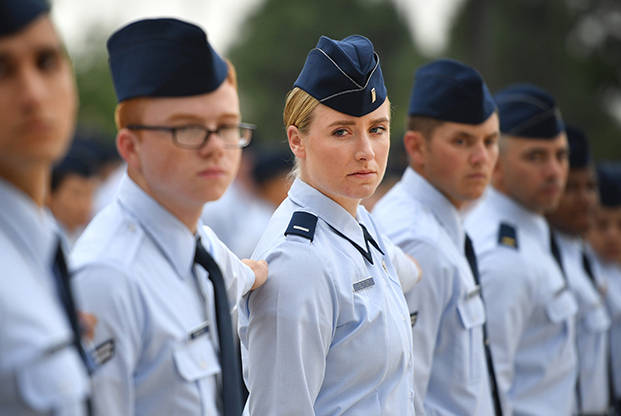 First Lt. Hillary Keltner follows a dress right dress command during inspection at Schriever AFB, Colo. Women make up more than 20 percent of the officer corps at major and below, but above that rank, the number of women officers drops dramatically. Photo: Dennis Rogers/USAF
THERE'S NO GOING BACK
Today, "people don't bat an eyelash" at women serving in previously male-only specialties. "People still ask me, what's it like to be a four-star and a woman? I don't know why I would feel any different from any other four-star," she said.
While Pawlikowski agrees there may be a "lull" in the number of four-star women generals, "what I think you're going to see … I'm hoping," she said, "over the next three or four years you'll see that group of women that have been able to compete in the combat arms on an equal footing with men, [and] we'll start to populate the more senior ranks."