The first international F-35 for the United Kingdom rolls out of the factory in 2011. The Ministry of Defense will use this short take off/vertical landing jet, known as BK-1, for training and tests. Randy Crites/Lockheed Martin
America's military technology depends not just on the science of new technologies, but the ability to turn those breakthroughs into practical hardware.
_Read this photoessay in our print issue:
The story of the "Arsenal of Democracy" runs from Rosie the Riveter and the gargantuan production plants of World War II to the heavily guarded desert factories where the Air Force's most secret systems are sometimes hand-built to fulfill exacting missions. From massive, robot-assisted assembly operations to small companies with a few dozen workers, production lines are the Air Force's lifeblood.
The service is ramping up production of munitions after half a decade of using them up faster than it builds them and embarking on a modernization binge after decades of having key programs canceled or postponed.If all goes as planned, a bevy of new fighters, tankers, bombers, trainers, and surveillance aircraft will start entering service in the next few years, although the production surge won't come close to the levels seen during the so-called "Reagan buildup" of the 1980s, when F-16 fighters were built at rates exceeding 200 a year.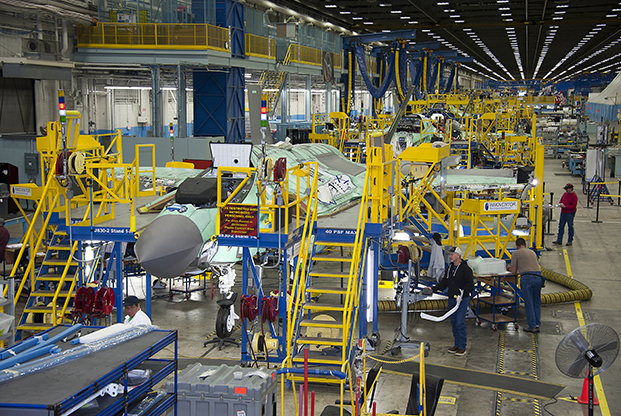 Lockheed Martin's F-35 line in Fort Worth, Texas, is the largest military aircraft production facility in the world. It is frequently updated to incorporate more efficient materials and processes. Randy Crites/Lockheed Martin
THE GREEN MILE
Lockheed Martin's mile-long production line in Fort Worth, Texas, employs about 8,800 people who work on the F-35 Joint Strike Fighter. The famous plant—operated be predecessor entities such as Consolidated, Convair, and General Dynamics—has produced B-24 and B-58 bombers, F-106s and F-111s, among others. The last factory-fresh F-16 left the plant in December 2017, after more than 40 years of Viper production. The F-16 line will be moved to Greenville, S.C., and foreign locations to make more room for the burgeoning F-35 line.
It takes about 22 months to build an F-35, and production is slated to increase rapidly, as the plant builds jets for USAF, the Navy, Marine Corps, eight partner nations, and at least four foreign customer nations.
Last July, the Pentagon announced its 11th contract for low-rate initial production of the fifth generation fighter. The $5.6 billion contract modification covered 48 F-35A variants for the Air Force, along with 18 F-35Bs for the US Marine Corps, and eight F-35Cs for the US Navy. In Fiscal 2018, the Air Force is requesting 46 more F-35As, aiming to get to 60 per year early in the next decade. USAF wants 1,763 F-35As in all.
The program has two more production lines globally. Europe's F-35 final assembly and checkout (FACO) facility is in Cameri, Italy, where Lockheed expects more than 6,300 people to work at peak production. The first jet rolled off the Italian line last March.
Another FACO is located in Nagoya, Japan, operated by Lockheed partner Mitsubishi Heavy Industries. At least 38 F-35s will be built there; the first Japan Air Self Defense Force F-35 rolled out last July.

Due to the limited space indoors, P-38 Lightnings were finished on the flight line in World War II. Lockheed Martin
BUILD 'EM BIG
The world's largest building, by volume, sits on Boeing property in Everett, Wash. The 98.7-acre facility houses production for the company's civilian airliners and the Air Force's new tanker, the KC-46A Pegasus.
The tanker has suffered development delays but production is beginning to ramp up. The jet is adapted from the company's 767-200ER airliner-cargo jet.
Boeing was cleared for Pegasus production in August 2016. As of October 2017, six of 24 aircraft on contract were flying and undergoing tests. The service plans to field at least 179 KC-46s, with the first operational model coming early in 2018. Boeing had previously committed to 18 tankers being delivered by that time.

Workers install a refueling boom on a USAF KC-46 at the Boeing factory. Boeing
BLACK JETS
Air Force Plant 42, north of Los Angeles in Palmdale, Calif., hosts several big contractors, all doing "special access" work. Lockheed Martin refurbishes U-2 intelligence, surveillance, and reconnaissance aircraft at its facility there, and Northrop Grumman seems to be organizing space at its portion of the sprawling plant for manufacture of the still-secret B-21 Raider stealth bomber. The B-2 Spirit stealth bomber was built in Palmdale and receives its depot maintenance there, as well.
Northrop was up to 3,000 workers at the Palmdale facility last fall, adding more at a steady clip, the Los Angeles Times reported. By 2019, the company expects to have 5,200 employees working on the Raider and other aircraft in Palmdale, wrote the Times.
Production is just beginning on the bomber. Much of its funding remains secret and the Air Force has said only that it will build "at least" 100 of the jets. The program has passed its preliminary design review, and drawings are now going to vendors to begin fabrication, according to the Air Force's Rapid Capabilities Office, which oversees the project.

A Lockheed Martin technician cuts strips of thermoplastic-resin composites for an F-22 aircraft panel. The material allows airframes to be lighter than those built from metal. Eric Schulzinger, Lockheed Martin
BOMBED UP
The Air Force has released 54,000 precision guided weapons against ISIS since 2014, a figure that doesn't count weapons used by the Navy, Marine Corps, and coalition partners. Wilson acknowledged in September that stockpiles haven't been replenished fast enough.
USAF is moving to get inventories back into the black. Production of the Small Diameter Bomb 1 is accelerating from 5,000 to 8,000 units per year. The Joint Direct Attack Munition production rate is ramping up to 45,000 per year—and could go higher—though production depends on several component suppliers keeping up that pace.
In concert with the Army, USAF is stepping up production of AGM-114 Hellfire missiles, and the Air Force is working with the Navy on the Advanced Precision Kill Weapon System.
These new weapons have "changed the way we fight," Wilson said in September, and many senior USAF leaders have suggested the service will never go back to imprecise weapons that may not hit exactly what they're aimed at.
"We will continue to work closely with our industry partners to manage production, she said, but keeping old equipment ready "isn't enough."
Production will have to increase.

A C-130J Super Hercules aircraft at Lockheed's production facility in Marietta, Ga. Lockheed Martin
RESTARTING THE RAPTOR
The Air Force is struggling today to meet regional commander demand for the world-beating F-22 Raptor fighter. Then-Defense Secretary Robert M. Gates halted its production in 2009, and there aren't enough to meet all of USAF's commitments; only 187 of a required 381 were built.
Since the last F-22 rolled out of Lockheed Martin's Marietta, Ga., facility in 2012, members of Congress have asked what it would take to restart the line and bring fleet strength up to par. In the Fiscal 2017 Defense Authorization Act, USAF was directed to study the costs, time lines, and effort required to produce up to another 194 F-22s.
In July 2017, the Air Force submitted its report, saying that another 194 F-22s would cost $50 billion. That cost includes $9.9 billion to restart the production line—a process that involves taking tooling out of storage, hiring a workforce with proper security clearance, training it, and certifying thousands of component vendors. The service has "no plans" for doing this, Air Force Secretary Heather Wilson said at the time.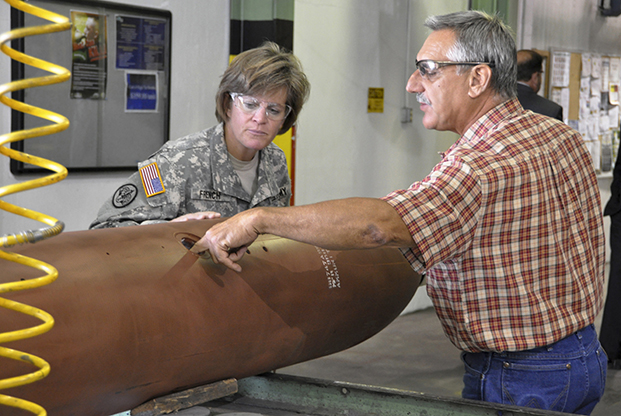 Brig. Gen. Kristin K. French, left, then-commander, Joint Munitions and Lethality Life Cycle Management Command and Joint Munitions Command, listens as Steve Saunier explains the arming well of a 2,000-pound bomb at the McAlester Army Ammunition Plant in 2013. Lea Giaudrone/US Army
Although it's unlikely the American defense industrial base will see a return to the massive output last seen in the 1980s, the production pendulum is swinging back up. After a prolonged drought, the Air Force in the 2020s will also see warm production lines for fighters, bombers, tankers, surveillance aircraft, and trainers, and a steeply accelerating output of smart munitions. Whether production reaches a sustained plateau or continues an up-and-down cycle, assembly lines will continue to be the backbone of the fighting force.