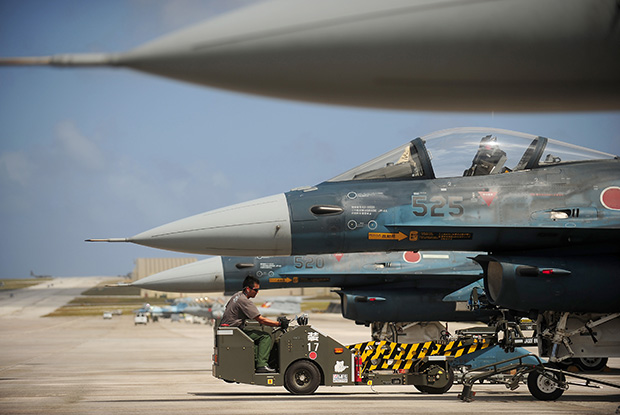 Japan is stepping up its security posture, prompted by recent provocative moves by North Korea and China. The heightened threat is pushing the US and Japan even closer together militarily and spurring Japan to try to smooth over long-simmering tensions with South Korea.
On Sept. 9, North Korea conducted its second nuclear test of 2016—its fifth overall—claiming to have successfully detonated a warhead small enough to be mounted on an ICBM. The test came just days after Pyongyang launched three Nodong medium-range ballistic missiles into the Sea of Japan. Just a few weeks before, as Japan announced its new cabinet, North Korea launched two more ballistic missiles toward the Sea of Japan. The first one exploded almost immediately after launch, but the second landed in the exclusive economic zone, about 200 miles from Japanese soil.
Significant steps
The launches were part of what President Barack Obama called an "unprecedented campaign of ballistic missile launches" in 2016. After the fifth nuclear test, Obama vowed to work with regional allies and partners to "vigorously implement" existing UN Security Council resolutions "and to take additional significant steps, including new sanctions, to demonstrate to North Korea that there are consequences to its unlawful and dangerous actions."
Obama also spoke with South Korean President Park Geun-Hye and Japanese Prime Minister Shinzo Abe to reiterate the "unshakable US commitment to … defend our allies in the region."
Brig. Gen. Michael P. Winkler, vice commander of 5th Air Force at Yokota AB, Japan, told Air Force Magazine he doesn't think "there has been a stronger point in the alliance" between the US and Japan. "We work very, very closely with them. The nature of the threats in the region are driving us closer together."
Thousands of North Korean missiles are pointed at Japan, and Pyongyang's ambitious missile program is "a source of a lot of heartburn," noted one US Forces Japan official. The fact that many of those missiles are capable of reaching Japanese islands is very much on "the minds of the Japanese," said Winkler.
"Fifteen years ago, we used to think of Japan as a sanctuary, but the reality of today is that we live under an anti-access, area-denial umbrella" that has "fundamentally changed the way we think about conflict in the Pacific," said Winkler. Though North Korea is the closest and most immediate threat, many countries in the theater have ballistic and cruise missiles capable of attacking US bases in Japan and in the surrounding region.
The US and South Korea agreed to deploy a Terminal High Altitude Area Defense missile system on the Korean Peninsula in July, and Winkler said he is "very excited" to have it in theater. Though its projected placement in South Korea won't "do a lot to defend the nation of Japan," the information gathered from its sensors can be shared with "all the US forces in theater, and some of that data may be able to be shared with allies."
In July 2014, the Japanese government sent shock waves through the region and stirred a domestic controversy by lifting a constitutional ban on its troops fighting abroad—a provision that had been in place since 1945. The change broadened the country's military options in times of crisis, allowed Japan to more easily participate in military exercises with other countries, and enabled its forces to participate in UN peacekeeping operations. Abe called the change a "defensive measure," but he also emphasized that Japan was unlikely to use force to defend foreign forces.
Soon after, in April 2015, the first major revision to US/Japanese defense cooperation guidelines since 1997 was unveiled. Secretary of State John F. Kerry said the new guidelines would help deter threats and contribute to regional peace and stability, but applying those guidelines is still in the early stages.
Col. Kenneth E. Moss, commander of the 374th Airlift Wing at Yokota, said the US is seeing the start of "a really good relationship" with Japan. Moss has been stationed in Japan four times since 1993 and has watched the relationship evolve. He said 20 years ago, US and Japanese forces rarely exercised and trained together, but now are doing so constantly.
"The Japanese have always accepted us in and were always willing to partner. The recent changes in the threat and stability of the region have opened up the Japanese eyes and minds to additional training and opportunities that exist because they partner with us," said Moss.
The new guidelines have enabled the Japanese to participate in more joint planning sessions with US forces, said Brig. Gen. Barry R. Cornish, commander of the 18th Wing at Kadena AB, Japan.
"We've opened the door a little more in understanding each other and our ability to integrate and operate together," said Cornish.
One key change has been in command and control. The Japan Air Self-Defense Force continues to invest in its network capabilities allowing the US and Japanese forces to share data links. Cornish said this has been a "great enhancer [to] situational awareness that will become central to how we are able to interoperate" in the future.
The Japanese also are keenly aware of the increase in natural disasters in the Pacific region in recent years. Roughly 80 percent of the world's natural disasters take place in US Pacific Command's area of responsibility, covering roughly 52 percent of the globe, and Japan is looking to the US to help it respond to these crises.
Radical Change
After the devastating 9.0 magnitude earthquake and subsequent tsunami hit Japan in 2011, the government realized it needed to be better prepared to work with the US military assigned in their country.
Moss said Operation Tomodachi, the earthquake relief effort, "radically changed" the way the Japanese view US forces. "We're seen as a true partner and as someone that's here to help," he said.
The JASDF has made significant strides in its own humanitarian assistance/disaster relief capabilities since then, having studied US Guard and Reserve natural disaster response efforts. In 2015 when flooding struck a prefecture north of Yokota, the Japanese civil government reached out to its own military for support.
"We said, 'We're here to help,' and the Japanese military said, 'I think we have this one,'" said Moss. "They demonstrated a disaster relief capability for the first time for the Japanese people and it really gave them a sense that, 'We can do this. It's great the US military is there, but it's also great that our military can provide a response.'?"
Still, humanitarian assistance-disaster relief operations and partnership building remain major parts of the US mission in Japan as well as the rest of the Pacific.
The bulk of the Air Force's presence in Japan is on Okinawa, where the US military has long had a complicated relationship with Japanese civilians and local political leaders. These sometimes-tense relationships make disaster relief capabilities and partnership building all the more important. "To me, that's why we're here," said Col. William C. Freeman, commander of Kadena's 353rd Special Operations Group, US Special Operations Command's only air component in the Pacific.
USAF has "that enduring presence out here. That helps with building up those critical relationships," he added. "If we had a rotational force they couldn't establish that bond that we have and wouldn't really know the people throughout the Pacific region and what they need."
When Typhoon Halola struck Wake Island in July 2015, Pacific Air Forces called on the 353rd SOG to rapidly assess the damage. More than 100 people had evacuated and PACAF wasn't sure if it was safe to land C-130s or C-17s on the runway.
The SOG sent two MC-130H aircraft and a special tactics team to conduct a "boots on the ground technical assessment." The team planned the mission in the back of the aircraft on the five-hour flight to Andersen AFB, Guam, where they integrated with the 36th Contingency Response Group. A B-52 operating out of Guam flew over with an intelligence, surveillance, and reconnaissance pod and took pictures.
The next morning, the MC-130Hs took off on the three-hour flight to Wake Island. They were refueled in the air by a KC-135 operating out of Guam, and airdropped "a five-person special tactics team along with a couple of dirt bikes" to assess the field, clear the debris, and give the green light. Less than an hour later, a C-17 landed on the runway.
"It's a great vignette on … how we can integrate with our sister services and the rest of the Air Force," said Freeman. "We can't do this alone. … From notification to opening the field was 36 hours," and that includes nine hours of flying time.
Kadena is known as the "keystone of the Pacific" because it is just an hour's flying time from both South Korea and Taiwan; three hours to the Philippines and the contested Spratly Islands in the South China Sea; and five hours to Singapore and Indonesia. Kadena, Yokota, and Misawa AB, Japan, often serve as staging locations for humanitarian assistance-disaster relief operations.
In 2015, the 909th Air Refueling Squadron at Kadena—USAF's only Active Duty tanker squadron in the Pacific—flew a total of 7,500 hours, including 469 combat hours for operations Inherent Resolve and Enduring Freedom, setting a 25-year high, said Lt. Col. Jonathan Burdick, unit commander. In that year, the squadron offloaded 3.2 million pounds of fuel, supported 47 strikes, refueled 247 coalition receivers, and conducted 86 aeromedical evacuation support missions, saving 64 patients.
"We have 15 tankers and we're typically always maxed out," said Burdick, who noted that the overall demand for tankers in theater "far exceeds capacity."
In addition to its refueling and aeromedical evacuation roles, Kadena's KC-135s are being used as transport aircraft. After North Korea conducted a nuclear test in January 2016, for example, the 909th was called in to "transport materials back to the US very, very rapidly so senior leaders could make the decisions they needed to make," Burdick said. He wouldn't elaborate on the nature of the materials sent, but said that within 12 hours his airmen launched two missions from Kadena to JB McGuire-Dix-Lakehurst, N.J.
"Initially it was a very, very tactical-level capability that was put in place where we could have grand strategic effect. That's a key reason why we have tankers at Kadena and I think we'll always have tankers paired with all the other combat assets here." The tankers "shrink the world" and put many places within reach, he said.
Hoist capability
The 374th Airlift Wing at Yokota has 14 C-130Hs, and several C-12Js and UH-1Ns, all of which Moss said "have been great enablers at partnering with the JASDF and some of our other regional nations." The wing's Hueys allow airmen to get in and out of tight spaces, an important capability in the congested Tokyo metropolitan area. Pilots also fly with night vision goggles, which the JASDF does not do, allowing recovery efforts to continue after sunset, Moss said.
The Air Force recently added a hoist capability to the helicopters, allowing them to take on some aeromedical evacuation roles as well, easing demand for the base's C-130s and Kadena-based tankers. In addition, the service added a medevac function to the C-12, normally used for VIP transport.
The new capability not only has "opened some doors with JASDF partners," said Moss, but has saved the Air Force a lot of money.
It costs about $9,230 per hour to fly the C-130H and just over $11,000 per hour to fly the KC-135. The much smaller C-12J, by comparison, costs $2,289 per flight hour to operate.
"Based on the number of flight hours we have devoted to aeromedical evacuation missions, we have saved the Air Force an estimated $1 million compared to the C-130H and KC-135 since the start of the calendar year," said Capt. Anthony J. Pergola, a C-12 pilot with the 459th Airlift Squadron at Yokota.
The 374th AW is PACAF's only forward deployed airlift wing and its reach is extensive. During a typical week, one or two of the wing's C-130s are in depot maintenance, three are reserved for training, and the rest are participating in tactical airlift missions throughout the theater.
Many other countries in the Pacific fly C-130s, including Indonesia, Japan, Malaysia, the Philippines, and Vietnam. The 374th serves as the regional "subject matter experts for the employment of that airplane," said Moss.
"We have a lot of outreach with many of the countries," he said. "Right now, … we're in the initial stages of building a relationship with them, understanding what their capabilities are, and letting them build trust with us and assist them," he added. "We've done deployments to Indonesia and Malaysia, and we're looking … to expand our presence elsewhere."
The wing is upgrading its own capabilities and is about to transition to the C-130J Super Hercules. The first model was slated to arrive in November 2016. Eventually, the 374th AW will fly a mixed fleet, including eight new J models and six older aircraft with the final J model slated for delivery in February 2018.
Pilots say the new aircraft is in some ways more like a C-17 than the legacy C-130s. It's newer and therefore much more reliable. The C-130J is about 10 percent to 15 percent faster than the H models and is more fuel efficient. It can carry 128 troops instead of 92 and eight pallets instead of six. Another benefit is that the wing's H models are on a five-year programmed depot maintenance cycle, but the new J models will be on a 10-year cycle, making more aircraft available for operations and training.
"The J can take off a little heavier. It has more volume and weight," said Maj. Brian Miller, director of Yokota's C-130J transition program. "Before, it would take us four C-130s to move cargo to Korea. Now we can do it in three and it's not like they reduced our footprint. It's still a one-to-one swap. We're just getting a more capable plane."
The challenge will be in maintaining the high operational tempo during the transition. The wing is no longer bringing in new H model pilots and J model pilots have to go back to the United States for training. Also, the wing is not getting aircraft as quickly as before, making it harder to train maintainers on the aircraft. Unlike the pilots, who will train at Little Rock AFB, Ark., the vast majority of C-130J maintainer training will be conducted at Yokota, so the early aircraft will have to be split between operational use and training.
"We are intentionally delaying the H leaving to allow for some capacity to remain at Yokota for the H flying mission while the J stands up," said Miller.
The 353rd SOG, which began transitioning to the MC-130J in December 2014, already has six of its planned 10 J models. However, the group will keep four of the MC-130H models around until Air Force Special Operations Command completes development and testing of the airplane's all-weather terrain avoidance radar, said Freeman.
Former AFSOC commander Lt. Gen. Bradley A. Heithold said the command had scrapped plans to use the original AN/APN-241 radar and is moving forward instead with the Silent Knight Terrain Following/Terrain Avoidance radar currently deployed on MH-60 and MH-47 special operations helicopters. The new radar is expected to be installed on AFSOC CV-22 Ospreys, too.
The SOG was expected to begin sending its four remaining Talon IIs back to the US for modifications in October 2016, including upgrades to its radios, avionics, and defensive system. Freeman said it will take a couple years for all four H models to be upgraded, and noted that "it's going to be a while before we're full-up on J models." The exact timeline hasn't been determined, he said.
The group also is in the process of standing up its CV-22 detachment at Yokota. The first three of 10 CV-22s is slated to arrive in the second half of 2017 and the rest will be delivered by 2021. The beddown "will provide increased capability for US special operations forces to respond quickly to crises and contingencies in Japan and across the Asia-Pacific region, including humanitarian crises and natural disasters," according to the 2015 Pentagon release announcing the beddown. It will "increase interoperability, enhance operational cooperation, and promote stronger defense relations with the Japan Self-Defense Forces."
The CV-22s and Yokota's C-130Js will be able to share a composite repair facility now under construction, saving some money in the military construction budget.
As part of the Defense Department's push to put its most capable assets in the Pacific region, 10 Marine Corps F-35Bs will be deployed to that service's air station at Iwakuni, Japan, in 2017. The base now hosts F/A-18 fighters, which will eventually be replaced by F-35Bs. The deployment is to familiarize pilots and ground crew members with the fifth generation fighter.
Japan also is procuring the F-35A strike fighter and is buying V-22s for its own forces.
Lockheed Martin rolled out the first Japanese F-35A during a September ceremony at the company's Fort Worth, Texas, facility. Company CEO Marillyn A. Hewson said three more Japanese F-35As would be made in Texas followed by 38 more to be made at the Mitsubishi final assembly and checkout facility in Nagoya, Japan.
During a joint press conference with Japanese Defense Minister Gen Nakatani in April 2015, Defense Secretary Ashton B. Carter said the "close bonds of friendship" in the US-Japan alliance are being strengthened by "our investments in technological breakthroughs, deploying our finest capabilities to the Asia-Pacific, and realigning our posture in the region."
The relationship with Japan, he said, remains "the bedrock of our key role in the security of the Asia-Pacific."