Kaleth Wright testifies before the House Appropriations Subcommittee on Miltary Construction and Veterans Affairs in March 2017, just after taking USAF's top enlisted position. Photo: Scott Ash/USAF
Chief Master Sergeant of the Air Force Kaleth O. Wright knows the lives of enlisted airmen are out of balance, with too many demands on them at home station and too many demands for them in contingencies around the world. His charter from Chief of Staff Gen. David L. Goldfein is to help put some "white space" back on the calendars of the enlisted force.
He has his work cut out for him. After a year on the job, he's spent considerable time visiting airmen around the world, asking for their opinions, their gripes—and the things that give them satisfaction and keep them in uniform.
"I don't believe that I get 100 percent honesty back every time," said Wright, a four-time command chief who came most recently from US Air Force in Europe and Air Forces Africa. Maybe junior airmen are "starstruck" by a visit from the top noncommissioned officer in the service, he said in a recent interview with Air Force Magazine.
More often than not, though, he'll get a direct answer starting with, "Hey Chief, this is what we're dealing with down here."
The standout thing he's learned from those countless conversations is "the amount of stuff they have on their plate, along with all of these additional requirements … and how little time they actually have."
The feedback has driven him to whittle away at some burdensome and unpopular required online courses. Late last year, he got the requirements for annual airmen awards reduced from 27 lines to 16. Days into 2018, he got evaluation performance reviews for airmen first class and below thrown out altogether—a long-awaited and widely lauded move.
"I feel like from the time that we started until today, we made some progress," Wright said. "We fixed some things," but "I still feel like we have a lot of work to do in removing some of the barriers" keeping airmen from concentrating on the mission.
By June, he hopes to have cleared away "many of the small things" so he can chisel away at the "bigger rocks" with senior leaders.
"I don't want to go through the next three years playing whack-a-mole," he said.
The Air Force's manpower shortage is real. Too many people were let go in recent years, when service leaders were forced to choose between manpower and functional equipment. Despite the small size of the force, Air Force Secretary Heather Wilson noted last October that today's USAF is "much more active in combat" than during the Cold War.
Consequently, airmen are stretched thin, and their time is ever more valuable. Wright aims to refocus that expensive time on the mission by mitigating additional (and, some say, unnecessary) requirements.
But he also wants to expand a few demands, such as ensuring that airmen are well-trained for operating under tough battle conditions. This is particularly applicable to those headed to the Korean Peninsula and elsewhere in the Pacific.
The Air Force's challenge is to deal with "global instability and insecurity," he said, adding, "I'm concerned with the risk" being put on airmen. With rising tensions, airmen find themselves heavily tasked at home training for real-­world crises. Then, when deployed in the crisis zone, they must work long hours to stay combat-sharp.
The risk is that, with little downtime, they might get burned out.
Despite the drumbeat of tensions in Korea, Wright was not losing sleep over it. In a December interview, he said, "I sit here in the briefings. I hate to call it rhetoric, right, but what we see on the news and what's actually closer to reality is totally different," he said. "Do I wake up and feel like, 'Oh man, we're really close?' Not now. Not yet."
For now, his method in reducing excessive requirements on airmen is incremental. There will be bigger moves later, but in the meantime, smaller steps can make a difference right away.
Wright's "approach to refocusing airmen on their core duties isn't one large initiative," he said, "but rather small things that add up over time." Shortening the evaluation form is an example. So are checklists.
The predeployment checklist—a mission-specific suite of training and requirements—for airmen deploying from the 1st Special Operations Wing at Hurlburt Field, Fla., was recently shortened considerably. One of the boxes to be checked off was that airmen had to complete a "relatively long" computer-based training course on the Pashtun language, he noted.
"I met a commander who told me: 'This is actually not language training. You have to take it because it's on the checklist, but no one learns how to speak Pashtun from this thing.'" So, "guess what? We're not going to do it," said Wright. The wing commander was able to cut down the checklist from 14 pages to three.
That's a solid example, but Wright admits the process for similar reductions is "still very much a work in progress." Additional duties assigned force-wide are being looked at to determine whether they only apply to certain communities. Commanders are getting more flexibility to decide what duties are actully necessary for their airmen and are being allowed to cut accordingly.
The drawback is that the reductions aren't universal, and some duties taken off the shoulders of individuals are being transferred to commander support staffs, which are being reestablished gradually, as part of Goldfein's refocus on the squadron. However, "manning hasn't yet fully caught up with the intent," and so some airmen will bear a heavier load for a time. "We're getting there," Wright insisted.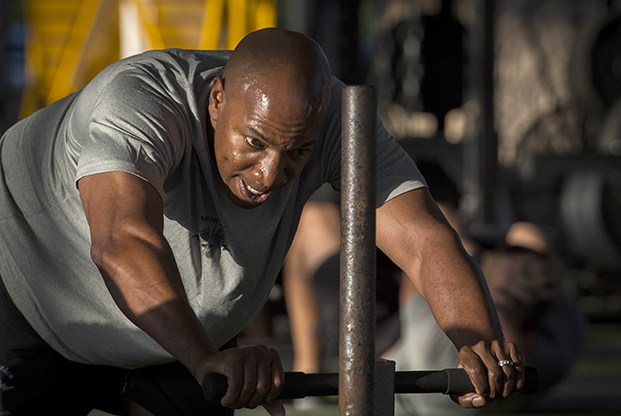 Wright works out with airmen at Hurlburt Field, Fla. Daily fitness, meditation, and reading are important to USAF's top enlisted airman. Photo: Scott Ash/USAF
REWARDING VOLUNTEERISM
In recent years, many commanders and supervisors have strongly encouraged airmen to add a lot of off-hours volunteer work to their resumés to enhance their chances for advancement. Most have complied, fearing their promotions and careers hung on volunteerism in addition to competence at their assigned duties. It is a common critique. This belief—according to anecdotal evidence—persists despite top-level support for the "80/20" philosophy.
He asserted that "80 to 85 percent of what you'll be evaluated on for promotion or various opportunities" should be job performance, but he knows the message needs constant repetition. Pointing at the specific guidance given to the members of promotion boards, Wright said, "There is no 'additional duties, off-duty education, volunteer' formula. It's actually the exact opposite."
However, he pointed out, having additional factors still account for 15 to 20 percent of a promotion evaluation is not straightforward enough for some airmen.
His specific advice? Establish career end-goals, Wright says firmly, and choose volunteerism and personal growth that makes you a more valuable airman. Yes, off-duty accomplishments are important for a career, but they should also be relevant.
For noncommissioned officers, he recommends getting involved with on-base and local community organizations to raise money, provide scholarships, or coordinate volunteer work. For example, airmen can get involved in setting up USAF's annual awards programs, he said, noting those presented at AFA's annual Air, Space & Cyber Conference.
Wright and other senior leaders are studying the "forced distribution" system of ranking one's subordinates relative to each other. This acknowledges that not everyone can be "outstanding" but compels supervisors to put someone at the bottom—thus damaging their advancement potential.
It's a promotion system hailed by some—Wright's predecessor, CMSAF James A. Cody was a fan. Others, such as the Deloitte Corporation, said in the Wall Street Journal in 2014 this sort of personnel system "crushed morale, stifled innovation, and led to unscrupulous competition" among workers.
"There is always room for improvement in any process," Wright said, explaining that forced distribution was to be scrutinized over a four-day review of enlisted evaluation in January. Data collected over the past three years of promotion cycles will be examined to see what—if any—adjustments need to be made. The review should give Wright a "more firm grasp" on the issue.
As these measures advance, Wright said airmen who want to be promoted should do their best to become "well-balanced," and that balance should include time out of uniform.
Wright said he tries to hold himself to the same balance he touts for airmen: the "2-10-5-7" philosophy he swiped from USAF's Vice Chief of Staff, Gen. Stephen W. Wilson.
The numbers translate to: two hours in the morning to get prepared for the day—fitness, meditation, reading. Then, 10 hours of work. Five hours for the family, away from work, and seven hours to sleep.
"I can somewhat get there," Wright said. "The part I struggle the most with is the five hours of 'unplugged' and the seven hours of sleep."
He admits that his wife, retired MSgt. Tonya Wright, would "wholeheartedly call BS on both of them."
She told Air Force Magazine, "I think he's the worst at texting his office." Wright will "get a thought and shoot it off," and his staff has no choice but to react. "They can't relax."
In his defense, she said, his schedule leaves him little time to catch up. When he does, and ideas pop up, he wants to be sure he gets them to the staff. Such ideas may come when he works—after work—from his office at home or when he grabs his laptop and sits next to her in the living room, "keeping company." It's a hybrid of family and work time many Americans—in the military or not—can relate to. Or he may work late into the night, never having been a "big sleeper," he says, while she sleeps and the television drones with the day's news or a Lakers game.
"He goes and goes and goes until he's exhausted," said Tonya. "He stays up late. I wish he would get more sleep," noting that one of the Wright's resolutions for 2018 is to do just that. "I worry he's going to crash," she said.
Wright says he does what he recommends all airmen with spouses do: Be present. That involves deliberately making time for the two of them, for example by exploring the D.C. area's restaurants and cultural offerings.
Wright tries to find time for himself during his daily commute, listening to music or podcasts. As out-of-the-workplace personal development is something Wright encourages in other airmen, he's trying to "walk the walk" himself.
The Air Force is looking at giving airmen credit for what's called "developmental special experience," which will take note of places they've been and experiences they've had that may not be obviously job related. Biographies, Wright said, can be misleading and may not tell the whole story about what an airman can do.
"You can make many false assumptions based on—well, my bio."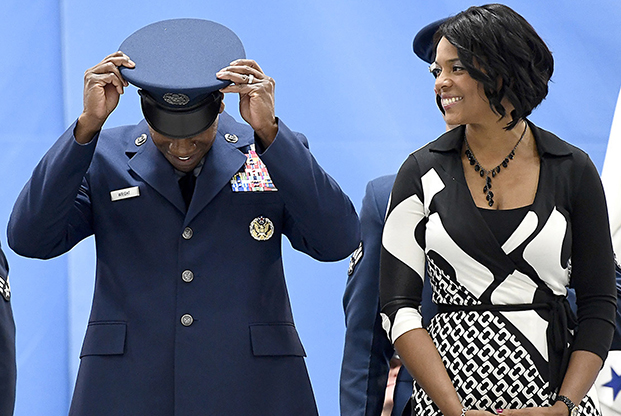 Wright adjusts his new uniform hat during his appointment ceremony in February 2017 as his wife, retired MSgt. Tonya Wright, looks on. Photo: Scott Ash/USAF
A BIO DOESN'T TELL THE STORY
Wright was a server at a barbecue joint in Columbus, Ga., before enlisting.
"I lacked guidance, direction, discipline, character," he said. "I had a problem with authority, I enjoyed partying and drinking like other 18- and 19-year-olds. I had trouble getting to work on time." He was not a model recruit, Wright said.
Once in the Air Force, he worked at a dental clinic at Pope AFB, N.C., and his approach didn't markedly improve until a personal tragedy began a series of events that changed his outlook.
Deployed during the Gulf War, Wright got a call in March 1991 from the Red Cross informing him that his father had suffered a stroke. He had a strained relationship with his father and shrugged the news off. Hours later, though, another call came: The previous message had been a mistake, it wasn't his father but his mother that had sustained the stroke.
Wright dropped everything. He obtained leave and rushed home, calling his sister at every stop to update his progress, as email was in its infancy and social media did not yet exist.
"I made it all the way back to my last stop before getting home to Georgia," at Dover AFB, Del., Wright recalled. Calling from Dover, his sister informed him that he was too late—his mother had died.
Wright became "very, very angry," he said.
"I drank more. … I was having such a hard time dealing with my mother's passing, I was showing up late to work—like, really late, two to three hours," he noted.
Wright had a mentor, retired MSgt. Joseph Winbush, who'd earlier taken him under his wing. He was having trouble justifying putting even more effort into an airman who was "very raw," Winbush said in an interview.
When Wright showed up hours late yet again for work, Winbush, then a technical sergeant, pulled him in and informed him that their relationship would end if the young airman didn't pull himself together and get his life in order. To Wright, the relationship was extremely important, and he saw Winbush as a father figure.
Winbush dropped an application for the base Honor Guard in front of Wright with the implied ultimatum that he step up or lose their friendship.
Wright applied and was accepted.
"The funerals were really what turned my life around," he said. The Honor Guard march in funerals, bear rifles or the flag, and perform rituals like folding the casket flag. During one funeral, it was Wright's task to present the flag to the deceased's spouse.
"I looked this lady in the eye—which I never did—and she cried, of course, the grieving widow. And I cried. And that very second, I thought, 'Hey man, you gotta get your life together. What you're doing has meaning and you gotta do it seriously.'"
From then on, it was classes, degrees, awards, and promotions.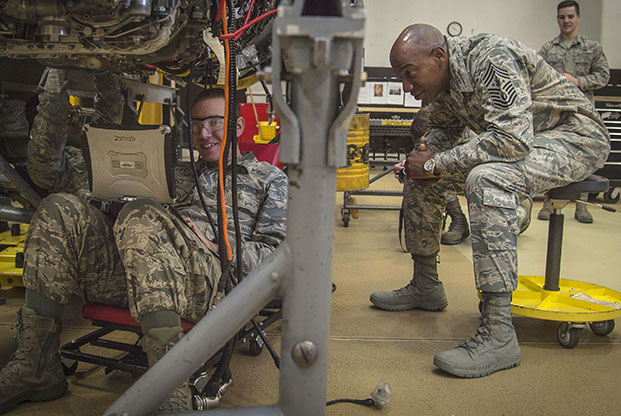 Wright (r) speaks with A1C Jeremy Daniels, an aerospace propulsion journeyman, at Misawa AB, Japan, during his Pacific Air Force immersion tour last summer. Photo: SrA. Deana Heitzman
He credits Winbush. Without him, "I would have been out of the military," Wright insisted. Not only did Wright turn things around, he earned a Bronze Star, four Meritorious Service Medals, and is now the highest ranking enlisted airman in the United States Air Force.
Wright acknowledges that not everyone is lucky enough to have a Winbush, and not everyone like Winbush would have the patience to stay invested in a troubled airman.
Wright said he believes firmly that airmen should be allowed to make mistakes—not crimes—and recover from them. The more senior the airman, though, the less patience USAF should have.
"Tolerance for mistakes narrows as rank grows. Senior NCOs should not make airman mistakes. … Correcting and learning from mistakes is a measure of character," said Wright.
With mentors in short supply, Wright says it falls on supervisors to take that special interest.
He advises them to "First, listen with both ears and a shut mouth. If you create a culture of respect and trust where your airmen can own up to a mistake, you are on the right path." The next step is "you need to help them correct it and learn from it—without taking them out at the knees."
Wright still regards Winbush as a mentor, and Winbush said Wright is like family to his own children. He said the Chief's greatest flaw is getting too concerned over some things.
"He has a tendency to grab things and not let go," Winbush said. And while "determination is good," Wright's lifelong teacher concluded, the most important goal in an airman's—or in anyone's—life is "finding the balance."