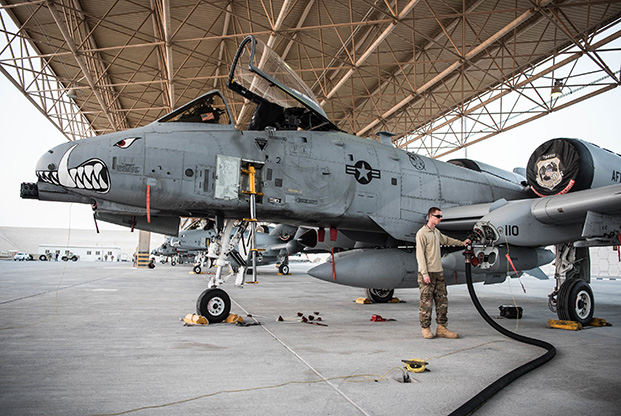 A-10s at Al Udeid AB, Qatar, en route to Kandahar Airfield, Afghanistan. Photo: MSgt. Phil Speck/ANG
Combined Air Operations Center, Qatar—
Since the end of 2017, with the fight against ISIS in Iraq and Syria winding down, the Air Force has been shifting airmen and aircraft to Afghanistan to support the changing, enduring mission there.
In October 2017, US aircraft conducted 653 strikes in Afghanistan, the highest number since November 2010—during the surge under President Barack Obama—and in November, the US and Afghan military began targeting Taliban drug labs in an ongoing operation called Jagged Knife.
By the beginning of February 2018, the Air Force had sent A-10 Warthogs, MQ-9 Reapers, and HH-60G Pave Hawks to Kandahar Airfield, as Afghanistan became US Central Command's main effort. It was just the beginning.
"It's definitely a refocus. A lot of effort [is] going into making sure we get the weight of effort switched over to Afghanistan," Maj. Gen. David S. Nahom, deputy head of US Air Forces Central Command and deputy combined force air component commander, told Air Force Magazine in an interview at Al Udeid Air Base, Qatar.
_Read this story in our digital issue:
The new fight in Afghanistan is not the same as the previous campaign, Nahom pointed out. It's much more of a strategic air campaign and will include support to the Afghan army through the US Army's Security Force Assistance Brigades.
"We're not going to just go after terrorists, we're going to go after networks … financing … drugs; going after the things that give them the fuel. That's going to be a big part of getting after these networks in our strategic air campaign." At the same time, "we're going to have soldiers and others outside the wire in support of the Afghan army, and we as an air component are going to be overhead protecting them, because that's what we do," Nahom explained.
The mission and the fight are "much more intricate" than in the past, he said.
"It's going to be much more complex now, as the size and breadth of this campaign is just going to grow. We're not going to be waiting for fighting seasons. We're getting after it now, and that's just going to continue," he said.
The most obvious example of the change from previous years is Operation Jagged Knife. Though the US in 2015 began systematically targeting oil refineries and other sources of ISIS revenue in Iraq and Syria in an operation called Tidal Wave II, Jagged Knife is the first time in recent history the US has gone after Taliban drug networks in Afghanistan.
Jagged Knife, like Tidal Wave II, was designed to disrupt the enemy's ability to fund its operations. Between November 2017 and April 7, 2018, the coalition conducted 75 strikes against drug facilities in Afghanistan, according to a NATO Resolute Support press statement. Drug production and taxation generates about $200 million in revenue for the Taliban, according to the release. In February alone, the campaign destroyed about 25 Taliban "narcotics facilities and financial nodes," according to AFCENT's Feb. 28 airpower summary.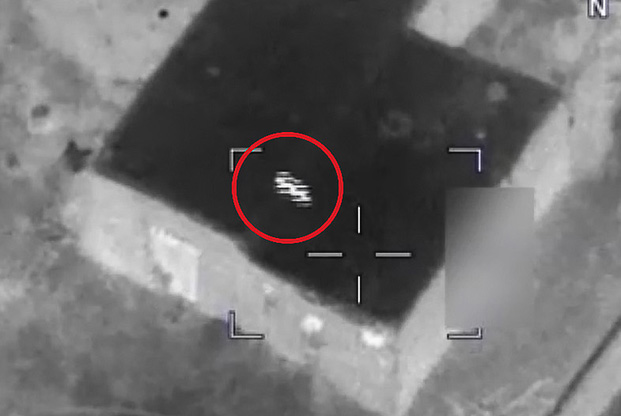 A guided munition (red circle) is moments from impact on a Taliban narcotics production facility in Farah province, Afghanistan. Photo: USAF
It is worth noting, Nahom said, that the Afghan Air Force took on the initial strikes in Operation Jagged Knife. Some of the shift to Afghanistan has been a ramping up in support to the Afghan Air Force, Nahom said, but "they've really come along," conducting their first laser-guided weapon drops in January.
The "realignment" to Afghanistan, as Nahom calls it, involves shifting assets from Operation Inherent Resolve. A-10 Warthogs belonging to the 303rd Expeditionary Fighter Squadron out of Whiteman Air Force Base in Missouri were originally scheduled to replace the A-10s operating out of Incirlik AB, Turkey, but instead went to Kandahar, where the Warthogs flew their first mission within 24 hours of arriving on Jan. 19.
Nahom said the decision to send the A-10s to Afghanistan wasn't random. The country is "the perfect place for the A-10 to go," he said, noting that they were originally thinking of moving Marine Corps F/A-18s to Afghanistan, but decided it would be better to keep them in the Iraq and Syria theater, where their air-to-air capabilities are occasionally needed.
"There were several compelling reasons to move the A-10," he added. Air Forces Central moved them "out of Turkey thinking Syria may be kind of wrapping up by now, (although) somebody needs to tell ISIS."
The low collateral damage weapons the A-10 carries are also useful in Afghanistan, Nahom explained.
"Every asset we have has got an advantage and a disadvantage," he said. The B-52 offers "versatility, the amount it can carry, and how long it can stay airborne." The F-15E "can do air-to-air and air-to-ground," as can the F-16 and the Navy's F/A-18, and that's "what I need in OIR right now, because there still is a threat from Syrian, Russian, and Iranian aircraft."
Having aircraft with multirole capabilities in Iraq and Syria—"just in case we need it"—is very valuable. The A-10 and the B-52 are not those airplanes," Nahom said.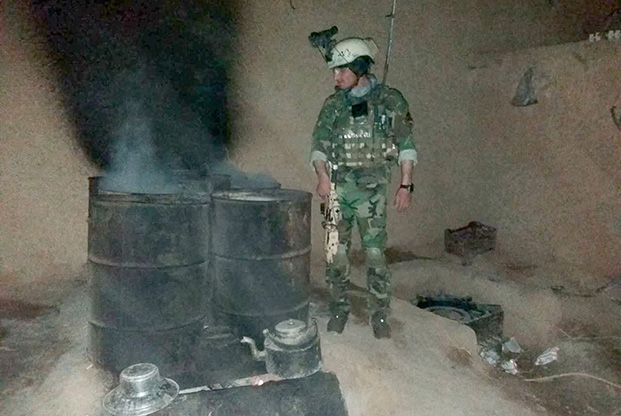 A guided munition (red circle) is moments from impact on a Taliban narcotics production facility in Farah province, Afghanistan. Photo: 7th SOK
In addition to the A-10s, AFCENT also sent MQ-9s and HH-60Gs from OIR to Kandahar in January. The Reapers were flown to Kandahar, rather than being boxed up and shipped—a first for CENTCOM, although this has been done in other theaters, Nahom said.
"Normally, we take the wings off, box them up, put them in a C-17, ship them over, put them back together. And that takes time," he explained.
Flying the Reapers directly to Afghanistan took less than 10 percent of the time it would have taken to airlift them, so they were available for missions more quickly, he noted. In another first, a Reaper in February performed a multirole (strike, armed overwatch, and ISR) mission by employing four 500-pound precision guided munitions against a Taliban drug facility in Helmand province.
Still, moving all of the aircraft to Kandahar wasn't as easy as firing them up and flying them over. Significant planning and construction was necessary to get the airfield ready for the new arrivals in a matter of weeks.
The 1st Expeditionary Civil Engineering Group did much of the heavy lifting—literally—to get Kandahar prepared. Col. Brian M. Stumpe, director of civil engineering, contracting, and installations, said the accomplishment was "an incredible display" of the joint force's ability to bed down multiple airframes in a new location.
"The ability of the Air Force to have the stuff we needed in reserve, the ability to get the stuff on airlift and get it to where it needs to be, and have our engineers there ready to go to set this up was just incredible. The coordination and synchronization that occurred, it's mind-boggling," Stumpe said.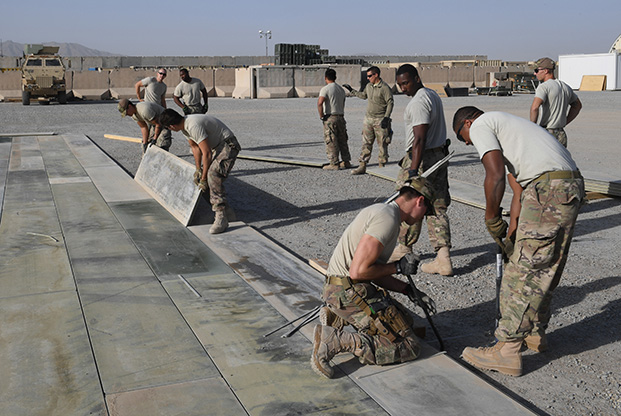 USAF civil engineers build airfield matting at Kandahar Airfield in December 2017. Photo: SSgt. Sean Martin
(story continues below)
Walking The Planks
It was just a few days before Christmas when TSgt. Frederick Horne's name was called at Al Udeid Air Base. He was told to bring his supervisor, so he thought he might be in trouble. Instead, he was told he was going to Kandahar.

Horne and SSgt. Zachary Hohenstein were on a plane on Dec. 24 and landed in Afghanistan on Christmas morning. Once the airmen and the materials arrived, it was "go, go, go," Horne said: Out at 6 a.m. and working until dark everyday.

The airmen worked with the sun, "probably 10-, 12-hour workdays," Hohenstein said, and it was hard, heavy labor, though some days they got a break as they waited for a plane to land with more materials.

"Everybody had the same mindset: Just [tough] it out and go home," said Hohenstein, who, like Horne, was scheduled to return to the US at the end of January.

Ten days in, they had three weeks' worth of work done, Lt. Col. Jerry Milliman, the engineering group's operations director, said.

"We were well ahead of schedule, which enabled the other pieces to move ahead of schedule," he explained.

The airmen built four large area maintenance shelters at over 10,000 square feet apiece, as well as several medium shelter systems. The new construction of what Milliman described as "big tents" with aluminum plank flooring allowed the Army to move out of existing hangars the Air Force needed for the A-10s.
*
Lt. Col. Jerry Milliman, director of operations for the 1st ECEG, said the unit knew in the fall that there was going to be "an inflection point" from OIR to Afghanistan, so he went to Kandahar to see what would be needed and to start planning. He was glad he did, he said, because the execution order "came much sooner than we expected."
With a plan already in place, the group had airmen out the door within 48 hours, and they put up nearly 50,000 square feet of covered space in the span of just two weeks. The shift northeast also required significant mobility support. Lt. Col. Andrew Frasch, deputy director of the Air Mobility Division, explained that air mobility is focused on productivity and effectiveness, and in the shift from OIR to Afghanistan they tried to be as efficient as possible with the limited resources they had, but frequently had to focus more on being effective.
Planning and communication were critical, noted Canadian Air Force Col. Scott Murphy, also a deputy director.
The mobility forces were authorized by the Combined Deployment and Distribution Operations Center to make decisions that would normally have had to go through the center, giving the airmen more flexibility, Frasch said. "If we hadn't been able to get ahead of the game, we'd be in a world of hurt right now," he said.
Mobility assets moved more than 17,500 tons of cargo between Jan. 1 and Feb. 28, assisted by the Qatar Emiri Air Force, which flew seven C-17 sorties and moved 212,000 pounds of cargo between Jan. 26 and Feb. 28, according to an AFCENT airpower summary.
Even as the strategic focus and majority of effort shifts back to Afghanistan, however, Operation Inherent Resolve continues.
Nahom emphasized that even though there was talk of "pivoting," no one seemed to have told ISIS or the other elements in Iraq and Syria.
"They haven't seemed to stop fighting, so we're still really busy in OIR," he said. "There's a lot of ISIS left."
Even though "we've done some incredible work, freed a lot of territory and set a lot of people free," and the would-be caliphate has been decimated, "there's still a lot of work to be done."
Some of that work was visible on the CAOC's screens, as Air Commodore Harvey Smyth, an RAF pilot serving as the CAOC director, walked Air Force Magazine through the CAOC's operations.
The shift back to Afghanistan is particularly interesting to Smyth because he spent a lot of time there and was one of the last British officers to leave Kandahar in 2014.
He was also the UK Tornado strike aircraft commander during the Mount Sinjar aid drops that marked the beginning of OIR as allied forces worked to rescue trapped Iraqis from ISIS.
On the day of the walk-through, the CAOC's screens showed a lot of effort focused on the Middle Euphrates River Valley, where the coalition was "trying to finish off ISIS," Smyth said. But it was clear that there's activity across all the regional maps.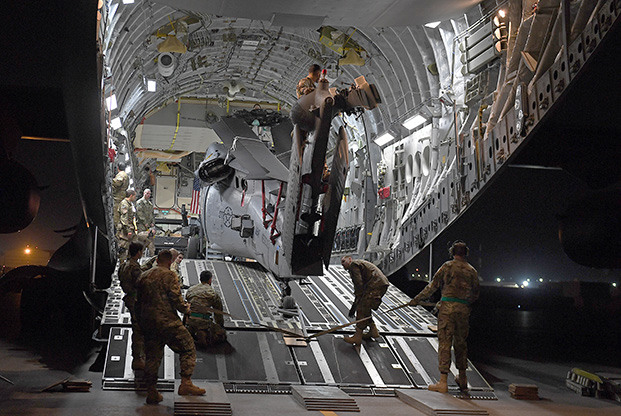 Airmen unload an HH-60 Pave Hawk helicopter from a C-17 at Kandahar Airfield in January. Photo: MSgt. Phil Speck/ANG
(story continues below)
Airpower Blasts Syrian Chem Facilities
APRIL 13, 2018—

A large combination of US, United Kingdom, and French aircraft and ships fired 105 total weapons aimed at crippling the chemical weapons infrastructure of Syrian President Bashar al-Assad almost a week after the regime allegedly used chemical weapons on a suburb of the country's capital.

The strike marked the first use of the AGM-158 Joint Air-to-Surface Standoff Missile in combat. Two USAF B-1B Lancers from the 34th Expeditionary Bomb Squadron launched a total of 19 JASSMs. The bombers, deployed from Al Udeid AB, Qatar, entered Syrian airspace from the south and were escorted by a USMC E/A-6B Prowler.

President Trump ordered the strike to demonstrate "international resolve to prevent chemical weapons from being used on anyone, under any circumstances, in contravention of international law," Defense Secretary Jim Mattis said during an after-action briefing.

F-22s were also flying in the area, ready to strike Syrian or Russian air defense systems and other assets if they threatened either coalition aircraft or US ground forces in the region.

"US Air Force F-22 Raptors played an integral role in protecting ground forces during and after the multinational strikes against Syrian chemical weapons production facilities on the morning of April 14," AFCENT spokesman Capt. Mark Graff said. "Thanks to its unique fifth generation capabilities, the F-22 was the only airframe suited to operate inside the Syrian integrated air defense systems, offering an option with which to neutralize [Integrated Air Defense System] threats to our forces and installations in the region, and provide protective air support for US, coalition and partners on the ground in Syria."

Russia has deployed S-400 air defense systems in Syria. More than simply a system to shoot down missiles or aircraft, it can also serve as a guided tactical ballistic missile system, with the ability to shoot ground targets.
*
The AFCENT airpower summary for January noted that "continued progress in Operation Inherent Resolve and the fight to defeat ISIS" allowed the command to move airmen, aircraft, and assets to Kandahar. The number of weapons released that month in OIR and Afghanistan also tell a story: Just 448 weapons were dropped in Iraq and Syria, compared to 3,600 a year earlier, while in Afghainstan, 321 weapons were released, compared to 54 in January 2017. The shift in airpower had already produced "tangible results" against the Taliban by mid-February, AFCENT Commander Lt. Gen. Jeffrey L. Harrigian told reporters at the time.
"That's the beauty of airpower, to be able to flexibly and in a very agile fashion switch" from one theater to another, he said.
Still, Nahom noted that the US has not forgotten about OIR, noting that there is still "a lot of firepower" in the region, including a US Navy aircraft carrier, F-22s, and F-15Es, with F-16s expected to arrive in the spring.