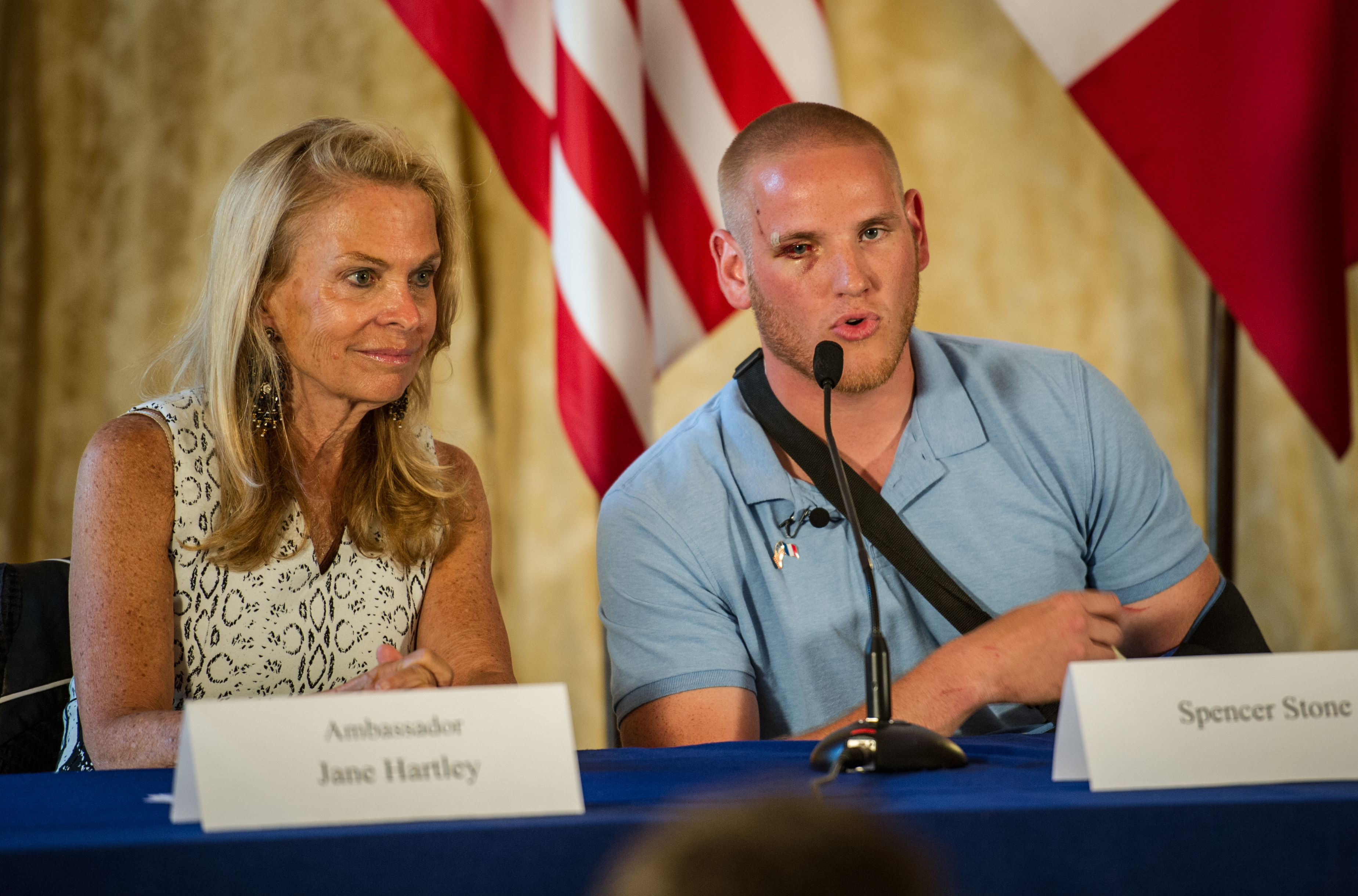 A1C Spencer Stone, a medic assigned to the 65th Air Base Group at Lajes AB, Azores, Portugal, along with Jane D. Hartly, US ambassador to France, speak at a press conference in Paris on Aug. 23, 2015, following a foiled attack on a French train. Air Force photo by TSgt. Ryan Crane.
Aug. 24, 2015: A1C Spencer Stone heard the "click" of the shooter's AK-style assault weapon as he charged down the aisle of the train car as it barreled toward Paris.
He later told reporters during a Sunday evening press conference that he thought he might die, but he charged the assailant anyway, helping to foil a potential terrorist attack and saving many lives, according to an Aug. 23 release.
"I was feeling for the gun and couldn't find it," said Stone, 23, a medic assigned to the 65th Air Base Group at Lajes AB, Azores, Portugal. "I felt it a couple times but he kept taking it away. So I just put him in a rear naked choke to protect myself and my friend, Alek [Skarlatos, a soldier with the Oregon Army National Guard], came up and took the AK. But he just kept pulling weapons left and right. He pulled a handgun and it seemed like he pointed it back at me and I heard it click."
It's unclear why, but the guns malfunctioned several times, but Stone, Skarlatos, and their friend, Anthony Sadler, were thankful for the time to get the weapons away from the shooter.
"I saw him making a slashing motion. When I leaned over his shoulder I see he has about a six-inch box cutter blade and I look down and my thumb is hanging halfway off," Stone said. "I let him go and by that point the shooter was in the middle and me, Alek, and Anthony are just surrounding him and we just starting pounding him. I got him in another choke and I choked him out until he went unconscious and my friend kept hitting him in the face with the gun."
Once the gunman was under control, the three started looking around for other threats. They noticed a passenger who was badly wounded. He had been "hit in the neck" and "was spurting blood everywhere," said Stone.
Stone held the wounded passenger down and pressed down on what he thought was an artery until authorities came, he said.
"These men are heroes," said US European Command boss Ge?n. Philip Breedlove in another release.
Defense Secretary Ash Carter praised all three Americans for their selfless actions. "Airman Stone and Specialist Alex Skarlatos are two reasons why—on duty and off —ours is the finest fighting force the world has ever known."
(Carter statement.) (Readout of President Obama's call with French President Francois Hollande.)