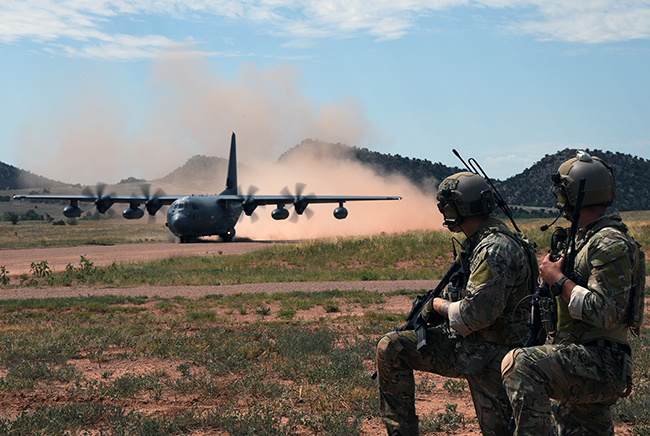 Tactical air control party airmen from the 13th Air Support Operations Squadron watch a C-130 Hercules from the 302nd Airlift Wing land July 17, 2019 on Fort Carson, Colo. Air Force photo by A1C Andrew Bertain.
The Air Force has finished inspecting certain wing joints on all 113 operational C-130s that were at risk for unusual cracks, the service said in an Aug. 21 release.
Another 18 airplanes that are undergoing depot maintenance will also be checked in the course of that sustainment work, which could take weeks to months, Air Force Magazine previously reported.
About half of those 18 C-130s were already slated for "rainbow fitting" inspections during their heavy maintenance routine, while the inspection was added to the schedule for others as a result of Air Mobility Command's deep-dive into the problem on nearly one-quarter of the Lockheed Martin-built C-130 fleet.
Airmen discovered the defect on two aircraft: one that prompted the broader investigation and one that was looked at within the past two weeks. Those cracks are being repaired.