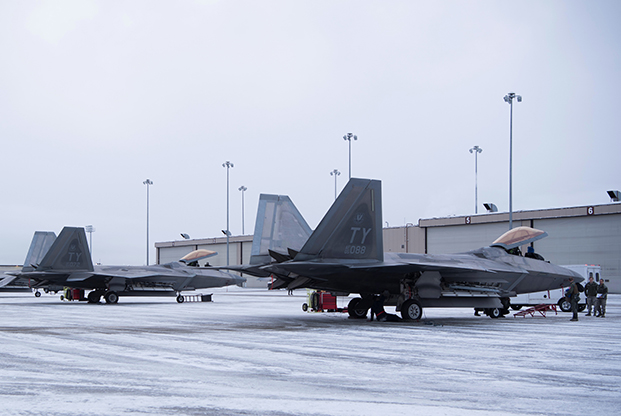 F-22s assigned to the 95th Fighter Squadron from Tyndall AFB, Fla., sit on the flightline after landing at JB Elmendorf-Richardson, Alaska, on Dec. 17, 2018. Air Force photo by A1C Caitlin Russell.
The aircraft that had to be relocated from Tyndall AFB, Fla., are at their new Pacific Air Forces homes in Hawaii and Alaska, but it will still take months for all the airmen to make their way to the bases.
PACAF boss Gen. Charles Q. Brown Jr. said the F-22s from Tyndall that were reassigned to his command are on the apron at JB Pearl Harbor-Hickam, Hawaii, and JB Elmendorf-Richardson, Alaska. These bases were picked to absorb the additional Raptors because they had the infrastructure and space from their existing F-22 units to bring on the aircraft.
Hurricane Michael was a nearly Category 5 storm when it bore down on the Florida base on Oct. 10, forcing USAF to send what aircraft it could fleeing the base and damaging aircraft that remained. Most of the base sustained heavy damage, and the Air Force announced it was reassigning its aircraft after the storm.
Brown, speaking to reporters at AFA's Air Warfare Symposium, said the Air Force is focusing on "taking care of airmen and their families," and not rushing them to upend their lives and move to Hawaii or Alaska from Florida. The service is giving them time to transition children out of schools and find places to live, and these moves will go into the summer.
Both Hickam and Elmendorf will have between 24-28 F-22s. PACAF and Air Combat Command are increasing the size of their operational squadrons to at least 24 aircraft, which gives units flexibility for training and maintenance. This, in turn, will help increase readiness, as the service aims to meet the deadline to increase its F-22, F-35, and F-16 mission capable rate to 80 percent by the end of the fiscal year, as directed by former Defense Secretary Jim Mattis.
ACC boss Gen. Mike Holmes said Friday the Active Duty has settled on 24 aircraft as the right size for an F-22 squadron to be able to increase readiness, and the National Guard is aiming to have 21 aircraft in its F-22 squadrons.
Despite the increase in the number of aircraft, Brown said there is no need for any more military construction to accommodate the Raptors.