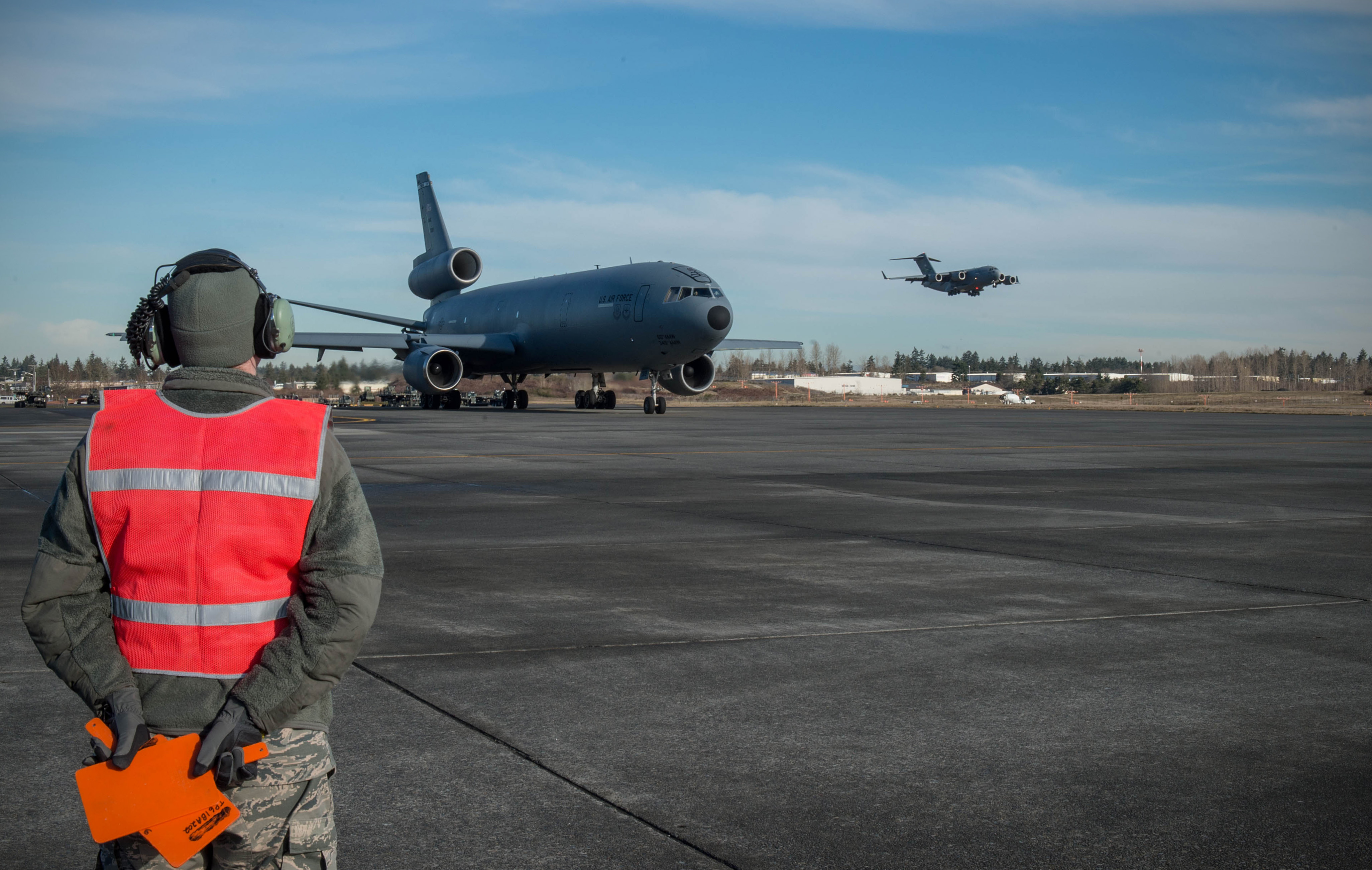 A C-17 lands at JB Lewis-McChord, Wash., in January as a KC-10 sits on the flightline. The McChord flightline will be full of mobility aircraft for the next two weeks as the base hosts Air Mobility Command's inaugural Mobility Guardian exercise. Air Force photo by SSgt. Robert Hicks
Air Mobility Command on Monday will kick off its first, large-scale exercise designed to practice all facets of its mission.
Mobility Guardian will include 3,000 personnel from 25 countries, taking place Monday through Aug. 11 at Joint Base Lewis-McChord, Wash., along with multiple other bases in the region.
"Mobility airmen are often the first to arrive and the last to depart," AMC Commander Gen. Carlton Everhart said in a release. "They provide continuous support to the joint warfighter. Simply put, success requires our total force team of mobility airmen to work together with joint and international partners. Exercising our capabilities together is critical so when we are called upon, we can deliver quickly and precisely."
The exercise is designed to be supported by other commands, instead of mobility crews flying to support combat aircraft in other large-scale exercises. Mobility Guardian is AMC's version of Red Flag, with several massive scenarios planned with other aircraft including F-35s, F-16s, A-10s, F-15Es, F-15Cs, B-52s, and a B-2 all flying in support.
"We're creating an exercise that will encompass everything AMC does," Lt. Col. Jeremy Wagner, Mobility Guardian director, said in the release. "We basically took every skillset from AMC and said, 'what would the ideal exercise for each of our different mission sets look like?' Then we combined them all into one."
Planning for the exercise initially began after Mobility Rodeo at McChord had been canceled due to budget issues in 2013. AMC planned to move away from the competition model in the rodeo and instead focus on exercising its mission.
Air Force Magazine will attend the exercise at multiple locations over the next two weeks and will post ongoing coverage.