Editor's Note: This article is the first of a three-part series on the future of how Air Force security forces will guard the service's nuclear missile fields. Part 2, on the new Joint Light Tactical Vehicle (JLTV), and Part 3, on new infrastructure and training, are now available.
F.E. WARREN AIR FORCE BASE, Wyo.—Among the gentle hills of the missile field at F.E. Warren Air Force Base, security forces Airmen stay on alert, ready to respond to any attack on America's Minuteman III intercontinental ballistic missiles.
On May 21, practicing for just such a situation, the Airmen boarded Humvees and Huey helicopters, using rifles, machine guns, and the chopper's M-240 gun to destroy the enemy in a simulated attack on a missile launch facility.
Yet many of those tools are obsolete. A few of the base's 54-year-old Huey helicopters served in the Vietnam War. Many of the Humvees are similarly outdated. And the communications networks Airmen rely on are inefficient compared to what current technology can provide.
While the age of their equipment does not stop security forces Airmen and helicopter crews from defending F.E. Warren's missiles, a batch of new platforms and technologies will boost the nuclear defense enterprise—modernization that comes just as the replacement for the Minuteman III, the Sentinel, is poised to come online in the 2030s. The hope is these capabilities will help security forces respond faster and hit harder than ever before, while the Sentinel itself will require a smaller security footprint due to easier maintenance and enhanced communication networks.
"This is a great place and time for defenders because of the new capabilities as they come online," William McIntyre, chief of nuclear security for the 20th Air Force, responsible for America's ground-based nuclear missile fleet, told Air & Space Forces Magazine. "Whether that be a vehicle, airlift, or communications equipment. That capability increases our mission readiness and mission assurance."
F.E. Warren stretches across 9,600 square miles, an area about the size of Vermont. Sprinkled across those vast distances are 150 launch facilities, the silos where missiles are held ready to fire, and 15 launch control centers, the underground bunkers from which Airmen oversee and operate those launch facilities, 10 silos to each control center.
With so much real estate to cover, just getting from Point A to Point B can be a challenge. The site furthest from the main base is about 152 miles away, and many of the roads connecting the facilities are unlit and unpaved. For safety reasons, the speed limit is just 25 miles per hour on dirt or gravel roads, but travel may be even slower when rain makes the roads thick with mud or blizzards make them difficult to see. Sometimes the only way to respond in time to a crisis is helicopter. But the base's Hueys are showing their age.
"We're still meeting our requirements right now, but our maintainers are working their tails off," said Capt. Samuel Griner, a pilot with the 37th Helicopter Squadron.
Help is on the way: the 37th will replace its Hueys with the MH-139A Grey Wolf, which can fly faster, higher, and twice as far as its predecessor. The Grey Wolf can also carry 5,000 more pounds of cargo, which should give commanders more options and fewer tradeoffs when responding to a crisis.
"We can develop our tactics so that we can carry more people, more ammunition, and stay in the fight longer, and that gives us more flexibility," said Lt. Col. Cas Smith, director of operations for the 37th.
Besides responding to security flashpoints, the helicopters at F.E. Warren also escort ground convoys carrying nuclear munitions; patrol the missile fields; provide aerial reconnaissance, aerial gunnery and close air support; serve as a communications relay; evacuate casualties, and even assist in search and rescue missions. The Grey Wolf is billed to be easier to fly than the Huey, which means the aircrew can put more brainpower toward executing their various missions. The new helicopter also sports better avionics, which can help crews fly through the poor weather of a Wyoming winter, Smith said.
"The increased weather capabilities will absolutely be a game-changer for us, especially in the Northern Tier," he said.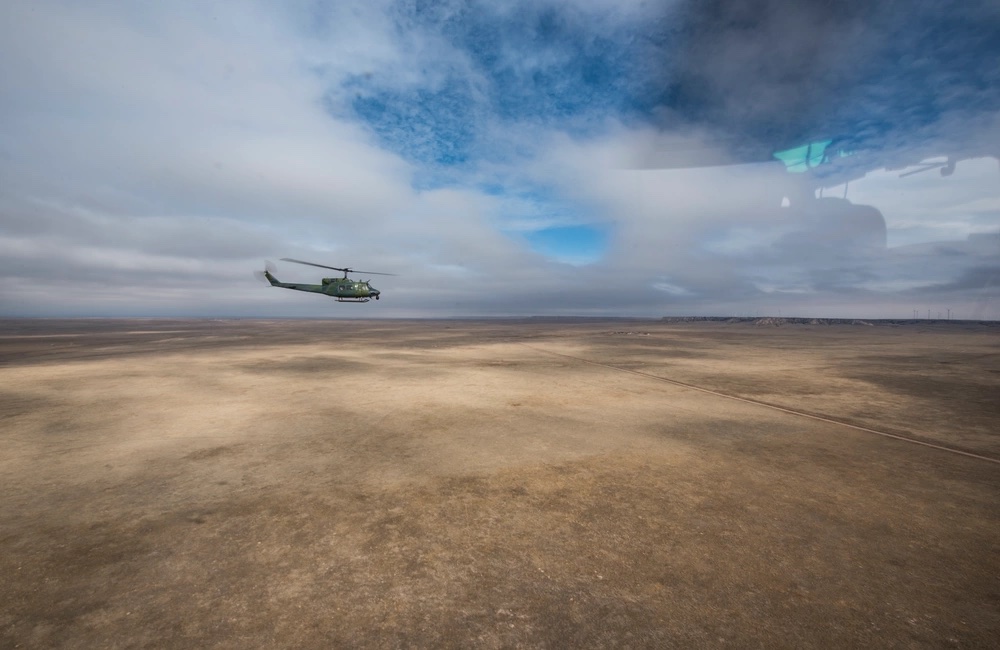 Though it can fly through storms, the Grey Wolf has had a tough time getting through the Pentagon. In January, the Office of the Director of Operational Test & Evaluation warned that the MH-139 was at risk of not meeting operational effectiveness requirements due to problems with the automatic flight control system, sensor display, intercom system, and other concerns raised during ground and flight testing. The Air Force was undeterred: in March, the service reached a low-rate production agreement with Leonardo and Boeing to produce 13 aircraft with the first delivery due in 2024. F.E. Warren expects to have 11 such helicopters delivered by the summer of 2026.
Until then, F.E. Warren is getting to work on the facilities needed to house the incoming helicopters. In March, the base broke ground on a new building for helicopter maintenance, firefighters, and the base's Tactical Response Force, a group of specially-trained security forces Airmen who stand alert 24/7 as a quick reaction force. The 37th's current aging facility is not big enough to accommodate all of the incoming MH-139s, and the layout of the new building will better integrate the helicopter unit with its TRF and fire department peers.
"The facility itself will have a lot more of our mission partners closer together," Smith said. "We'll be pretty much living together 24/7 in that alert facility, which will then drive conversations to help improve tactics."
The new building should be complete by the end of fiscal year 2025. In the meantime, members of the 37th Helicopter Squadron look forward to their new workhorse.
"We're still getting it done with the Huey every day. It's a fantastic aircraft that we're going to miss, but we're excited for what's coming next," said Griner. "We're going to be able to do more and we'll be able to do it for longer."
The Grey Wolf will help missile field defenders across America's missile fields respond faster to a security incident, but the helicopter is just one of a series of new platforms and technologies for the missile defense enterprise. Part 2, on the new Joint Light Tactical Vehicle (JLTV), and Part 3, on new infrastructure and training, are now available.