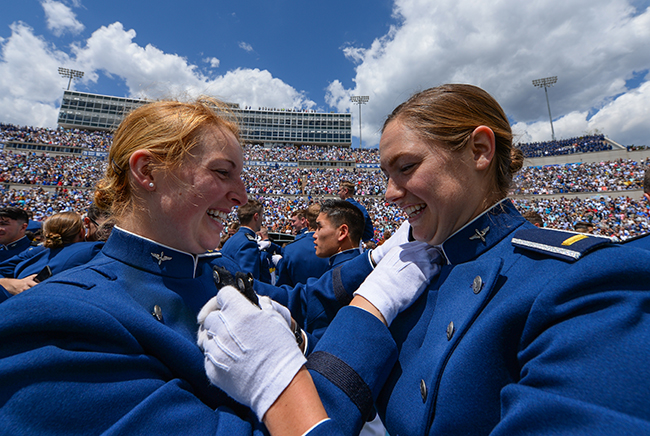 Two newly-commissioned second lieutenants pin on their first rank insignia as new officers on May 23, 2018, at the US Air Force Academy's Class of 2018 graduation ceremony in Falcon Stadium. Air Force photo by Chris DeWitt.
Women made up 30 percent of applicants for the Air Force Academy's class of 2022, marking a school-high for female candidates, the service's personnel chief said May 16.
Air Force Reserve Officer Training Corps programs fell slightly short of the 30 percent goal with 28 percent female applicants this year, Lt. Gen. Brian Kelly, deputy chief of staff for manpower, personnel, and services, told lawmakers at a House Armed Services personnel subcommittee hearing.
"We had to go out and do targeted efforts, do targeted engagement to increase that applicant pool goal," Kelly said. "Our initial step was to get the applicant pool goal above 30 percent at the Academy and ROTC. Once we get there, our goal is to continue to move that north. We would like to get that up to be representative of the population."
He expects those who are accepted into the USAFA class of 2022 will reflect a 70-30 gender split between men and women as well. In the past, Kelly said, classes have been closer to 75 percent men and 25 percent women.
The Air Force similarly is trying to broaden its diversity in key jobs like general officer aides and executives, as well as in initial recruitment.
"We have also established two focused recruiting entities: One whose focus is to outreach to youth to increase awareness around opportunities within our underrepresented diverse populations, and the second whose job is to specifically scout, recruit, and prepare airmen for special warfare career fields," Kelly said. "Both entities have shown promise during this year."