U.S. Air Force B-1 bombers and F-16 fighters flew alongside Japanese and South Korean aircraft in separate training exercises Feb. 19, a day after North Korea tested an intercontinental ballistic missile that fell off Japan's coast.
North Korea followed with two more ballistic missile tests, as tensions continue to mount in the region. The U.S. and South Korea have pledged more joint exercises.
The two latest bilateral exercises both included B-1B Lancers flying from Guam. The BONEs are part of a Bomber Task Force rotation out of Ellsworth Air Force Base, S.D., and twice previously flew alongside Republic of Korea fighters earlier this month.
USAF F-16s from Kunsan Air Base, South Korea, and Republic of Korea Air Force F-35s joined the B-1s, according to U.S. Forces Korea. The ROKAF released photos showing two B-1s, four F-16s, and four F-35s, and said the aircraft flew through the Korean Air Defense Identification Zone. The ADIZ is a buffer zone that includes international airspace near the Korean Peninsula.
"The training offered the alliance an opportunity to rehearse short-notice recall missions, demonstrating the U.S.-ROK combined defense capability, and the ironclad commitment to providing extended deterrence in the defense of the Korean Peninsula," U.S. Forces Korea said in a statement.
In a separate event over the Sea of Japan, the B-1s were joined by American F-16s from Misawa Air Base, Japan, as well as Japanese F-15s, U.S. Forces Japan and the Japan Air Self-Defense Force said. In a release, the Japanese Joint Staff said the exercise involved two B-1s, four F-16s, and three F-15s.
"This exercise was conducted to demonstrate our nations' rapid reaction capabilities, high levels of force readiness, close coordination, bilateral interoperability, and credible deterrent capacity," U.S. Forces Japan said in a statement.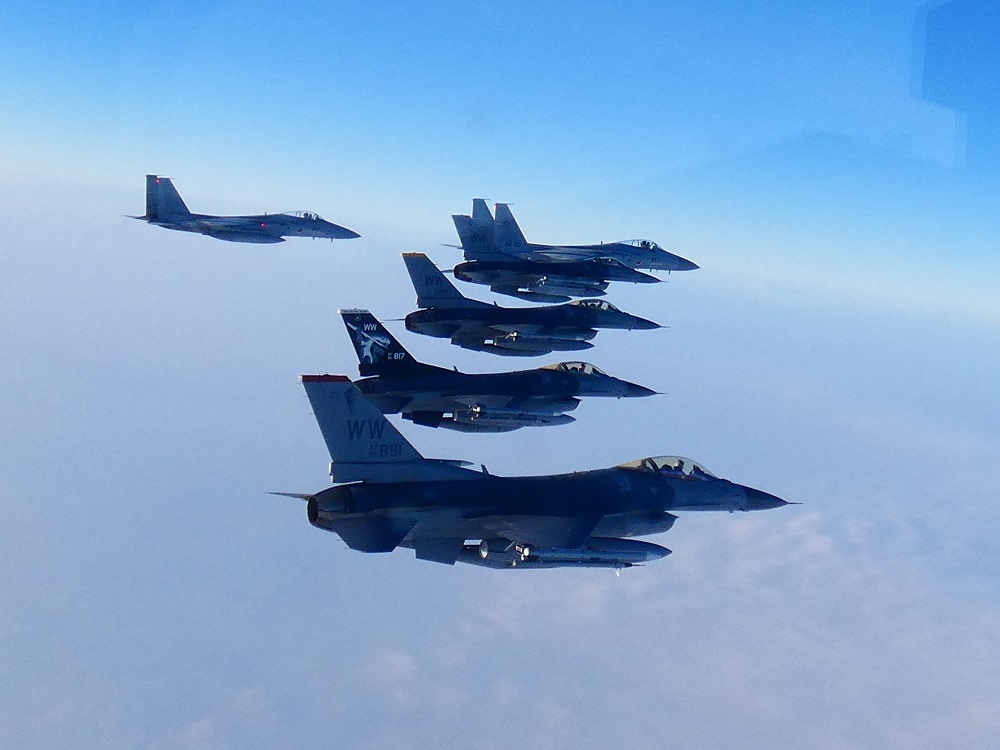 A B-1 from Ellsworth previously integrated with Japanese F-15s over the Pacific during a long-duration, CONUS-to-CONUS mission in January.
Pacific Air Forces did not specify whether the same B-1s participated in both exercises Feb. 19. The Air Force has not previously stated how many B-1s were participating in the Bomber Task Force mission, but no image has indicated more than two.
North Korea's ICBM test launch Feb. 18, its second test this year, was first reported by the Associated Press. The AP said the launch demonstrated the potential to reach the continental U.S., although the missile fell within Japan's exclusive economic zone, some 200 kilometers from the Japanese island of Oshima.
"We are aware of the [Democratic People's Republic of Korea] ballistic missile launch and are consulting closely with the Republic of Korea and Japan, as well as other regional allies and partners," U.S. Indo-Pacific Command said in a statement. "The United States condemns these actions and calls on the DPRK to refrain from any further unlawful and destabilizing acts. While we have assessed that this event does not pose an immediate threat to U.S. personnel, or territory, or to our allies, we will continue to monitor the situation."
INDOPACOM issued a similar statement after the subsequent missile launches early Feb. 20 local time. Those tests landed outside Japan's economic zone.
According to state media reports, Kim Yo Jong, sister of North Korean leader Kim Jong Un, said the DPRK's "frequency of using the Pacific as our firing range" depends on the frequency with which U.S. forces appear in the region—an apparent response to U.S. and South Korean pledges to ramp up joint training exercises.
South Korean leaders have become increasingly vocal about the need for a nuclear deterrent on the peninsula, either U.S. nuclear weapons or arms of South Korea's own creation. "We must first secure a concrete nuclear deterrence," Chung Jin-suk, head of the ruling People Power party, said, according to the Yonhap news agency.
"We need to strengthen our 'Kill Chain' so North Korea can never rise to its feet again if it uses nukes on the Korean peninsula," Chung added, referring to the South Korean program to target North Korea's leadership in a contingency. "We need to seriously consider developing our own nuclear capabilities if such a response is insufficient."
Officially, the Pentagon is still committed to its objective of a denuclearized Korean Peninsula. But a recent bipartisan, independent commission of U.S. experts recommended the U.S. begin thinking about how nuclear arms might be placed in South Korea should it become necessary to change that policy.