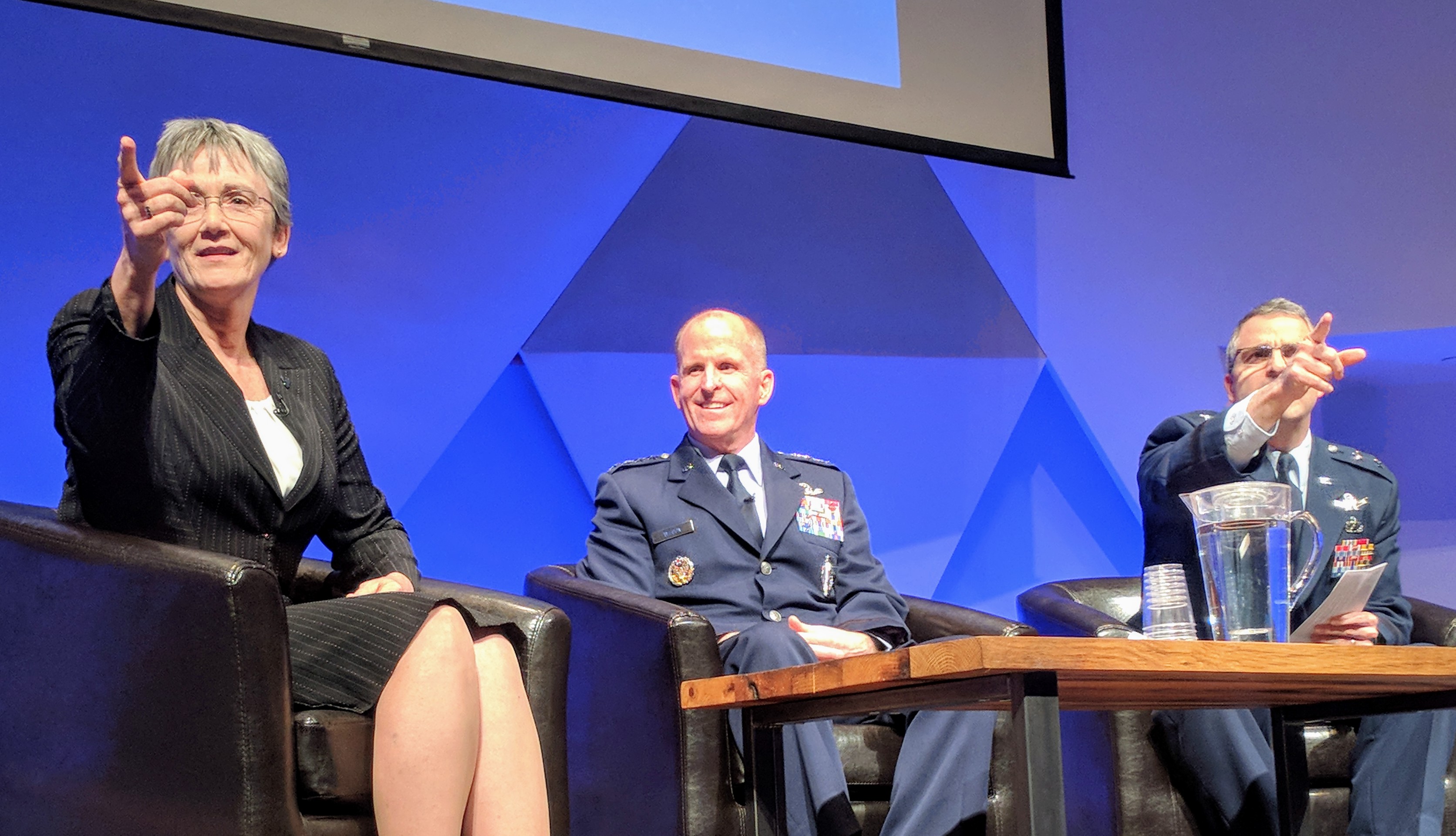 Air Force Secretary Heather Wilson, Vice Chief of Staff Gen. Seve Wilson, and Air Force Research Laboratory commander Maj. Gen. William Cooley speak at USAF's Science and Technology 2030 Summit in Washington, D.C., on Thursday. Staff photo by Gideon Grudo.
The Air Force Research Laboratory announced a slew of scheduled information-gathering events around the country, officially unrolling the engagement phase of its year-long science and technology review.
These "listening sessions" aim to let non-traditional USAF partners in the science and technology arena—really, the American public—offer ideas for innovation, explained AFRL Commander Maj. Gen. William Cooley Thursday at the National Academies of Science in Washington, D.C. During the Air Force Science and Technology Summit 2030, senior leaders updated attendees on the first third of the S&T review, which was launched in September 2017. Air Force Secretary Heather Wilson doubled down on the notion that though AFRL is a force to be reckoned with, "at its core, the military isn't a research organization." Therefore, it is imperative for the service to reach outside of itself to seek innovation, a key component of the review.
"Sadly," Wilson said, less than two percent of USAF's budget goes to science and technology, and that amount is heavily swallowed up by the costs of keeping the lights and the doors open at the research behemoth's many facilities, like the AFRL headquarters at Wright-Patterson AFB, Ohio. It's "very difficult" for the Air Force to get marginal dollars during constrained budget environments for investments that may not pay off for 20 years, she said, adding it's "hard to explain why it really matters."
In looking to outside help, the September announcement unveiled a plan for an AFRL-led team to travel the country, meeting with academic and industry leaders, large and small, rich and poor, risky and conservative, to glean new ideas. The 14 announced events cover every region of the country, from Nebraska to Georgia. They are:
March 11-15: The Minerals, Metals & Materials Society, Phoenix, Ariz.
March 22: University of Nebraska, Lincoln, Neb.
March 29-30: Best Practices from State and Federal Government Organizations, Washington, D.C.
April 22-26: American Institute of Chemical Engineers, Orlando, Fla.
April 26: University of South Florida, Tampa, Fla.
May 6-11: National Defense Industrial Association, Indianapolis, Ind.
May 10: Indiana University, Bloomington, Ind.
May 21-24: Society for the Advancement of Material and Process Engineering, Long Beach, Calif.
May 22: University of Washington, Seattle, Wash.
June 21-22: Best Practices from Industry and International Organizations, Washington, D.C.
June 25-29: American Institute of Aeronautics and Astronautics, Atlanta, Ga.
June 27: Texas A&M, College Station, Texas
July 9-11: American Institute of Aeronautics and Astronautics, Cincinnati, Ohio
July 26: University of Utah, Salt Lake City, Utah
Through these events, the service is not just looking for what it should sink dollars into (and, Wilson reminded the audience several times, what not to sink dollars into), but also how to conduct research more efficiently. Tying this need for updated research methods to national security, Wilson said learning how to better react to and inculcate new data or findings forces DOD's adversaries to "doubt" how fast the US military can adjust to new threats.
After the 14 listening sessions—and 30 unspecified but planned face-to-face meetings take place—Cooley told reporters at the technology summit his team will utilize National Science Foundation-inspired data analytics to scrub the findings into the final report he owes Wilson by September.
Service leaders acknowledged the need to modernize, innovate, think different, take risks, and more importantly adopt a non-platform, or network philosophy, of thinking about, for example, all aircraft communications, rather than just F-16 communications, in one hub.
If you want AFRL to hear your innovative ideas, you can sign up at afresearchlab.com/2030.
Editor's Note: This story was updated on Jan. 19, 2018, with the correct budget allocation for research and development.