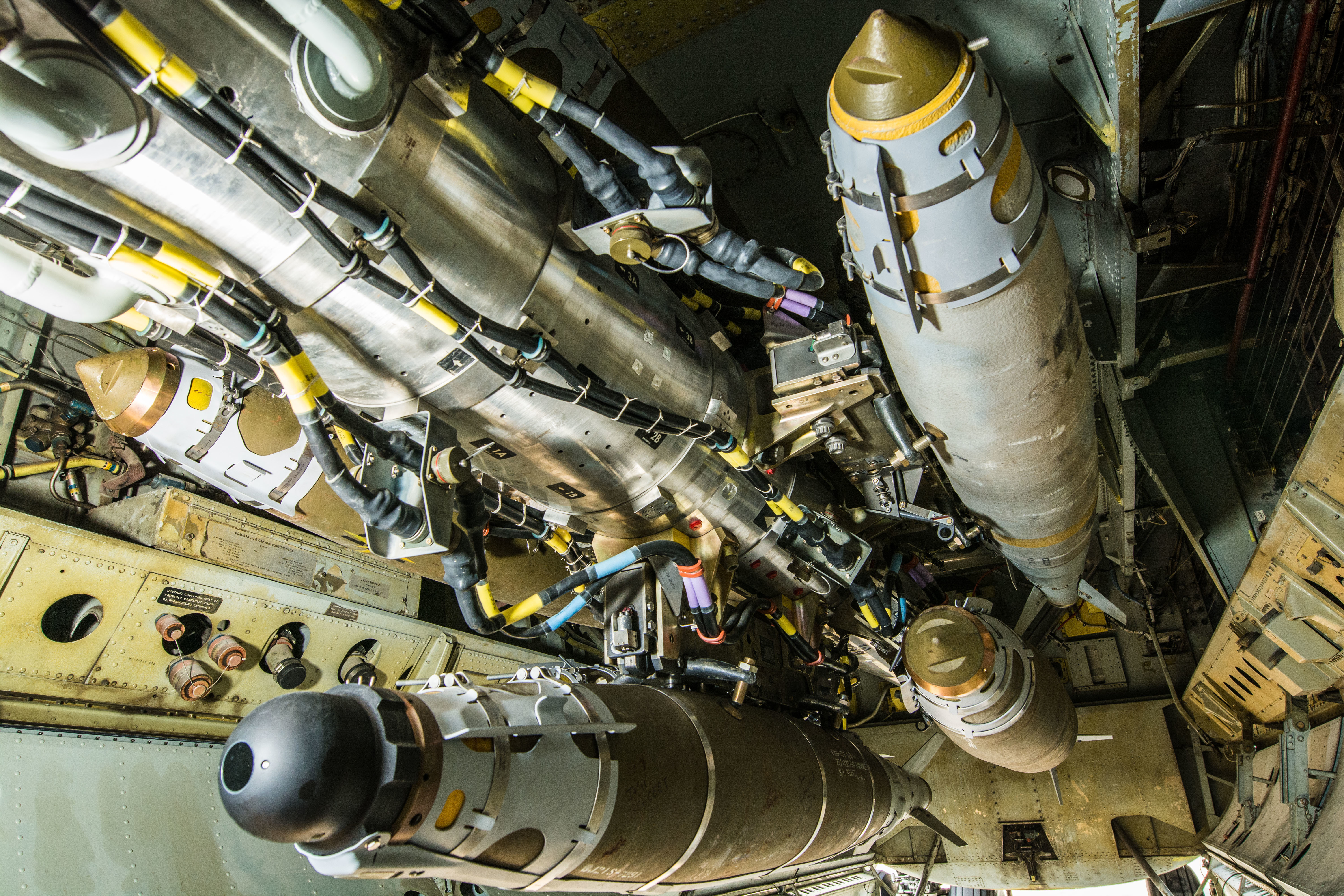 CENTCOM's is shifting its focus to Afghanistan. Above, a B-52 Bomber sits on a flightline with munitions loaded on a newly installed conventional rotary launcher in its bomb bay, at Al Udeid Air Base, Qatar, Nov. 17, 2017. ANG photo by SSgt. Patrick Evenson
Afghanistan operations are now US Central Command's "main effort," as focus has shifted away from anti-ISIS operations in Iraq and Syria.
USAF has bolstered "tangible" assets in theater recently by bringing back the A-10s and a combat search and rescue squadron and increasing the number of MQ-9s flying in theater by 50 percent, said Maj. Gen. James Hecker, commander of the 9th Air and Space Expeditionary Task Force-Afghanistan and NATO Air Command–Afghanistan. F-16s also are still flying out of Bagram Air Base, he added.
Hecker said the intel community has played a crucial role in Afghanistan, calling it the "backbone" of targeting operations. He noted that it was intelligence? that made the B-52's Feb.4 record-setting mission possible, saying the Stratofortress conducted three passes and went "Winchester" on Taliban targets in Badakhshan province, dropping all of its precision guided munitions in one sortie.
These strikes, which were part of Operation Jagged Knife, are the beginning of "unrelenting pressure" on the Taliban, he said. US aircraft finished 2017 with its highest total of airstrikes in years, dropping 4,361 bombs—the most since 2011.
However, the Afghan Air Force also has increased its own capability to strike the Taliban and to quickly respond to Afghan troops in contact. Its attack fleet includes A-29 light attack aircraft and MD-530 strike helicopters, and the AAF has plans to add AC-208 attack versions of Cessna transport aircraft to provide air support. The Afghan Air Force now flies 40 strike sorties per week while USAF flies 25, Hecker said.
The Pentagon on Tuesday updated the cost estimate for the war in Afghanistan, with a total ta?b of $45 billion for 2018 including $5 billion for Afghan forces, $13 billion for US forces, $?780 million for logistical support, and much of the rest for logistical support, Randall Schriver, the Pentagon's top Asia official, told the Senate Foreign Relations Committee. During the peak of the war, the US was spending about $100 billion per year.