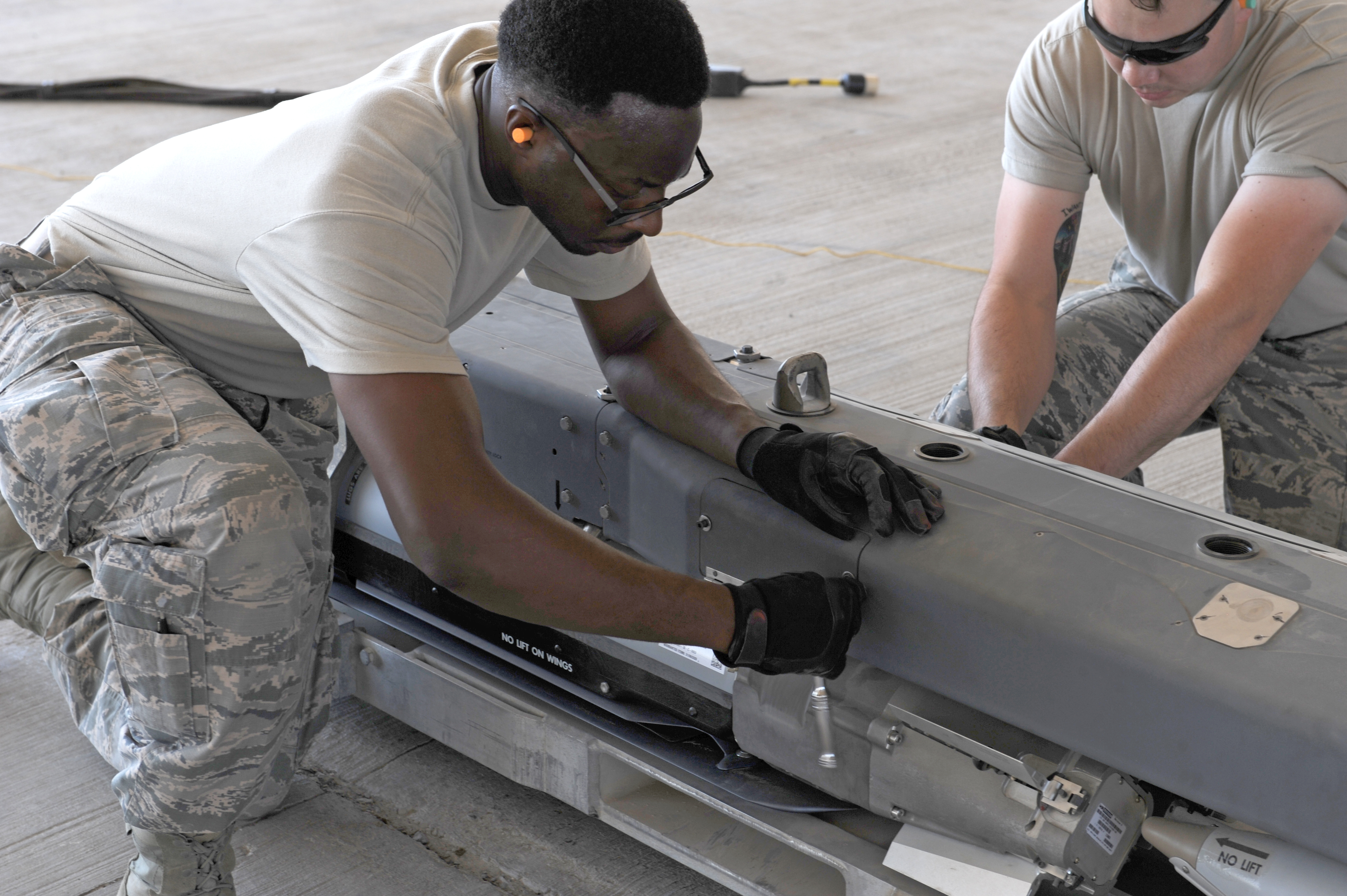 The bombing campaign against ISIS has been the "most precise in human history," thanks to massive amounts of intelligence gather prior to missions and extremely precise weapons, said Brig. Gen. Matthew Isler, the assistant deputy commander of Air Forces Central Command. Here, a munitions technician with the 380th Expeditionary Maintenance Squadron finishes preparing small diameter munitions at an undisclosed location in southwest Asia, May 26, 2017. Air Force photo by SSgt. Marjorie A. Bowlden.
The US military has pushed to avoid collateral damage in its extensive bombing campaign against ISIS by increasing the number of weapons and yields available, and recently by increasing the staff tasked with investigating allegations of civilian casualties.
Since Operation Inherent Resolve kicked off in August 2014, there have been more than 1,200 allegations of civilian casualties with 178 deemed to be credible, US Central Command reported last month. Early in 2017, Combined Joint Task Force-Operation Inherent Resolve requested authority to increase its staff that is tasked with investigating these allegations full time. Previously, just one or two people had this position, but this summer the coalition stood up a seven-member team to investigate such allegations, a CENTCOM official said during a Wednesday briefing at the Pentagon, which was organized to counter claims of increased civilian casualties throughout Iraq and Syria.
The bombing campaign, which has been the "most precise in human history," has included a massive amount of intelligence-gathering and target development before bombs are dropped, said Brig. Gen. Matthew Isler, the assistant deputy commander of AFCENT.
For example, in the leadup to the fight to rid Mosul, Iraq, of ISIS there was a five-to-one ratio of intelligence and surveillance aircraft to strike aircraft. In both Mosul and in Raqqa, Syria, there was about nine months of surveillance and target development before the large-scale offensive began, Isler said.
In Mosul, Iraqi forces used this surveillance and intelligence-gathering to ensure that their advance into the city occurred in areas that were exclusively held by ISIS. During the battle, US and coalition aircraft had a large selection of weapons available to try to limit the amount of collateral damage. This included 10 or more weapons, from large Joint Direct Attack Munitions to small diameter bombs, that had individual fusing options to further lower the yield, Isler said.
From May 2016 to now, more than 25 percent of the bombs dropped as part of Operation Inherent Resolve were direct fire or low collateral damage bombs, Isler said.
In the initial Mosul fight, these were needed to counter a massive effort by ISIS to hit Iraqi forces with vehicle-borne improvised explosive devices. Early in the battle, 10 to 15 ISIS VBIEDs were hitting Iraqi forces per day. Coalition aircraft took to tactics such as "cratering" roads to slow the advance, and used intelligence and persistent surveillance to find and destroy VBIED "factories," Isler said.