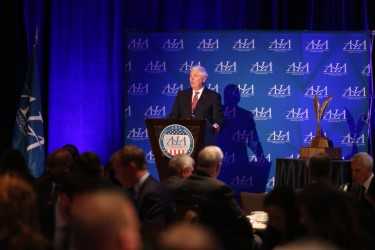 David Melcher, president of the Aerospace Industries Association, speaks at AIA's Annual Aerospace and Defense Media Luncheon in Arlington, Va., on Dec, 13, 2017. AIA photo.
Although aerospace-related military exports will post big numbers for the end of 2017—"over $110 billion in direct commercial sales and more than $32 billion in foreign military sales"—the industry could be doing much better if Congress would take constraints off the Export-Import Bank. So said Aerospace Industries Association president David Melcher, delivering AIA's year-end report Thursday on the health of the industry.
Describing the Ex-Im bank (as it is known) as one of the few spots of "bad news" in AIA's rundown, Melcher noted deals involving the bank have dwindled in the past six years, chiefly because the limit on loans is just $10 million. There's a backlog of $30 billion worth of deals being "held up" by the Ex-Im bank's loan limits and the lack of a leadership quorum, driven by "a few members of Congress" who don't see the entity's value, Melcher said.
"That's $30 billion worth of jobs" that's not materializing because of the situation, he said. He noted that 86 other countries have a similar entity, and when the US won't help with financing, customers turn to other countries, who in turn reap the economic benefits of the sales. "It's ludicrous that we're cutting this off," he said, noting not only the sales cash infusion but income tax surge that would be paid by more workers on the job.
Fixing the situation will be one of AIA's priorities for 2018, although it has been a principal goal for several years, he said. Even without the Ex-Im bank, Melcher said overall aerospace exports have gone up "52 percent in five years."
He also said Congress needs to revise the International Traffic in Arms Regulations (ITAR) and Missile Technology Control Regime (MTCR) rules, which are hampering US aerospace sales overseas because they are outdated. Many of the technologies covered by the two sets of rules—particularly in the areas of unmanned aerial systems—are widely available elsewhere, and customers turned away by the US have plenty of alternatives, Melcher said.
Aerospace continues to be the principal helper in the US balance of trade, with a trade surplus in 2016 of more than $90.3 billion and likely "slightly higher" when 2017 is fully counted, Melcher said. In 2016, the industry logged $872 billion in sales, of which $146 billion was in exports.
Melcher also said the Budget Control Act continues to damage the industry, which has seen sharp consolidation and the reduction in some critical suppliers to "one or two' vendors. The "budget austerity has so frayed the industrial base" that there's "real concern" that it could surge production for a national emergency, Melcher asserted. There's been a loss of "17,000 vendors since" the BCA went into effect, he said. "We can't continue to do business that way." AIA urges the repeal of the BCA and defense budget increases that can "rebuild" the aging force, Melcher said.