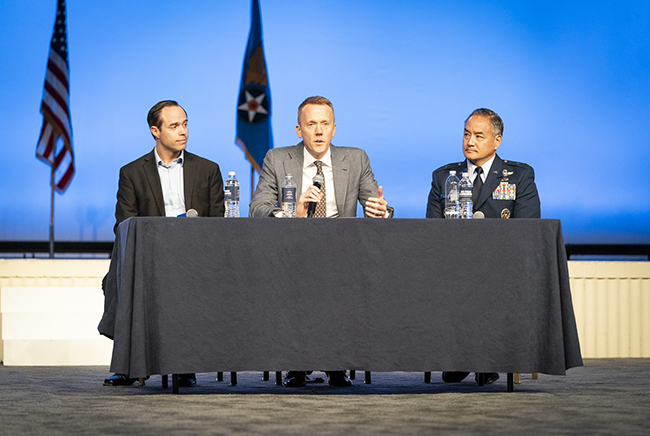 Brig Gen. David Kumashiro, joint force integration director, deputy chief of staff for strategy, integration and requirements, along with Preston Dunlap and Chris Brose, discuss demystifying multi-domain command and control during AFA's 2018 Air, Space & Cyber Conference in National Harbor, Md., on Sept. 17, 2019. Air Force photo by TSgt. D. Myles Cullen.
When designing its next-generation, multi-domain command-and-control vision, the Air Force is looking to a perhaps unlikely example: Uber.
The revolutionary rideshare app can offer the service a model for pulling together reams of disparate data to move people around, as well as an example of software that humans trust and rely upon daily.
"You have an app that resides on a phone or tablet, that knows your position, [the] position of those that might help you, it sends that information seamlessly over a network, cellular, Wi-Fi, bluetooth, 3G, 4G, 5G one day," Preston Dunlap, the Air Force's chief architect for an advanced battle management system, said Sept. 17 at AFA's 2019 Air, Space & Cyber Conference. "It knows whether you have high connectivity or low connectivity. It matches, through artificial intelligence and machine learning algorithms, the right person to the right car."
Riders can look at their screens for information on where they are and what's nearby, and the app can bring together multiple people headed in the same direction.
"Just like that works for us in our private lives, we, too, are trying to get our capabilities within seconds to the right place, at the right time, to the right target, to the right effect," Dunlap said. "We can harness that [commercial effort] with aircraft, satellites, submarines, and people and tanks on the ground."
To get there, the Air Force has six lines of effort underway to achieve its goal of multi-domain command and control. Those initiatives involve sensors that can tie information together across classification levels; the need to get data off of those sensors; security and data management; getting data to the right place; crunching data with AI; reacting with munitions or other effects accordingly; and reworking the targeting and attack process if needed. Experiments are underway to flesh out those concepts.
The ABMS and MDC2 ideas were born separately—the former out of the canceled E-8C Joint STARS recapitalization effort, and the latter as a pet project of Air Force Chief of Staff Gen. David Goldfein. But the two have become interchangeable in policy and research circles as the service mulls how to move faster and use its sensors and platforms in new ways.
"This, ladies and gentlemen, was much bigger than Joint STARS," Goldfein said during his conference keynote. "This is about the future of joint warfighting in a networked, digital age."
Brig. Gen. Dave Kumashiro, the Air Force's joint force integration director, echoed that the hard part is moving MDC2 from vision to reality. The service and its cross-functional team dedicated to the topic are focusing on the personnel who would use it, how they would use it, and the technologies that would enable them, he said on a panel with Dunlap. Their vision relies on systems that all understand the same language and can be quickly changed to work together when facing new threats or offered new capabilities. It is ultimately driving future force designs and budget decisions.
Officials recognize there are ideas they haven't thought of yet, and no one solution is ideal forever. For example, the military can't ensure its networks are impenetrable at all times, Dunlap acknowledged, so it has to roll with the punches and recover if a cyber intrusion occurs.
"This isn't the perfect solution," Kumashiro said. "Multi-domain command and control is organic. Although we can be deliberate in some areas, the advanced network and technologies that we're talking about require us to be adaptive and agile at all times. We're not there yet."
Chris Brose, a former Senate Armed Services Committee staff director who now serves as head of strategy at Anduril Industries, said high-level officials across the military branches have to buy into the idea of MDC2 for each piece to work together, but that real change will be driven from the bottom of each organization and up.
Even as the Joint Staff gets more involved and the services begin to come together in new ways, officials warned against allowing bureaucracy to stymie progress.
"The exciting thing that we have now is, each of the service chiefs, though the language may shift they're all prioritizing the ability to work as a team and integrate," Dunlap said. "For us doing the technology development, that's extremely helpful because there's unity of effort and focus there."