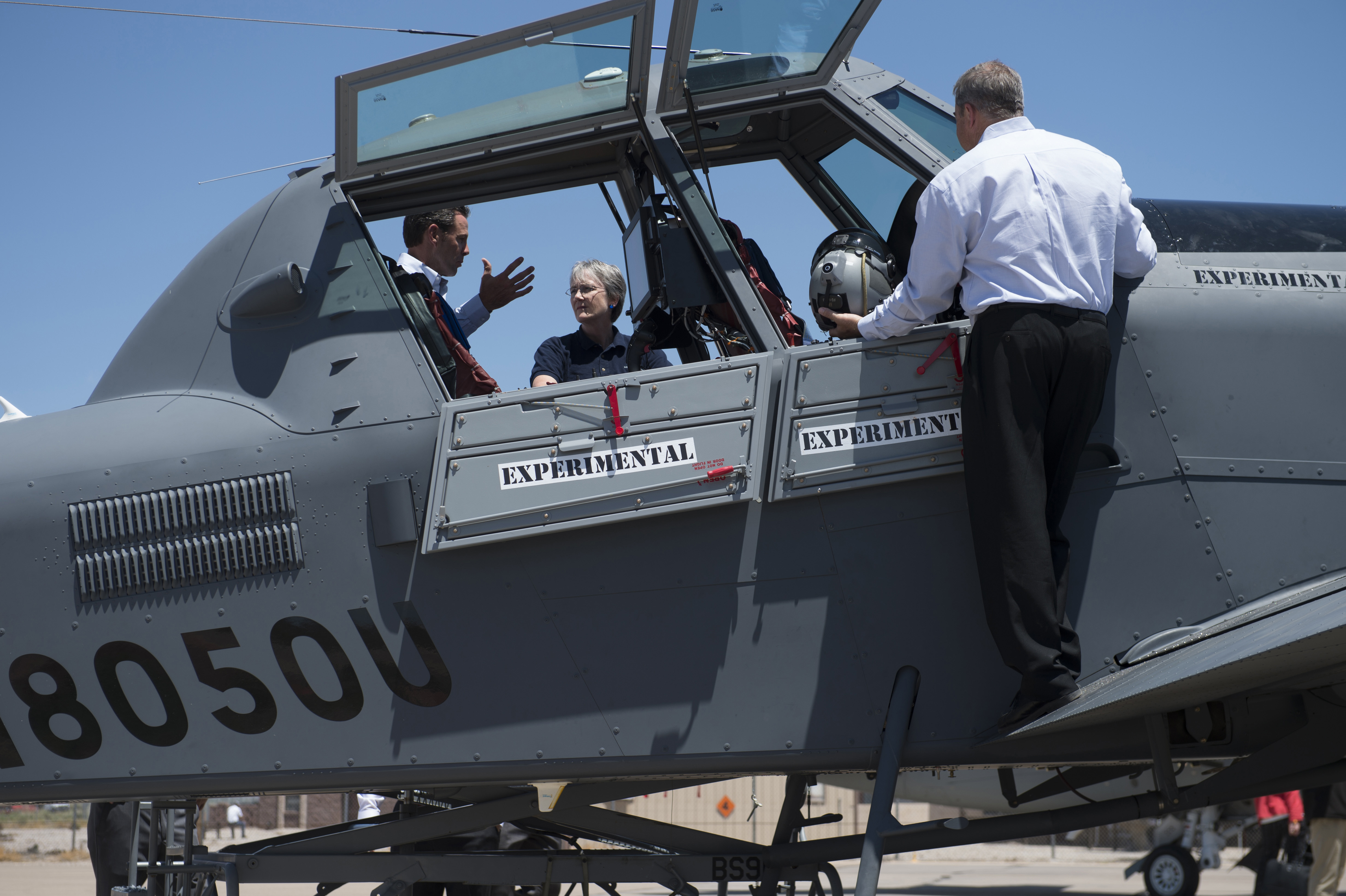 Secretary of the Air Force Heather Wilson meets with members from the Light Attack Experiment at Holloman ?Air Force Base, N.M., Aug. 9, 2017. USAF photo by A1C Alexis Docherty.
The Air Force has set aside $2.4 billion in the five-year future years defense program to start buying a new fleet of light attack aircraft, Secretary Heather Wilson told reporters on Friday after an AFA Mitchell Institute event on Capitol Hill.
The service announced earlier this month it was scrapping the planned combat demonstration in favor of a second experiment with two of the four original participants. That experiment, which will take place this summer at Davis-Monthan AFB, Ariz., will be focused on integrating sensors onto the aircraft.
"We put a wedge in the five-year plan because basically we intend to buy light attack aircraft and we intend to buy them very rapidly," said Wilson.
Exactly how many aircraft the service intends to buy, though, is still not clear. Wilson said the "concept of operations and, frankly, engagement with our allies will tell us how many we want to buy," but she noted that more details will be available in the service's Fiscal 2020 budget request. "We don't intend to buy the aircraft in Fiscal 2019," she said.
Air Combat Command boss Gen. Mike Holmes told reporters at AFA's Air, Space & Cyber conference in September the service was looking at using the light attack experiment as a model for new experiments, noting the possibility of a "light" intelligence, surveillance, and reconnaissance aircraft.
Wilson said on Friday one of the benefits of the light attack aircraft is the ability to "plug and play on it."
She said the service is "experimenting in a lot of different ways" with ISR in an effort to satisfy the "insatiable demand" for "persistent intelligence, surveillance, and reconnaissance." That could include adding certain sensors onto whichever light attack platform the service chooses.
"When we finish up the experiment, we'll have to look at how many we buy, at what rate, starting in what year, what sensor we want to add to them," said Wilson. "This is the whole point of experimenting and moving quickly. We're going to add things as we go."