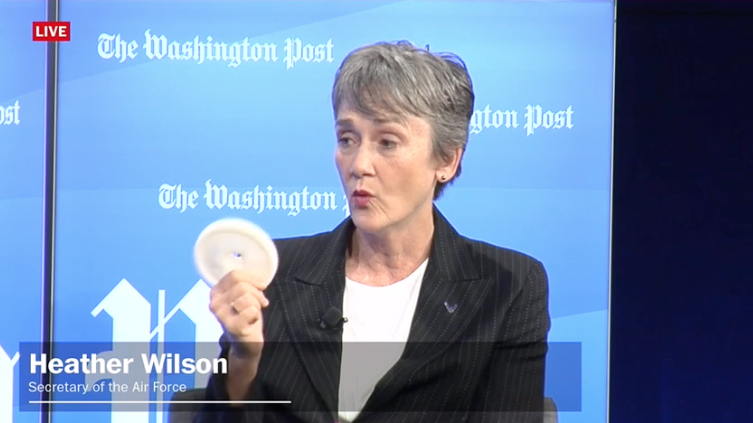 Air Force Secretary Heather Wilson demonstrates a 3D printed part of a KC-135 during a Washington Post-sponsored event on Wednesday. Screenshot photo
The Air Force will create a new rapid sustainment office, aimed as using emerging technologies to help lower the costs of repairing aircraft and operating depots, service secretary Heather Wilson announced Wednesday.
The new office, which will be similar to the Air Force's Rapid Capabilities Office, will develop new methods to use technologies such as 3D printing, "cold spraying" to repair metals, and robotics at depots to create replacement parts and create efficiencies in depots, Wilson said at a Washington Post event. The overall aim is "using advanced technologies to drive down the cost of parts," she said.
The office's creation will come as the Air Force is facing large-scale problems with sustainment, both with new and old aircraft.
For example, the F-35 Joint Program Office has said sustainment costs are the biggest issue facing the jet and, if unchecked, could grow to the point where service budgets cannot afford to pay for the planned purchase number of the aircraft.
In the first quarter of 2017 alone, the Air Force had 10,000 requests for parts that received no bidder, because the original manufacturer was out of business or it is not feasible for a company to solely make one new part, Wilson said.
Sustainment and parts replacement is having an operational impact right now, with Air Force Global Strike Command recently standing back up its fleet of B-1s following a grounding that stemmed from an issue with the jet's ejection seat systems. USAF Chief of Staff Gen. David Goldfein told reporters last week that the Air Force identified the part issue and is working through replacements, but is facing problems because some parts suppliers are no longer in business.
At the event on Wednesday, Wilson demonstrated a 3D printed "trim wheel" for a KC-135. The original manufacturer is out of business, and it would have cost at least $700 a piece to develop the part in a traditional way. Instead, the Air Force was able to reverse engineer it at a total cost of $50, she said.