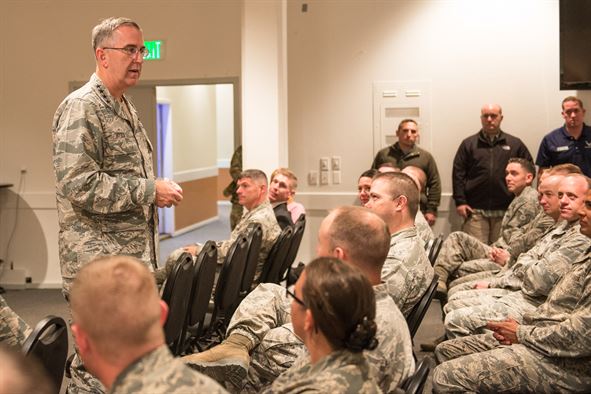 Gen. John Hyten speaks with airmen during an all call at the Top of the World Club, July 17, 2017, at Thule Air Base, Greenland. Air Force photo by Capt. Md Hussain
Wilson Brissett
Space-based sensors are the most urgent need for US missile defense systems, Gen. John Hyten, chief of US Strategic Command, told reporters during a conference call Wednesday. "The most important thing we have to invest in right now is increased sensor capabilities," Hyten said, "because we need to be able to characterize the threat wherever it is on the globe in order to be able to effectively respond to it with defenses."
Hyten explained that space-based sensors are crucial to expanding US tracking capabilities because "you can't have access to enough land points in the world to have a full sensor capability."
The US development of space-based sensors for missile defense, Hyten said, is a "thirty year-old problem" that began with the Strategic Defense Initiative of the 1980s. "I was the Air Force's chief engineer" for SDI, Hyten said, where he helped identify a requirement for "a global midcourse sensor" in 1989. The Department of Defense already knew at that time that a "space-based layer" of sensors was the only way to achieve this goal.
Ever since then, "what has been a challenge is making it affordable," Hyten said. But the global midcourse sensor capability itself is not prohibitively expensive, Hyten insisted. The problem has been that "we keep piling on requirements into the satellite systems that make them very, very expensive."
The system becomes "too expensive," Hyten said, when the DOD seeks to add on additional capabilities like "broader missile warning requirements" and "tactical intelligence requirements" at the same time.
If the DOD can "control the requirements," Hyten said, "we should be able to do it effectively and affordability."
After space-based sensors, Hyten said the US missile defense system needs "improved interceptor capability." Today's missile interceptors can "deal with the basic North Korean threat," Hyten said, but he also warned that, "the threat is maturing fast." He wants to see the US "improve our interceptor fast enough to stay with them."
Hyten said decisions about the number and placement of future interceptors would be a policy decision made after the completion of the Trump Administration's ongoing ballistic missile defense review, which he expects to be complete by the end of the year.