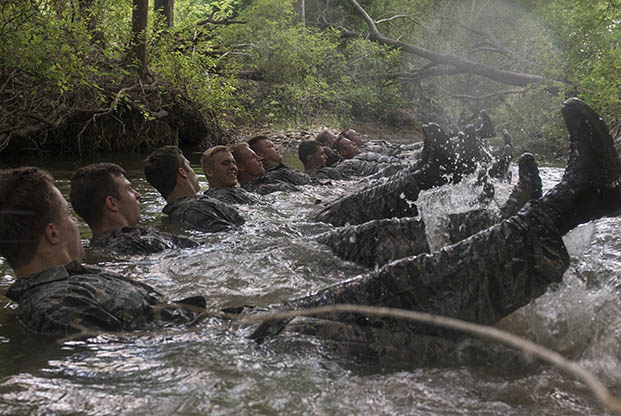 USAF's Battlefield Airmen Training Group is looking to innovation to better train potential Air Force special operators, AETC said. Air Force photo by A1C Dillon Parker.
The Air Force Battlefield Airmen Training Group is using innovations to improve how it trains prospective Air Force special operators, the Air Education and Training Command said Thursday, pointing to a reported overall graduation rate jump from 10 percent to 21 percent since its activation in 2016.
The training group said it is now looking at how it can reduce the number injuries, which in the past were a significant cause of attrition in the battlefield airman training pipeline. This includes looking for ways to increase efficiency—for example, gaps in training can cause muscle atrophy and injuries—and collecting substantial amounts of candidate data.
"We have biometric sensors on our candidates that measure approximately 300 data points per day," said CMSgt. Joshua Smith, 350th Battlefield Airmen Training Squadron superintendent. "We use all this data to find out when candidates are being stressed the most, what kinds of things contribute to injuries, and what factors are the most important for maximizing human performance."
Group leaders also have started measuring other factors that affect performance, such as nutrition and sleep. The scientifically based approach has resulted in "unprecedented success," the command said. "The most recent Tactical Air Control Party graduation was the largest ever, with 34 graduates. This represents a 21 percent increase from the previous high of 28 graduates, and exemplifies the current trend of falling attrition rates, as 85 percent of the starting class graduated," states the release.
The announcement comes as the Air Force is boosting its efforts to recruit the right candidates for special operations and ensure that those candidates are as prepared as they can be for the rigorous training pipeline. The service now has a dedicated special operations and combat support recruiting squadron, and a course aimed at preparing prospective special operators for the pipeline. Although a top Air Force training official has told Air Force Magazine it is too early to tell definitively whether the course has lowered attrition rates, he said there has been an improvement in physical fitness scores since the implementation of the course.