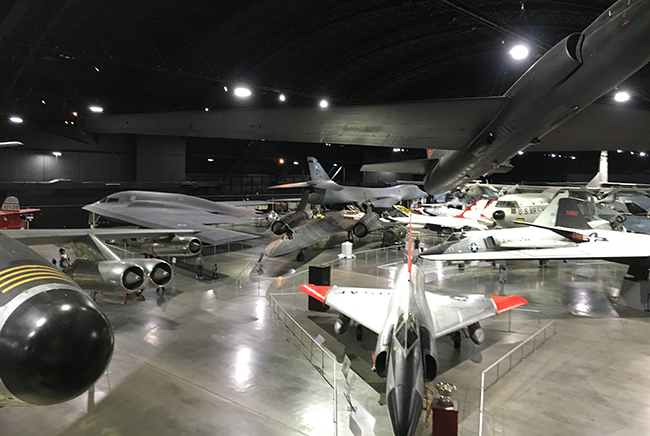 The most recently added building at the Museum of the US Air Force features presidential transports going back to the time of Franklin Roosevelt, and this collection of pioneering types such as the U-2, F-106, B-1, B-2 and SR-71. The collection can be viewed from a balcony,?? allowing teachers to compare and contrast key concepts in aircraft design. Staff photo by John A. Tirpak.
Now several years beyond its last major expansion, the Museum of the US Air Force at Wright-Patterson AFB, Ohio, is looking to overhaul some of its exhibits to add new emphasis on space, women, and the enlisted force, according to its new director, David Tillotson.
"You look around here, you don't see very much about GPS [Global Positioning System]," Tillotson told Air Force Magazine during a June visit. "That's a vital utility that's free to everybody on the planet, and the Air Force provides that. It's central to people's lives now," he added, noting that everything from driving directions to bank and internet timing depends on the Air Force-maintained constellation.
"We are developing ways to tell that story, that will connect people to space, because most don't realize" how much they depend on satellites, particularly Air Force navigation and weather spacecraft, he said. The museum's space hall consists largely of ICBMs and early rockets, but it has only a few satellite displays, and those are almost all focused on purely military applications, Tillotson noted.
A complaint he's gotten as he talked to people about the facility is that "we are perceived as an officer's museum." It's not true, of course; in addition to being fundamental parts of crew displays for, say, the Doolittle Raiders or the B-17 Memphis Belle, the museum's enlisted focus is seen in more than a dozen displays featuring historic uniforms and the roles played by the enlisted force. Still, the perception was noted often enough that Tillotson is taking action.
An extensive display of WWII flight jackets will be scaled back to provide a more direct encounter with enlisted-member themes, he said, and there may be changes to other enlisted displays to put them even closer to the center of the museum's presentations. One large display of enlisted roles, for example, is often missed because it's behind visitors as they enter the display area. "Uniforms are not as glamorous as airplanes," he noted, and being overshadowed by the hardware may be part of the perception problem.
Another new focus will be the role of women in the Air Force, and particularly their growing presence in the pilot force. Tillotson said he recently met with Brig. Gen. Jeannie Leavitt, USAF's first female fighter pilot and commander of USAF's recruiting service, to discuss ways to highlight women's involvement in the modern Air Force. A Leavitt uniform may be displayed next to an F-15E when the Museum acquires a Strike Eagle for its collection, as Leavitt flew that aircraft in combat.
"We have a good reputation as a technology museum; now we want to tell more people stories," Tillotson asserted.
The last museum expansion was in 2016, and a huge new hangar was added that allowed many aircraft parked outside to come inside. A centerpiece of the new building is a C-135 Air Force One that was used by Presidents Kennedy, Johnson, and Nixon. Almost all other presidential transports back to Franklin Roosevelt are also grouped together in the new building.
The newest hangar also has a large balcony for viewing the aircraft in it. "This vantage point gives you a good place to have a STEM [science, technology, engineering, and mathematics] discussion with students," said Douglas Lantry, curator and historian in the museum's research division. "From here, you can see and talk about the area rule," which governs supersonic aircraft design, "on an F-106. You can see than a U-2 is pretty much an F-104 with really long wings. You can talk about the flying wing, as you can see the B-2 over there. It's all in one view."
The Museum is also looking to make other acquisitions to address holes in its collection. It wants to acquire a KC-135R, for example, to represent more than 50 years of aerial refueling with the Stratotanker, but USAF still needs all the aircraft it has.
Tillotson said he is building plans for the fiscal 2021 budget that will try to rationalize the museum's footprint at Wright-Patt. Some of the museum's restoration facilities are located far away on base, and it may make sense, as the base expands and reorganizes, to move some of those facilities and functions to be adjacent to the existing museum grounds, which can be accessed without entering the base. The museum must use a tow path for moving aircraft across base grounds, and that may be eliminated by giving up some facilities and being granted others.
A seemingly unused huge lawn for the museum actually serves an important purpose, he noted, as it becomes a runway for light aircraft and historic WWI warbirds when the museum hosts fly-ins.
"By September, through AFMC [Air Force Materiel Command, which owns the base], we'll have a path forward" that will be part of the next budget, Tillotson said.