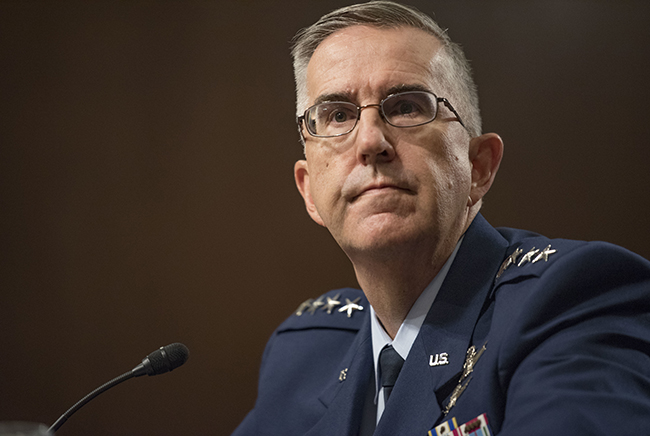 US Strategic Command boss Gen. John Hyten testifies before the Senate Armed Services Committee on July 30, 2019, in Washington, D.C. Defense Department photo by Lisa Ferdinando.
Story updated on July 30, 2019, at 6:35 p.m. EST.
The confirmation hearing for US Strategic Command boss Gen. John Hyten's promotion to become vice chairman of the Joint Chiefs of Staff veered between strategic military matters and questions about allegations of sexual misconduct levied against him by a former member of his staff.
"I'm intensely aware of the allegations made against me concerning one of the most serious problems we have in the military: sexual assault," Hyten told the Senate Armed Services Committee July 30. "It has been a painful time for me and my family, but I want to state to you and to the American people, in the strongest possible terms, that these allegations are false. Nothing happened, ever."
Hyten's accuser, an Army officer who attended the hearing but was not asked to testify, challenged his testimony while talking to reporters on Capitol Hill.
The Air Force investigated the allegations lodged by Army Col. Kathryn Spletstoser and found insufficient evidence to back up her claims. Spletstoser had said Hyten made unwanted sexual advances toward her in 2017, when he was her boss at STRATCOM. Spletstoser did not initially report her claims, but said she felt a moral obligation to come forward when the general was nominated to become vice chairman of the Joint Chiefs of Staff.
Sen. Josh Hawley (R-Mo.) asked Hyten if he had visited Spletstoser in her hotel room during a trip to a major defense conference in California. Hyten said he had not. The general added, after prompting, that while he provided a DNA sample to investigators in the course of their investigation, they had found no link between Spletstoser and his DNA in the course of their work.
Lawmakers conducted an extensive study of their own over the past several weeks and appeared to agree that Hyten did not commit assault.
"Sexual assault happens in the military," said Sen. Martha McSally (R-Ariz.), who recently revealed she was raped during her time in the Air Force. "It just didn't happen in this case. I pray the accuser gets the help she needs and finds the peace she is searching for."
While much of the hearing used the allegations to discuss the topic of sexual assault in the military more broadly, Sen. Joni Ernst (R-Iowa) suggested the accusations are symptomatic of a larger problem with Hyten's judgment.
"I am very concerned that, during the process of your time as the STRATCOM commander, there had been this [Commander's Action Group] director within your command that other people, multiple times, went to you, voiced their concerns about the toxic leadership, but you did not acknowledge that," Ernst said. "You did not do written counseling statements. You did not advise her any differently. You only did something about it when concerns were raised about your own leadership."
Hyten acknowledged it took him a long time to understand that leaders who are toxic to their staffs can "look absolutely brilliant" to their superiors. Spletstoser pushed back on that, however, telling reporters Hyten appreciated her leadership style. She compared her demeanor to that of Army Gen. Mark Milley, the incoming chairman of the Joint Chiefs of Staff.
In an introduction at the hearing, former Air Force Secretary Heather Wilson acted as Hyten's character witness and touted his good judgment. Wilson oversaw the Air Force's investigation into Spletstoser's allegations before she departed in May.
"There is no other officer on Active Duty today who combines the intellect and breadth of experience of John Hyten when it comes to three areas of vital importance to our national security: space, cyber and the nuclear deterrent," she said. "John has the credibility and experience of a combatant commander, yet began his career in acquisition. He has experience setting requirements for complex weapons systems, which is a process which he will lead as the vice chairman."
Wilson said Hyten was falsely accused and suggested Spletstoser could be a "wounded soldier who believes that what she is saying is true, even if it is not."
"That possibility makes this entire situation very sad," Wilson said.
Spletstoser said she is disappointed in Wilson's comments and in how she handled the investigation.
"I think it's disrespectful that she or anyone else would insinuate that a combat-injured soldier is somehow making something up," Spletstoser said. "That's really a slippery path."
Over the course of the two-and-a-half-hour hearing, discussions bounced between how to address sexual assault in the military (Hyten thinks the chain of command should be involved in reporting incidents) and defense priorities like the nearly two-decade war in Afghanistan (he said withdrawing US troops from the country should be based on conditions on the ground, not driven by a schedule) and nuclear weapons (he supports low-yield nuclear weapons and bemoaned Boeing's announced departure from the Ground-Based Strategic Deterrent program).
As vice chairman, Hyten would play a large role in the revival of US Space Command and the potential creation of a Space Force within the Air Force, and have a hand in Defense Department-wide efforts to buy new platforms, among myriad other issues.
Meanwhile, outside observers are beginning to weigh in. Advocacy groups Protect Our Defenders and the National Organization for Women protested Hyten's nomination, while a group of national-security experts wrote to SASC leadership urging them to confirm the general.
SASC Chairman Sen. Jim Inhofe (R-Okla.) told reporters he intends to hold a July 31 vote to send Hyten's nomination to the full Senate, according to National Journal. If approved by the committee, the general could face even tougher questioning before the full chamber. SASC next meets July 31 to vet Adm. Michael Gilday, nominated to be chief of naval operations. The Senate leaves for its August recess next week.