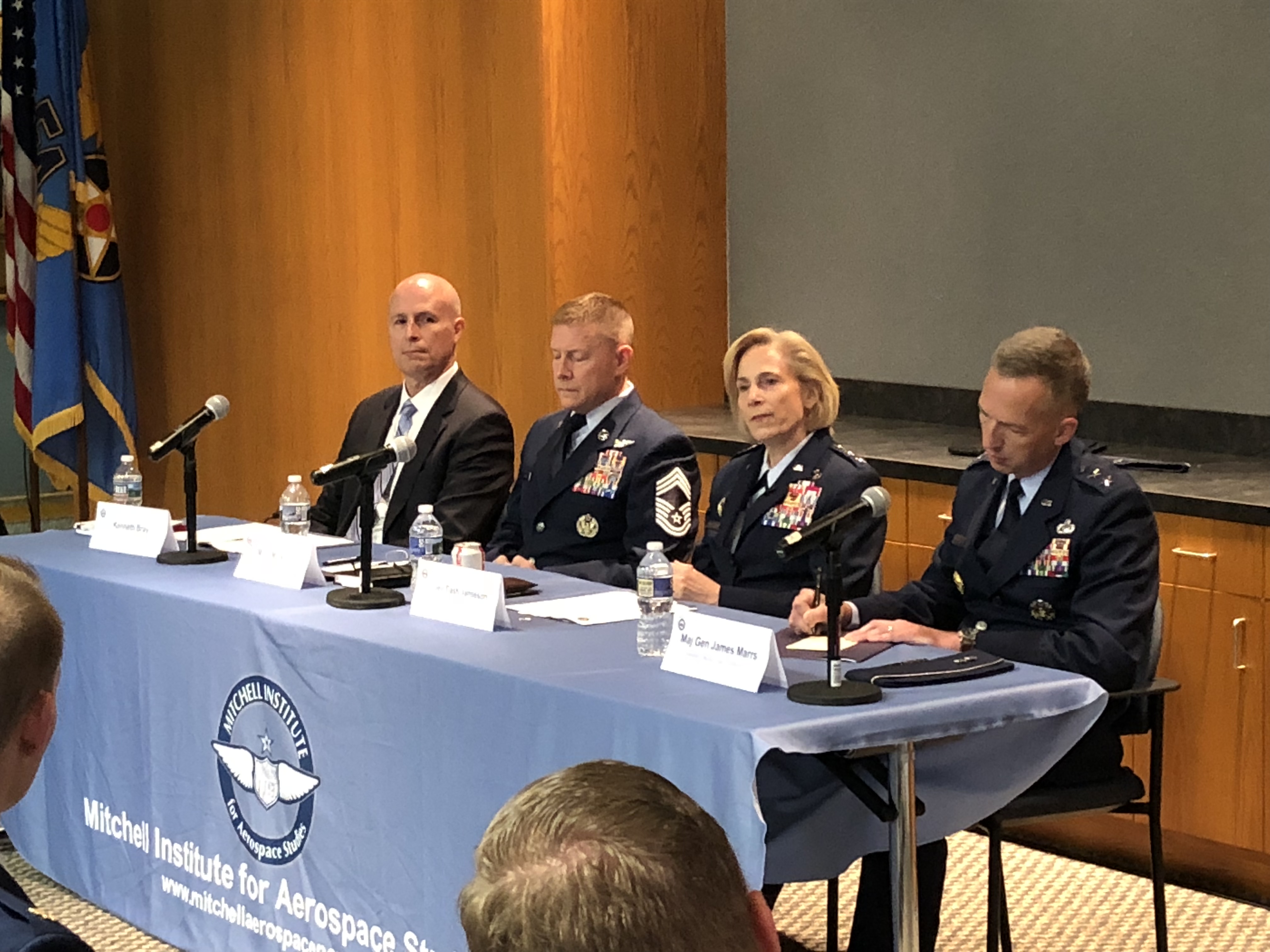 Lt. Gen. VeraLinn Jamieson, second from left, USAF deputy chief of staff for ISR, said the Air Force has completed its Next Generation ISR Dominance Flight Plan during an AFA Mitchell Institute event in Arlington, Va., on Thursday. Staff photo by Nicole Kirsch.
A classified new Air Force intelligence, surveillance, and reconnaissance roadmap puts high emphasis on machine intelligence, elevating "publicly available media" to the level of a major trusted source, and lays out a strategy to reverse the declining value of "big-wing ISR," the head of USAF's intelligence, surveillance, and reconnaissance said.
Lt. Gen. VeraLinn Jamieson, Deputy Chief of Staff for ISR, unveiled the "Next Generation ISR Dominance Flight Plan" at an AFA Mitchell Institute event in Arlington, Va., on Thursday. Now officially finished and signed off by Chief of Staff Gen. David Goldfein and service Secretary Heather Wilson, it calls for reliance on a multiplicity of commercial satellites to provide quick-refresh, hyperspectral world monitoring. In addition, the Air Force will look to "swarming" technologies and sensor platforms that are both extremely fast—read, hypersonics—and "extremely slow," providing stealthy persistence in contested areas.
Jamieson declined to offer any information on what the flight plan dictates for the various ISR platforms now populating the service, telling Air Force Magazine that USAF doesn't want to commit itself to technologies that may be overtaken in just a few years. She acknowledged there will have to be some kind of successor to the MQ-9 Reaper that can survive in contested zones, but said USAF is not yet ready to define what it will be. She suggested an analysis of alternatives is or will soon be underway to define the system. She also told reporters that she has had beneficial discussions with Congress regarding the Air Force's desire to retire the E-8 JSTARS system, saying Congress has softened its objections, has allowed the Air Force to pursue a new, non-platform network instead, and that talks continue.
Overall though, she said the value of "Big Wing" ISR systems like E-8, RC-135, and AWACS is "declining" and she has launched an effort to restore their relevancy to earlier levels.
Jamieson last week told Air Force Magazine the new roadmap would answer the MQ-9 successor question. The flight plan "lays out the challenges" facing the ISR enterprise given the "great power competition" the US now finds itself in, as described in the National Security and National Defense Strategies.
It started out as a charge from Goldfein to find out whether the Air Force's ISR enterprise was properly "postured" for the modern environment, or whether it has grown too tailored to the low-intensity conflicts of the last 18 years, Jamieson said in the Mitchell speech.
"Our team discovered … there are several challenges that our ISR enterprise faced. We really are focused on independent platforms that do single-INT collection," she said, using a shorthand for Signals Intelligence, Photo Intelligence, Electronic and Human Intelligence, etc. "So it starts out pretty stovepiped," she said. That in turn leads to a gathering and analysis process that is "very linear, very time intensive, and very manpower-intensive."
Jamieson said that technology has advanced so rapidly—and industry is moving so fast with artificial intelligence/automation/machine learning, which collectively industry calls machine intelligence—that "PED is dead," referring to processing, exploitation, and dissemination of intelligence. "The sensors will do the PE part, now," and probably even the "D" as well, leaving humans free to assess the information and make decisions, inside the decision/action loop of the enemy.
The new buzzword, Jamieson said, will be SIAS, standing for "sense, identify, attribute, share." The Air Force will "take SIAS to the next level."
The roadmap is billed as a 10-year look, 2020-2030, but Jamieson said it will be a living document "updated daily … maybe hourly" as technology changes with near-constant updates.
Jamieson said "there will still be an air" component to Air Force ISR, but she did not elaborate on the future of the unmanned RQ-4 Global Hawk and manned U-2 Dragon Lady. The Air Force will be able to rely on thousands of satellites offering near-real-time commercial imagery and multispectral data covering the entirety of the globe, she said, allowing the service to focus on "exquisite" capabilities for specialized missions.
She also said the Air Force will "flip" its attitude toward "publicly-available media," such as millions of people with cellphones. Processed by machines, solid and detailed and corroborated information can emerge on what's happening, based on information aggregated from social media posts.
All this must be done "at the speed of relevance, … the speed of warfighting," she said.
The flight plan has definite milestones, but Jamieson would not describe them, except to say that two have already been met. One was to "have our machine intelligence annex … be resident in the DOD AI [artificial intelligence] strategy. We checked that box."
Another milestone was to ensure that Air Force standards and goals for its infrastructure are compatible with that of other agencies and industry. "Our standards are commercial standards," Jamieson reported.