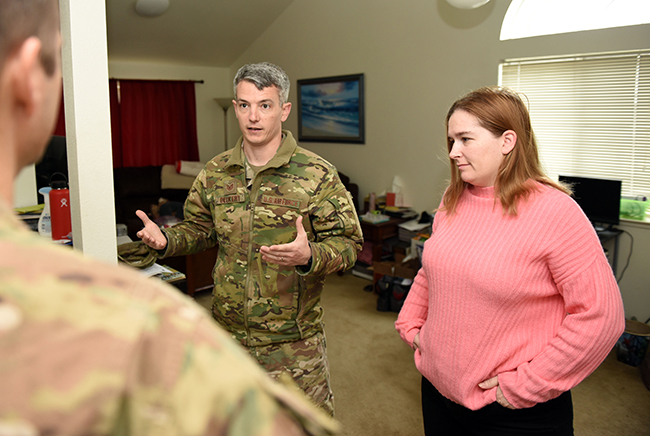 TSgt. Thomas Deckert, 60th Aerial Port Squadron NCO in charge of bunker operations, and his wife, Tracy, talk with Maj. Philip Lere, 60th APS operations officer, about issues facing their home during a review of their housing situation, on Feb. 25, 2019, at Travis AFB, Calif. Air Force photo by A1C Christian Conrad.
More than half of the 4,700 issues Air Force commanders found during a walkthrough of nearly 10,000 military homes in February have been fixed so far, the service's top installations official recently told lawmakers.
John Henderson, assistant secretary for installations, environment, and energy, told lawmakers at a May 1 House Armed Services readiness subcommittee hearing that 3,100 deficiencies were resolved, with a plan underway to handle the rest. The Air Force did not answer what the timeline is for addressing all problems on the list.
"If it has to do with replacing a roof or something that's more of a long-term item, we're keeping those on the tracking mechanism," Henderson said of the remaining issues.
He added that the service is looping its medical community in on health issues discovered in military housing.
Air Force spokesman Rob Leese told Air Force Magazine May 3 the service's initial attempt to gather data on housing conditions and resident concerns reached nearly 57,500 Active-Duty members living on base with a health and safety survey. Base leadership visited about 9,800 homes and reviewed housing policies, procedures, and best practices.
The Air Force completed an inspector general assessment and incorporated its findings into five lines of effort and 25 objectives the service created to address privatized housing concerns like poor construction and maintenance quality and mold, Henderson said.
"Most of those findings were internal to the Air Force and how we internally do business and pass information through the chain of command," Henderson said. "We have taken the time to back brief the professional staff members of the committees on that."
Leese did not answer what the IG found or how the results are being addressed.
"In response to the recent privatized housing concerns and to combat future resident dissatisfaction, the Air Force privatized housing program developed five major lines of effort to provide safe and healthy housing for airmen and their families: employing and revamping resident empowerment, oversight improvement, leadership engagement, improved communications, and policy standardization," he said.
According to Leese, new initiatives underway include:
Base tenant advocates that will serve as liaisons between residents, Housing Management Offices, and the property owners
A Resident Bill of Rights to better educate airmen about their leasing rights
A resident council that gives tenants a forum to discuss their experiences and concerns
A more transparent work-order process
A revised performance incentive fee plan for project owners that more accurately assesses whether they meet requirements
A toll-free hotline also opened May 1 as a "last resort in the tenant-landlord dispute process," he added.