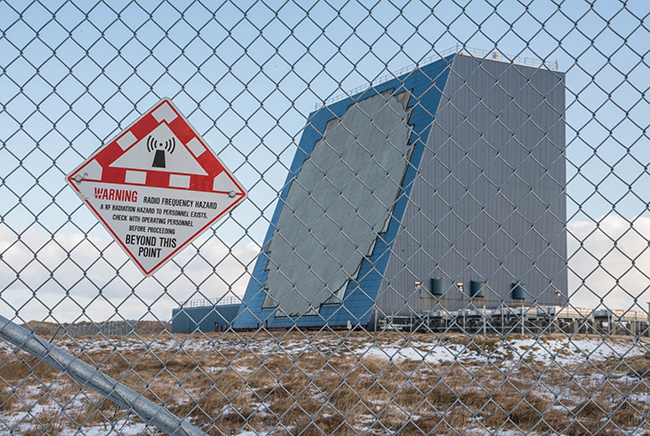 The Cobra Dane radar is a single faced ground-based, L-band phased-array radar located at Eareckson AS, Shemya, Alaska. The radar's primary mission is to collect radar metric and signature data on foreign ballistic missile events. Alaskan NORAD Region/Alaskan Command/11th Air Force photo by Navy SCPO Brandon Raile.
The Defense Innovation Unit is updating an Air Force missile-defense radar in an effort that promises to spur ripple effects for other programs like the F-22, according to a recent Pentagon report to Congress.
DIU, the Defense Department's main conduit to commercial technology companies in Silicon Valley, aims to improve the Cobra Dane radar's ability to collect data on ballistic missile launches. Software upgrades could also add features to block electronic jamming.
"Aging radars are difficult to maintain due to obsolete components and parts," said the report, which was sent to the Senate Armed Services Committee earlier this year. "This prototype demonstrates a repeatable means of modernizing outdated processors and coding languages with broader applications across air, land, and sea systems that use the same aging components as Cobra Dane, including other radar systems and the F-22."
DIU, the Air Force Life Cycle Management Center, and the Missile Defense Agency are working with two unnamed contractors under agreements worth about $18 million.
DIU launched in 2015 to boost the Defense Department's outreach to Silicon Valley and has since expanded to commercial technology hubs across the country. Its work on Cobra Dane, which is maintained by Raytheon and also tracks space debris up to 2,000 miles away, is one of seven DIU programs underway that could have department-wide impacts.
Starting this fiscal year, DIU has a new goal of pursuing at least five "transformative" projects for the joint force a year. Those ideas would "scale across DOD, save lives and/or taxpayer dollars in significant numbers, and substantially enhance military capabilities," according to the report.
In addition to overhauling Cobra Dane, DIU is working on AI-enabled predictive maintenance software; automated detection and remediation of cyber vulnerabilities; real-time situational awareness in urban, indoor, and underground areas; cancer research; peacetime indicators and warnings; and secure battlefield networks.
On top of its service-specific efforts, DIU now has a team dedicated to seeking out cross-department projects and is hiring civilian experts in commercial industry practices, contract specialists, and a procurement attorney to speed things along.
The group facilitated 109 projects from June 2016 to March 2019, and about 60 initiatives are currently in the works. Ten prototypes were turned over to DOD customers. Three finished prototypes have moved into production.
Building on its early successes, DIU is looking to remove hurdles that have held it back. It can now issue its own contracts, instead of needing to partner with another DOD organization to bring in startups and other commercial providers.
"In April 2019, we utilized this new authority to release our first solicitation, the initial step in awarding a prototype contract," DIU wrote. "With this added capability, we expect the time to award prototype contracts to fall back below 100 days and approach our stated goal of 60 days."
The group is also addressing other struggles to create full-time civilian and military billets, match commercial contracting speed, codify contracting and development processes, and break away from the annual federal budget.
"The single biggest constraint to DIU's mission of more rapidly fielding commercial solutions is DOD customers' inability to treat budget dollars flexibly and scale a successful new solution within an existing budgeting cycle," the report said.
Looking ahead, DIU is absorbing two other Pentagon initiatives focused on national-security innovation to expand its reach to new areas of research and industry.
"These changes in how we select projects and expand capacity as well as these additional lines of effort will ensure that DIU is able to have a larger positive impact on accessing and growing the [national security industrial base] in support of the [National Defense Strategy]," the report said.