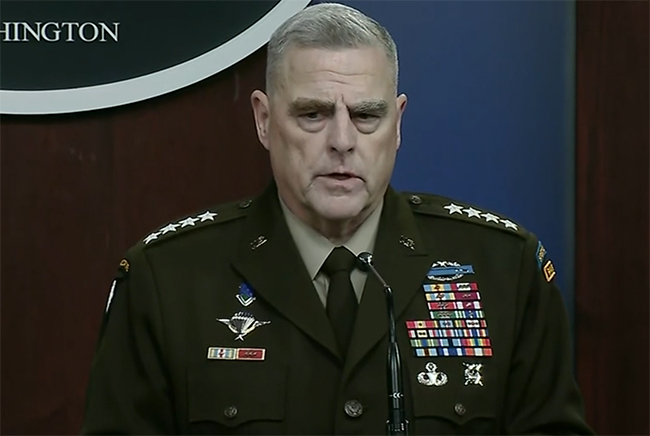 Chairman of the Joint Chiefs of Staff Army Gen. Mark Milley addresses reporters at an Oct. 28, 2019, press conference at the Pentagon. DVIDS screenshot.
US aircraft fired a heavy onslaught of ordnance from the air, including multiple AGM-158B Joint Air-to-Surface Standoff Missiles, to destroy the Islamic State group leader's hideout in Syria following the raid that resulted in his death, the Pentagon said Oct. 28.
The airstrikes at the "tail end" of the raid on Abu Bakr al-Baghdadi's hideout just 4 miles away from Turkey leveled the structure, after US forces retrieved large amounts of intelligence and took two fighters into custody, Army Gen. Mark Milley, chairman of the Joint Chiefs of Staff, said at an Oct. 28 press briefing.
In addition to JASSMs, US forces used guided bombs, Hellfire missiles, miniguns, and other small-arms fire on the compound. News agencies published photographs of the site taken after the raid that show piles of rubble, with no free-standing buildings left.
Milley did not specify which aircraft were used to conduct the strikes.
The incident marked the second time JASSMs have been used in Syria. In April 2018, B-1 bombers launched 19 of the missiles at the Syrian regime's chemical weapons production facilities as part of a large strike, which also included 57 Tomahawk missiles.
US special forces flew more than an hour to reach the location of the Oct. 26 raid, passing over areas controlled by Russian, Turkish, and Syrian forces. US forces used "deconfliction channels" to notify Russia about the overflight to avoid miscalculations, a step that is consistent with past operations, Milley said. Following the raid, Baghdadi's remains were disposed of in a manner consistent with international law, he said.
The Pentagon is going through the process of declassifying videos and photographs from the raid, and future briefings are likely to provide more detail on the operation, he said.
No US forces were seriously injured in the operation. A military dog that chased Baghdadi into a tunnel before he detonated his suicide vest was slightly injured and has returned to service, Milley said. The Pentagon is not identifying the dog for security reasons.