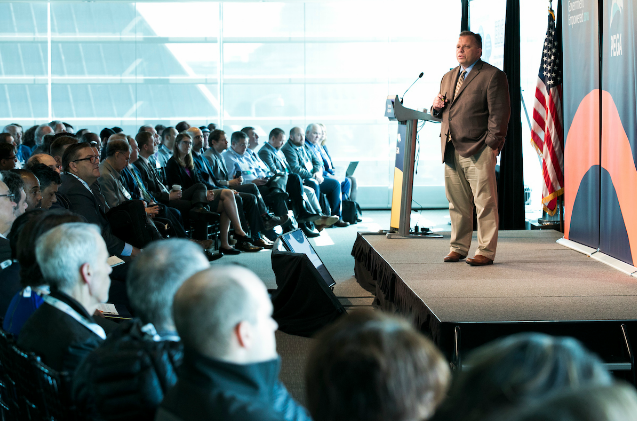 Air Force Research Laboratory Deputy Division Chief Chad Pfoutz speaks at a Pegasystems event on Nov. 8, 2018. Photo courtesy of Pegasystems.
The Air Force Research Laboratory is taking a page from wartime weapons prototyping to buy a modern replacement for its aging legacy business IT systems.
Using Other Transaction Authority (OTA), the lab accomplished in months what might normally take up to two years, AFRL Deputy Division Chief Chad Pfoutz told Air Force Magazine.
"Conventional procurement, we start two years out," he said. With "OTA, we started writing the package in August 2017 [and] by November, we'd awarded the two cloud pilots."
The pilot programs, which concluded in March 2018, demonstrated two competing platforms to see which would be a better solution for AFRL's business IT needs — things like project management applications, book-keeping software, and collaboration tools.
The total cost of the prototyping process under the OTA so far was $1 million, Pfoutz said. He declined to comment on the total eventual cost of the winning platform, from Pegasystems, a Cambridge, Mass.-based technology firm. That system goes live early next year.
OTA is effectively a way around the hugely complex requirements of the Federal Acquisition Regulations (FAR). It allows federal agencies to more easily contract with firms that don't normally sell to the government and lack the process controls and procedures that established government contractors have developed over years of doing business with the feds.
First introduced at the beginning of the space race in 1958, OTA was expanded for weapons prototyping in the early 1990's, after the first Gulf War. Congress opened the door to wider OTA use in 2015-2016, including for business systems, according to an Air Force briefing document.
OTA streamlines acquisition by not setting in law specific procedures for competition and by relieving bidders of numerous requirements imposed by the FAR. Not surprisingly, that makes some procurement officials uneasy, Pfoutz said.
"You say OTA to your contracting officer and they might run out the door," he told a Pegasystems-hosted event in Washington, D.C., Nov. 9.
Doug Averill, who runs Pegasystems' global public sector business, said what OTA really does is cut through the bureaucratic hurdles that "can slow innovation."
He said the US is not alone in trying to find a way to cut that red tape, which is out of sync with the rapid product cycles in modern IT. "We're seeing very similar initiatives" in Europe and elsewhere, creating "well-guarded fast lanes through [government] procurement," he said.
AFRL began the process asking interested vendors to explain in just a few pages how they could meet the 81 IT functional requirements the agency said it needed, Pfoutz said.
Four firms responded, and two survived the initial review to pilot their solutions. Six-month, cloud-based pilots began in November, testing three use cases by getting both vendors to engineer the same three test applications on their platform:
A "tasker" app for dynamic case management

A what-if analysis function, to aid decision-making

A work-unit initiation process to complete the requirements for starting new work, a process that varies in different parts of the organization—"We wanted to see variation in that initiation process for the different directorates, to see how the platforms handled it," said Pfoutz
A second pilot followed, putting participants through a shorter, two-month test, using the lab's own network, rather than the cloud—because sometimes the military networks don't play well with commercial cloud solutions.
Staff groups used both bidders' systems, then shared their experience in surveys. What they found, Pfoutz said, was "Users didn't care: Both apps worked. It came down to which one was prettier."
AFRL's own software developers also were let loose on the platforms after just a day's training to see how intuitive the platform was and how good the vendor's support was. Developers split into two teams, spending 30 days each on the two competing platforms, modifying the vendor-provided apps, writing new apps, and generally using the platform to do their work. At the end of the 30 days, the teams switched systems and repeated the process.
Now AFRL plans to transition more than 100 applications to the platform, according to the company.
Pfoutz said the payoff will be reduced compliance and reporting burdens, as well as an end to the need for maintaining aging solutions that are "a mix of COTS [commercial off the shelf], GOTS [government off the shelf], and custom coded software" that is costly to support.
"We have a small army of contractors to maintain it," Pfoutz said. "We customized it way beyond where we should have done. Upgrades were ridiculous." Now two decades old, the system makes it a struggle to cope with change. "It's a one-size-fits-all, top-down approach," he said, "It doesn't work well for us."
In a series of town halls with the research lab's staff in 2015, management asked what should be done with the system, Pfoutz recalled. "The most common answer: 'Turn it off.'"
Next year, if all goes according to plan, they'll be able to do just that.