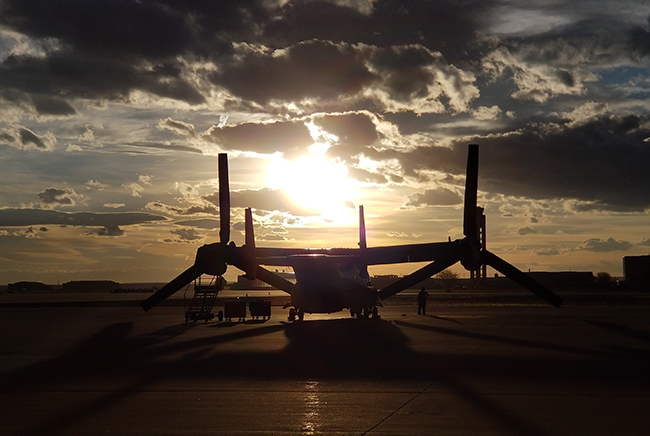 A 71st Special Operations Squadron CV-22 Osprey is parked on the flight line at Kirtland AFB, March 6, 2019. Air Force photo by TSgt. Oneika Banks.
The armed services should hurry up and order more V-22 tiltrotors if they want them, because the program of record is rapidly being built out and there's a risk of a break in the production line, potentially higher costs, or closing of the line, Boeing has advised.
"If you want more V-22s, you need to start planning for that acquisition now, " Rick Lemaster, Boeing director of Global Sales and Marketing, said at a press tour of the company's Philadelphia plant, where CH-47 Chinook helicopters and V-22 fuselages are built.
The company is in the middle of fulfilling a five-year multiyear procurement, Lemaster said, and "we're pretty close to wrapping up our programs of record" for US domestic customers.
If the services want more airplanes, "we need your order by the third quarter of 2020," he advised. But for international customers, they should make their intentions known this summer, because the Foreign Military Sales process needs time to play out.
Any FMS customers would need to have their letter of offer and acceptance in hand by September of 2020, he said. The production line will continue putting out V-22ss until about 2023, but long-lead items need to be ordered well before that.
Lemaster noted that the Air Force's early plans called for 75 CV-22 tiltrotors used for special operations work, but the service "settled for 50" in the budget deliberations that followed. Boeing and the Air Force have both said a fleet of at least 60 would best serve the service, allowing sufficient airplanes for operations, modification, test, and spares. The Air Force has a requirement for 50 primary aircraft available, plus four attrition reserve airframes, but the service's CV-22 orders were set before the new National Defense Strategy, which requires the armed forces to posture for higher-level, higher-tempo operations.
The V-22 celebrated the 30th anniversary of its first flight in March, and some 360 aircraft are operating worldwide. The Navy has ordered 48 new aircraft to do the logistics/resupply mission previously performed by the C-2 Greyhound; Japan has a requirement for 17 aircraft, and production of those has begun.
"We're hopeful there will be enough follow-on demand to drive more procurement," Lemaster said.
Besides Japan, Lemaster said Israel has a potential order dating back four years, for six aircraft, and there are "about a dozen" countries that have expressed interest. He sees a potential market for at least 50 more airframes.
The Navy may want more airplanes to fit out a squadron of carrier onboard delivery aircraft for both the East and West Coast of the US, he said, and that would mean 20 more airframes.
Lemaster said the unique capabilities of the V-22 may also drive requirements for the airplane in anti-submarine warfare, electronic warfare, aerial tanker for special operations aircraft, or as a gunship, among other applications.
Customers still have time to get in on the third multiyear program, he noted. All the services have options for more aircraft.
Lemaster said Boeing likely would not take the approach of having "white tail" V-22s; airplanes built without a specific customer having ordered them. Boeing built some "white tail" C-17s, and managed to sell them to countries who came late to ordering their strategic airlifters.
Still V-22 work at Philadelphia will likely continue for decades, Boeing officials said, noting the fleet will undergo modifications to bring them up to common configuration, and there will probably be a service life extension program. The Navy plans to operate its tiltrotors well into the 2040s, he said.
Among foreign customers, "there's a lot of interest, a lot of shoppers; not sure about buyers," Lemaster said, but "we really are to the point where this window will start to close."
Boeing provided travel and accommodations for reporters participating in the event.