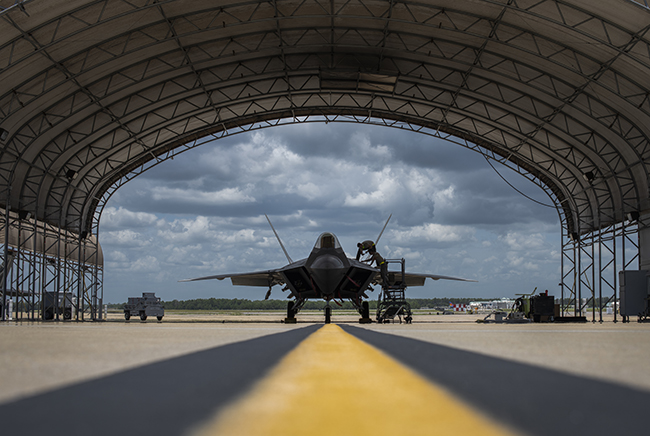 Airmen from the 325th Maintenance Squadron perform maintenance procedures on the F-22 Raptor at Eglin AFB, Fla., July 18, 2019. Air Force photo by A1C Emily Smallwood.
The congressman representing Tyndall AFB, Fla., wants F-22s to temporarily return to the recovering base for training until their next home is fully ready to take on the Raptors.
The Air Force in March announced a proposal to move the F-22 training unit from Tyndall to JB Langley-Eustis, Va., after a Category 5 hurricane slammed the Florida base last fall. Nearby Eglin AFB, Fla. hosts Raptor training in the meantime.
But the workload is too much for Eglin, and Tyndall is ready to take its fighter jets back, Rep. Neal Dunn (R-Fla.) argued in an Aug. 12 letter to Acting Air Force Secretary Matt Donovan.
"Eglin has borne the stresses brought on by a sudden increase of personnel and aircraft this past year," Dunn wrote. "Our flight line at Tyndall is now capable of servicing this mission and is the only site in the Southeast US capable of handling some of the more demanding maintenance issues with this unique aircraft."
Eglin needs the capacity to prepare for its next F-35 squadron, instead of putting that effort into the F-22s, he added. Also, Tyndall still hosts F-22 flight simulators and faculty while the aircraft are at Eglin—meaning many airmen, crew members, maintainers, and engineers commute four hours almost every day for work.
"Bay County misses the sound of freedom overhead," Dunn said of Tyndall.
The Air Force is studying the environmental impact of moving F-22 training and the associated T-38s to Langley, which Virginia lawmakers called for earlier this year. The service believes Langley already has the infrastructure to handle F-22 readiness and pilot production.
Three F-35 squadrons are eventually expected to replace F-22s at Tyndall in the 2020s as part of the multibillion-dollar effort to rebuild the base.