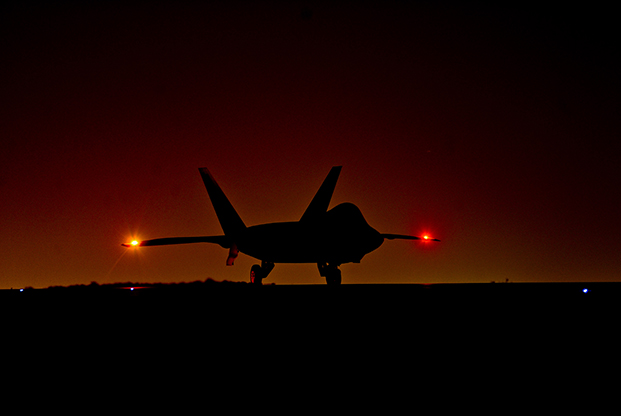 A USAF F-22 assigned to the 380th Air Expeditionary Wing, Al Dhafra AB, United Arab Emirates, prepares to taxi down the runway in support of Operation Inherent Resolve on Feb. 13, 2018. Air Force photo by TSgt. Anthony Nelson Jr.
After years of constant deployments to the region, the Air Force's stealth air superiority fighter is not currently flying overwatch in Iraq and Syria, as the service tries to mend its F-22 fleet to meet readiness requirements and reassesses how it is basing its Raptors.
Taking the F-22s out of constant combat operations allows the Air Force to focus on much-needed Raptor maintenance, as it faces the daunting task of bringing its F-22, F-35, and F-16 fleets up to an 80 percent readiness rate. Former Defense Secretary Jim Mattis in September ordered the Air Force, Marine Corps, and Navy to meet this goal, and the Air Force has said it expects to do so by the end of the fiscal year.
Lt. Gen. Arnold Bunch, the Air Force's top uniformed acquisition official, who is expected to take over Air Force Materiel Command, said last month the Air Force won't hit 80 percent with all of its aircraft, but it will with its combat-coded fleet. Lt. Gen. Mark Kelly, the Air Force's director of operations, said in December that an F-22 and F-35 parts shortage, along with the low-observable coating the stealth aircraft uses—which can be impacted by constant operations in in the desert—complicate this effort.
Air Combat Command boss Gen. Mike Holmes, in a recent interview with Air Force Magazine, would not talk specifics on deployments, citing operational security, but he said the Air Force has to "balance" deployments with time at home, so it can "both train young maintainers into experienced maintainers and young aircrew into experienced aircrew, and to train for the threats that the National Defense Strategy told us to train for."
However, the commander of US Central Command recently asked for additional "defensive counter air assets," based on the "current situation there," so the Air Force deployed F-15s from RAF Lakenheath, England. Holmes said the F-15 does a "great job" with the air superiority mission set, and recent pictures from Air Forces Central Command show a Lakenheath F-15C outfitted for long-distance air superiority missions, with drop tanks, AIM-120C and AIM 9X air-to-air missiles.
A USAF F-15C flies in support of Combined Joint Task Force – Operation Inherent Resolve on Feb. 11, 2019. Air Force photo by Staff Sgt. Clayton Cupit.
"There are currently no F-22s deployed to AFCENT, but the United States Air Force has deployed F-15Cs to Southwest Asia," AFCENT said in a statement to Air Force Magazine. "US Air Force aircraft routinely rotate in and out of theater to fulfill operational requirements, maintain air superiority, and protect forces on the ground."
For years, the air superiority role had been flown by F-22s, which first deployed for combat in 2014 in support of the anti-ISIS fight. The Air Force has touted the Raptors as a "quarterback" for strike operations in a complex area that includes anti-aircraft threats from the Syrian military, as well as Russian aircraft operating in the region. F-22s also have conducted their own airstrikes, and escorted USAF bombers on high-profile strike missions in Syria, such as the April 2018 mission targeting Syrian President Bashar al-Assad's chemical weapons infrastructure, after the regime allegedly used chemical weapons on a suburb of the country's capital.
"Thanks to its unique fifth generation capabilities, the F-22 was the only airframe suited to operate inside the Syrian integrated air defense systems, offering an option with which to neutralize [Integrated Air Defense System] threats to our forces and installations in the region, and provide protective air support for US, coalition, and partners on the ground in Syria," AFCENT said following the April 2018 strike.
The increased capability of the F-22 also deters "other actors," such as Iran, from "malign activities," while keeping an eye on other aircraft operating in the area, Holmes said.
"I would say it was fortuitous that we had F-22s deployed in the region as Russia started probing and started pushing into Syria. … We had the right airplane to … be a fifth-gen quarterback, to have great situational awareness, and be able to help everybody out there and make 'em better."
The last deployment of F-22s wrapped up in October 2018 as Raptors from the 94th Fighter Squadron completed their rotation at Al Dhafra AB, UAE. On their way home to JB Langley-Eustis, Va., the Raptors stopped in Europe for training.
The return home came during a tumultuous time for the Air Force's F-22 fleet. In early October, Hurricane Michael hit Tyndall AFB, Fla., and damaged F-22s that did not evacuate the base. After the storm, the Air Force moved the Tyndall-based F-22s to Langley, JB Elmendorf-Richardson, Alaska; JB Pearl Harbor-Hickam, Hawaii; and Eglin AFB, Fla., while the service determines a long-term basing plan for its aircraft.
"We have recommended that the best path forward to increase readiness and use money wisely is to consolidate" F-22s at the main bases, Air Force Secretary Heather Wilson said in December.
The reassignments of aircraft from Tyndall to other operating bases allows the Air Force to increase the number of aircraft assigned to its main F-22 squadrons. Holmes said the Active Duty Air Force has determined that 24 aircraft per F-22 squadron is the right size to be able to improve readiness, as the service faces the deadline to hit the 80 percent readiness rate.
"The reason is the economy of scale," he said. "If on any given day you only want to commit a certain percentage of your aircraft to the flying schedule, and spend time addressing delayed discrepancies, doing planned and unplanned maintenance on the others. The more you have, the more you can commit a certain percentage of them [to maintenance], … the more sorties you have to train pilots," he said.
The Air Force had been wanting to move toward a 24-aircraft squadron for a while, and the reassignment of Tyndall planes gives them a chance to do this, Holmes said.
The two F-22 bases in the Pacific are both moving toward that goal. The aircraft are already at Elmendorf and Hickam and the rest of the airmen are expected to be at the base by summer, PACAF boss Gen. Charles Q. Brown said.
The Air Force, in July 2018, said in response to a Government Accountability Office report on F-22 operations that it is assessing its F-22 home station structure and deployment practices to better meet the goal of air superiority readiness.
The GAO, in its report, said the regular deployments in which the F-22 aircraft fly combat operations in relatively permissive environments has provided some valuable training, but overall can limit how these aircrews are ready for the F-22's main mission of air superiority against a near-peer adversary in a high threat environment.
"Although its high-end capabilities provide some benefits in current operations against ISIS, 39 F-22s have primarily been used for close air support missions in operations against ISIS, according to Air Force officials," the GAO wrote. "However, CAS is not a primary or secondary mission for the F-22. As such, F-22 pilot air superiority skills degrade while on deployment because they are conducting CAS missions and not able to train for their air superiority missions, according to Air Force officials."
Wilson last year addressed this issue after a Raptor conducted an airstrike on a Taliban target, telling a Washington, D.C., think tank audience that "we should not be using an F-22 to destroy a narcotics factory in Afghanistan."