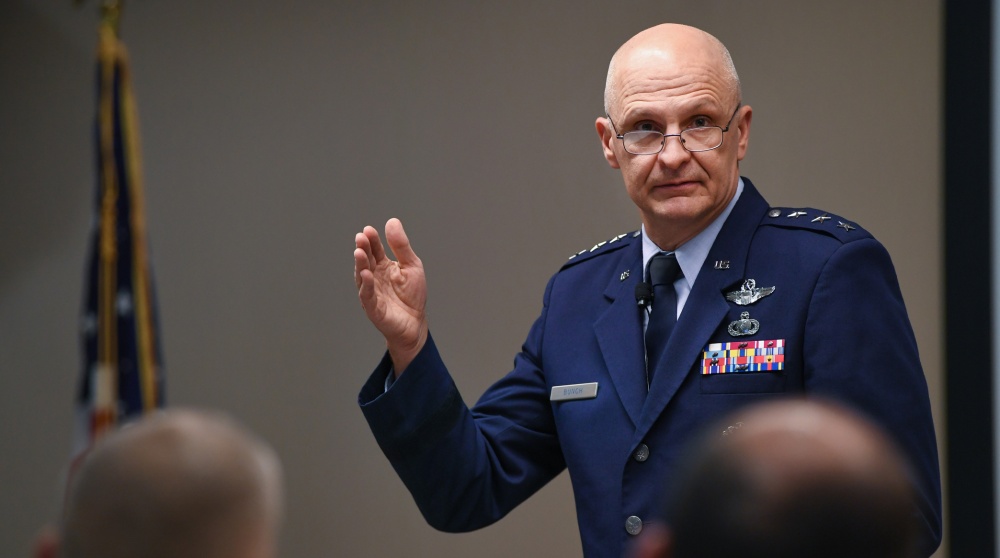 Lt. Gen. Arnold Bunch, shown here in September 2018, spoke at an AFA breakfast on Capitol Hill on Friday. Air Force photo by Todd Maki.
Despite a Director of Operational Test and Evaluation report that said the F-35's readiness hasn't much improved in the last year, the Air Force thinks it can get its fleet up to an 80 percent mission capability rate by the end of the fiscal year, as directed by former Defense Secretary Jim Mattis.
That assessment came from Lt. Gen. Arnold Bunch, USAF's top uniformed acquisition official, who spoke to an AFA industry audience Friday.
"We're pushing" for the 80 percent mark, "and … we believe we can make that," Bunch said. "We're not going to be 80 percent with everything," he conceded, but we will achieve that goal "with our combat-coded aircraft" in the F-35 fleet, as well as in the F-16 and F-22 fleets. The DOT&E report gigged the F-35 program's sluggish improvement in availability, but the Pentagon has acknowledged that newer jets off the line are performing far better than early production models.
Bunch said he's been in marathon meetings with Lockheed Martin, the Office of the Secretary of Defense, and F-35 Joint Program office officials, and "we're setting timelines and calendars … dates when we are going to get things done." Bunch said a list has been created of "the systems that are not performing as we want, the big drivers," and there is an improvement program for each one.
Moreover, Bunch said, the Air Force can't simply pull out all the stops and achieve 80 percent MC rates "this year. I've got to keep it up there. I can't … peak out and drop down."
Bunch said there is a "Life Cycle Support Plan" for the F-35, which looks "across the spectrum of things we can do" to improve the F-35's availability. "How can I accelerate depot standups, how can I cut my turn time for parts, how can I … push maintenance down into lower levels so it does not have to be done at depot?"
USAF is looking at the Autonomic Logistics Information System—ALIS—for ways to make it "more user-friendly and make it to where it's not taking as much time," so jets can be turned more quickly. The Air Force is the service acquisition executive authority for the F-35 as long as its program executive officer is a Navy officer, in keeping with the joint nature of the program.
Across all three aircraft, Bunch said he's working on the supply chain, visiting USAF Sustainment Centers, and looking for ways to adopt "commercial best practices" for maintenance and supply.
"What I'm looking for," he said, is "what are the drivers for us not being able to fly the airplanes? What do I need to invest [in] to improve those areas?" Asked what those investments are, Bunch said "parts … to get them more reliable." Program Executive Officer Vice Adm. Mat Winter recently told Air Force Magazine he's trying to get part repair centers and depots to fix parts faster, so manufacturers can concentrate on production of new parts and not repair of old ones.
Bunch was nominated last year to pin on a fourth star and take over Air Force Materiel Command, but the nomination evaporated with the conclusion of the last Congress. It will be resubmitted in order for the confirmation process to proceed.