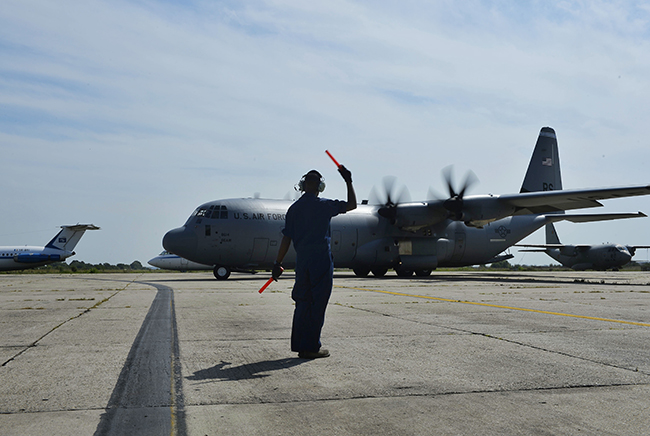 USAF SrA. Roger Thomas, 86th Aircraft Maintenance Squadron crew chief, guides a 37th Airlift Squadron C-130J Super Hercules prior to takeoff during Carpathian Fall 17 at Otopeni AB, Romania, on Aug. 21, 2017. Air Force photo by A1C Joshua Magbanua.
Three C-130J Hercules aircraft and airmen from the 37th Airlift Squadron at Ramstein AB, Germany, are spending two weeks in Romania for this year's Carpathian Fall bilateral training exercise, according to a US Air Forces in Europe-Air Forces Africa release.
The exercise aims to fortify the relationships between the US and Romanian militaries and improve how they work together in combat, USAFE-AFAFRICA spokeswoman Capt. Allie Delury told Air Force Magazine in an Aug. 20 email.
"The training will include low-level tactical mountain flying, container delivery system/low-cost, low-altitude airdrops, assault landings, joint air-to-air operations and personnel airdrops," she wrote. "Our defense relationships with allies like Romania help to maintain joint readiness, enhance our ability to work together, and strengthen our relationships within NATO."
Additional personnel from Ramstein's 86th Airlift Wing and the 435th Contingency Response Group, as well as the Army's 5th Quartermaster Theater Aerial Delivery Company from Rhine Ordnance Barracks in Kaiserslautern, Germany, are also supporting the exercise, USAFE said.
One C-130J assigned to the 86th AW was inspected and cleared for operations as part of an Air Force investigation into atypical cracks on the Lockheed Martin-built platform, Delury said. The service began checking about one-quarter of its 450 C-130s earlier in August for unusual cracks along the lower center wing joints.
Cracks have been found on two C-130s so far: one plane that prompted the wider deep-dive and one plane that was looked at during those subsequent inspections and is now being repaired, according to Air Mobility Command. AMC said 108 C-130s were inspected as of Aug. 20. Another five that are not in depot maintenance will be checked before AMC stops keeping a daily count of those that have completed inspection.
It could take weeks to months for AMC to work through all 131 potentially affected aircraft because 18 are in various stages of depot maintenance that will include the "rainbow fitting" inspection, command spokeswoman Rose Riley said.