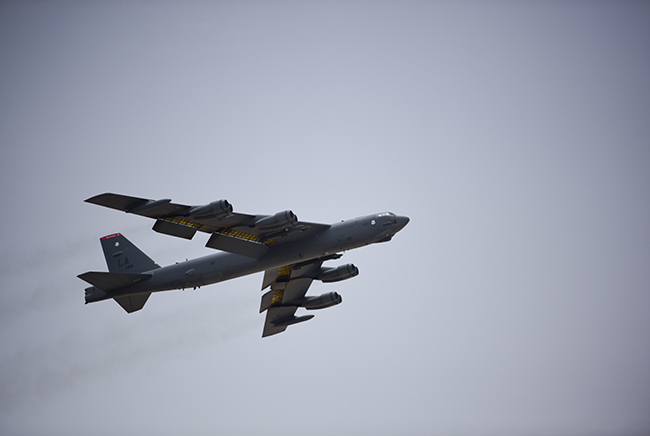 A USAF B-52H Stratofortress aircraft assigned to the 20th Expeditionary Bomb Squadron takes off from Al Udeid Air Base, Qatar, on May 12, 2019. Air Force photo by TSgt. Nichelle Anderson.
A B-52 from the recently deployed Bomber Task Force to the Middle East flew its first mission on May 12, alongside F-15Cs and F-35s to "defend American forces and interests."
Air Forces Central Command posted imagery of the B-52s taking off from Al Udeid AB, Qatar, and the three types of aircraft refueling from a KC-135 over an "undisclosed location" in CENTCOM.
AFCENT did not expand on the mission, saying the "B-52H offers diverse capabilities including the delivery of precision weapons" to support "security and stability."
AFCENT, in an email to Air Force Magazine, would not elaborate on the specific mission but emphasized that the aircraft are flying "deterrence missions in the region," including over the Persian Gulf.
Photographs showed empty bomb pylons under the bomber's wing, along with a targeting pod.
The four bombers deployed to Al Udeid from Barksdale AFB, La., last week in response to "credible" threats from Iran, according to Defense Department and White House officials.
The Pentagon on May 10 also approved the deployment of a Patriot missile defense battery and the amphibious transport dock USS Arlington to the region, in addition to the bombers and the USS Abraham Lincoln Carrier Strike group.
The Pentagon noted in a statement the Defense Department is closely monitoring the Iranian regime.
"The United States does not seek conflict with Iran, but we are postured and ready to defend US forces and interests in the region," according to the statement.