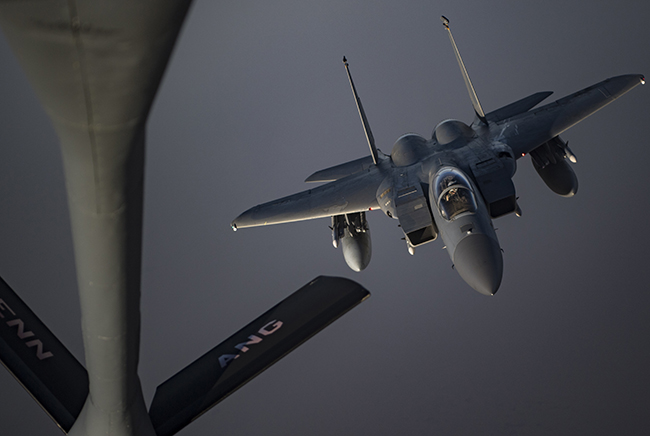 An airman piloting an F-15C Eagle prepares to receive fuel from a KC-135 Stratotanker from the 28th Expeditionary Aerial Refueling Squadron, on May 12, 2019, at an undisclosed location. Air Force photo by SrA. Keifer Bowes.
US and coalition air strikes against ISIS nearly tripled between May and June as the group lingers in Iraq and Syria and ramps up activity in the region, according to the latest figures from Air Forces Central Command.
Blue forces conducted 135 strikes in June before falling to 105 strikes in July—both notable spikes over May's total of 54 strikes, the least of the campaign so far. As of July 31, US and coalition aircraft had conducted nearly 4,000 strikes in 2019.
Intelligence, surveillance, and reconnaissance sorties in support of combat operations—about 7,650 in the first seven months of 2019—have nearly reached last year's overall total of 7,782 sorties. Airdrops this year have already surpassed last year's total, with 881,330 pounds of supplies dropped in 2019 compared to 605,670 pounds in all of 2018.
The Defense Department Inspector General said in a report released earlier this month that between 14,000 and 18,000 ISIS fighters remain in Iraq and Syria and continue to carry out suicide attacks and assassinations. ISIS operations, and the corresponding rise in US actions to counter them, come after a limited withdrawal of US forces in Syria.
Air operations in Afghanistan continued at a high rate as well. US aircraft conducted 613 strikes in July—about the same as they did in May, with a dip to 441 in June, according to AFCENT. American forces carried out 3,700 strikes in that theater in the first seven months of 2019. ISR sorties are also on pace to surpass the 2018 total of 12,716, with 10,180 flown as of July 31.