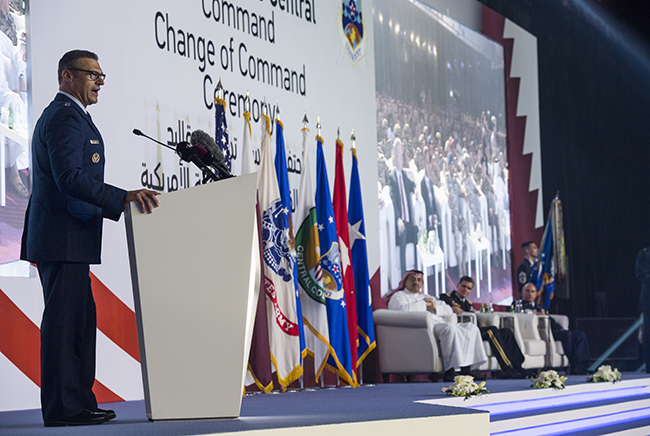 Air Forces Central Command Commander Lt. Gen. Joseph Guastella speaks to attendees during the AFCENT change of command ceremony at Al Udeid AB, Qatar, on Aug. 30, 2018. Air Force photo by SSgt. Keith James.
The Pentagon, building up its ability to identify and respond to nontraditional, faceless attacks on cyber networks, may soon face another similar problem: how to figure out who's behind provocations or outright damage in space.
Lt. Gen. Joseph Guastella, commander of US Air Forces Central Command, said at a Sept. 6 AFA Mitchell Institute breakfast on Capitol Hill that attribution in space will be a growing challenge for the Air Force as the domain—and people's ability to affect it—evolves.
"Whether you're a bad individual or a bad nation, if there's no chance of you being caught doing something, you're pretty emboldened to do it," Guastella said. "Attribution has become kind of the new deterrence. We're going to have to figure out how to attribute actions against our assets and call them out."
The career fighter pilot, now beginning his second year as AFCENT boss, also served as Air Force Space Command's director of integrated air, space, cyberspace, and intelligence, surveillance, and reconnaissance operations from July 2017 to August 2018.
US military missions in wars across the Middle East depend on space-based capabilities, from ISR to GPS to communications. Space allows unmanned aircraft to follow automatically programmed routes and ensures certain munitions hit their coordinates.
The role of space in warfare is evolving around the world, for parties on all sides of a conflict. The US is still figuring out how to define space stability, access, and aggression, as well as its future doctrine and tactics.
Guastella acknowledged that, as space becomes a bigger and different factor in combat, the military paradigm is changing to reflect a world where air, sea, and land forces need to support space operators rather than solely relying on space to support traditional combat.
"Projecting into the future, the value of a terrestrial target or a maritime target, shooting down an airplane has to be weighed against the value of denying an adversary's space capabilities," he said. "I would argue the stock is going up for space targets."
As America improves its own technology, even low-tech adversaries can get savvier as well.
"[Enemies] see us leveraging capability, they'll try to counter it," Guastella told reporters. "If they can affordably counter it, even though they're not a state actor, they will. Bad guys will use space to enable themselves, and we try to stop that from happening."
Most discussions of global space competition focus on the US, China, and Russia. In Guastella's region, non-state actors like the Islamic State and al-Qaida can't currently cause problems for US space assets, the three-star general said. They lack the funding, research strength, and organizational structure of a national government to be able to do real harm.
"The violent extremists are not inconsequential, but they're just not in that game yet," he said.
An established country could still offer funding or assistance to outside groups to help interfere with space assets, whether on the ground or in orbit.
"Iran is definitely funding proxies to try to do us and the coalition harm in any way they can," Guastella said. "Space will be affected. We're staying ahead of them."