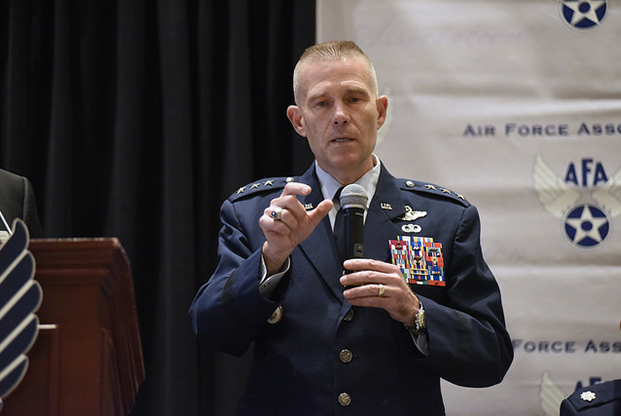 Lt. Gen. Steven Kwast, commander of ?Air Education and Training Command, speaks on a Sept. ?18 panel during AFA's 2018 Air, Space & Cyber Conference in National Harbor, Md. Staff photo by Mike Tsukamoto.
Air Education and Training Command boss Lt. Gen. Steven Kwast said the command is focused on breaking three industrial-age paradigms.
The first, he said, is that time is the constant. In the past it took a year to train a pilot, regardless of their skill level. Kwast said if a pilot can master the skills he needs to do his job in four months instead of 12, he should be able to move to an operational squadron much sooner and begin supporting the fight.
"I want to flip that and say, 'Time is no longer the constant. Competence is a constant,' " he told reporters on Tuesday.
Second, Kwast said the method of learning should be tailored to each student. Rather than the service deciding what students learn, when, and how, students have a say in how that process works. An artificial intelligence coach will be available to guide them along the way, he said, and then a human coach will validate that they can successfully do the job. AETC also is now measuring job performance, rather than how well a student does on an assessment.
Finally, the command is focused on building strategic thinkers, rather than masters of a single task. "We aren't just going to teach you how to fly a T-6, we're going to teach you how to think like a mission commander in pursuit of an objective, a goal," he said. "You happen to use a tool called the T-6 to do that, but that's a very different paradigm than in the past where … if you were good at the T-6 you graduated. We want you to be good as a strategic thinker in the context of the mission."