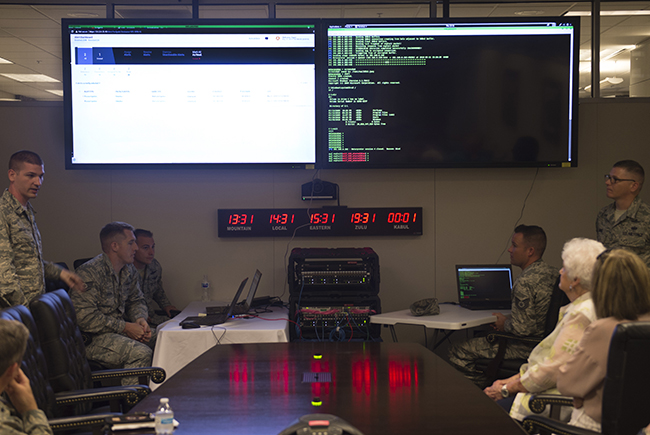 Airmen from the 836th Cyberspace Operations Squadron discuss defensive cyberspace operations during a civic leader tour at JBSA-Lackland, Texas, on May 31, 2018. The civic leaders visited the base with Gen. Mike Holmes, head of Air Combat Command, to introduce them to 24th Air Force's cyberspace mission and 25th Air Force's intelligence, surveillance and reconnaissance mission. Air Force photo by TSgt. R.J. Bierman.
After mulling the change for about three years, the Air Force announced Thursday its two organizations overseeing cyber, intelligence, electronic warfare, and more will merge to create a new numbered Air Force for information warfare.
"The synergy between cyber, [intelligence, surveillance, and reconnaissance], EW, and [information operations] will increase unity of effort across these capabilities, resulting in new and improved options for combatant commanders," the service said in a release. "The integration also better aligns these units with priorities outlined in the 2018 National Defense Strategy and delivers the first 'information warfare' NAF for the Air Force" that "bolsters the Air Force's ability to present electromagnetic spectrum forces and capabilities to execute missions alongside joint and interagency partners."
Last summer, the Air Force said it would hand cyber operations responsibilities from Air Force Space Command to Air Combat Command as a first step toward combining the 24th and 25th Air Forces. 24AF oversees cyber warfighting, and 25AF handles ISR, EW, and related fields.
ACC is planning an activation ceremony at JBSA-Lackland, Texas, where both existing NAFs are located, but hasn't finalized details about the organizational structure. However, the command has been quietly reorganizing while it worked out the finer points of the merger and awaited approval.
The merger, which senior leaders have discussed at the high-level, biannual Corona summit, signals a recognition that the Air Force needs to leverage certain capabilities in new ways—including integrating them more closely—to succeed in multidomain operations. An information warfare NAF also mirrors restructuring underway at service headquarters, where Lt. Gen. VeraLinn Jamieson, deputy chief of staff for ISR, was nominated in February to oversee a new "ISR and Cyber Effects Operations" branch.
As the military learns to fight in the digital age, it is tweaking how it organizes, trains, and equips those forces. Bringing mission sets closer together is intended to wield their combined information-centric capabilities more effectively.
In the same vein, the Air Force recently completed a yearlong enterprise study of EW to determine what policy, operational, and technology changes are needed to dominate the electromagnetic spectrum in the decades to come.