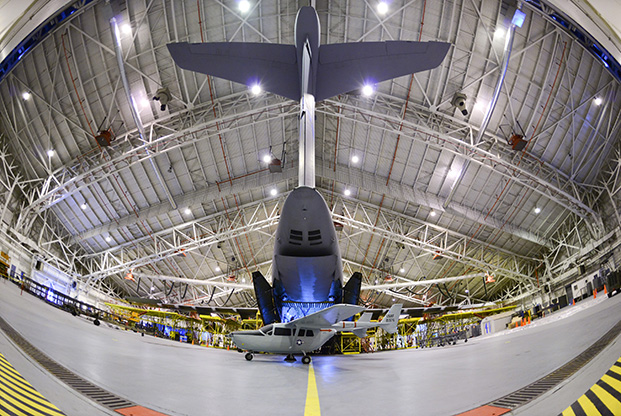 October 2018 marks the close of the 105th Airlift Wing's C-5M Refurbishment Program, which overhauled the interiors of USAF's newly-minted Super Galaxy aircraft for aesthetic and safety reasons. Air National Guard photo by TSgt. Michael OHalloran.
Lockheed Martin delivered its 52nd and final C-5M Super Galaxy aircraft to the Air Force in August, marking the end of a multi-year modernization process that transformed C-5 Galaxy aircraft into state-of-the-art strategic lift assets with operational lifespans slated to stretch into the 2040s. But even after Lockheed handed them off to USAF, the workhorses still had a ways to go before they were fit to carry troops and cargo.
That's where the New York Air National Guard's 105th Airlift Wing stepped in.
The reinvented aircraft boasted improved range, payload weight, and fuel efficiency while reducing dependence on tankers and possessing the capability to carry "100 percent of DOD air-certified cargo," according to the company.
Despite Lockheed's engineering improvements, the aircrafts' interiors still needed some work, members and alumni of the C-5M refurbishment program team from the Newburgh, N.Y.-based Stewart Air National Guard Base, told Air Force Magazine.
"You know, the big Air Force is spending millions and millions of dollars—new engines, avionics upgrades, all that kind of stuff—but then, at the end of the day, it looked like something that would be … on a used-car lot," said Capt. Paul Gonzalez, the program's officer-in-charge.
Members of the 105th Airlift Wing's C-5M refurbishment team work on the interior of a modernized USAF C-5M Super Galaxy aircraft. 105th Airlift Wing courtesy photo.
DON'T JUDGE A BOOK BY ITS COVER
While they were "mechanically in fantastic shape," the Super Galaxies "were kind of suffering in multiple areas throughout the aircraft," including—but not limited to—the flight deck and cargo compartment, he explained. Gonzalez compared the average aircraft they received to work on to "an old city bus," saying his team's job was to make these aircraft look worthy of the funds USAF poured into modernizing them in the first place.
Gonzalez said the team proverbially tore each aircraft's interior "down to the studs," then repainted, recleaned, and reassembled it. In addition to making over (and, in some cases, replacing) each aircraft's interior panels, the team overhauled tables, spiffed up crew and passenger seating, and applied decals, according to a PowerPoint presentation about the process that was shared with Air Force Magazine.
But the work wasn't purely aesthetic. In addition to manufacturing replacement aircraft panels in-house because they were no longer on the commercial market, the team's tasking included the removal and reapplication of non-skid material to the aircrafts' cargo area and ramps for the sake of safety.
All-in-all, each aircraft took 40 days to refurbish.
Refurbishment team members said the endeavor was all about "pride of ownership." But MSgt. Sara Pastorello, the wing's public affairs superintendent, said the aesthetic overhaul was about more than making the aircraft look expensive. It was also about giving airmen the confidence to trust the aircraft from a structural-integrity perspective.
"Even if you have the brand-new interior of a house, if the outside's falling apart, you're still not gonna feel comfortable in that house," she said.
SAVING MAINTAINERS
Stewart itself "converted from C-5 to C-17" aircraft around 2011, resulting in the loss of approximately 200 full-time maintenance jobs because of the C-17's smaller "maintenance footprint," Capt. Patrick Gillen, the program's former commander, said in a phone interview.
"Upper management at the time was extremely concerned about the well-being" of airmen whose jobs were at risk, especially since many of them had families to support, added retired SMSgt. Robert Pritchard, a former inspections supervisor in the program, in a phone interview.
So, while they initially thought the C-5M refurbishment effort would occur in the course of routine aircraft inspections and most likely land in the hands of a Reserve unit, Gillen said, once they realized that so many in-house jobs were on the chopping block, the 105th team decided to vie to take over the project.
"It gave them the opportunity to attempt to fulfill some of those livelihoods, and that's what we took to heart," Pritchard said.
Gillen said saving the jobs of 40 maintainers was likely his proudest achievement from the refurbishment process "from a unit perspective." While the refurbishment team started with this core group of home-base maintainers, through strategic partnerships with other installations and industry, alike, it grew into what 105th Airlift Wing Commander Col. Denise M. Donnell called "truly a Total Force team." These partnerships included help with tables from Travis AFB, Calif., with decals from Westover ARB, Mass., with seats from Dover AFB, Del., and with panels from JBSA-Lackland, Texas. Each of the locations would eventually become home to the newly refurbished Super Galaxies.
Former Air Mobility Command chief Gen. Carlton Everhart speaks with 105th Airlift Wing airmen during a August 2016 visit to Stewart Air National Guard Base in Newburgh, N.Y. Air Force photo by TSgt. Lee Guagenti.
WHAT COMES NEXT
This month marks the conclusion of the eight-year program. In total, the Stewart team refurbished 49 of the 52 modernized Super Galaxies, shrunk its maintainer-team size from 50 to 30 through efficiency- and effectiveness-driven procedural tweaks and customer communication, and saved the Air Force $45.5 million in costs.
Donnell said she believed the recipe for success at Stewart was aircraft expertise and experience, being innovation- and teamwork-minded, and consistently searching for ways to improve the refurbishment process.
One such improvement was the use of what the wing calls a "Wixon Wash" process to clean and strip aircraft panels that had to be painted, replacing costly, hazardous chemicals with boiling water, and cutting both refurbishment costs and health risks to maintainers.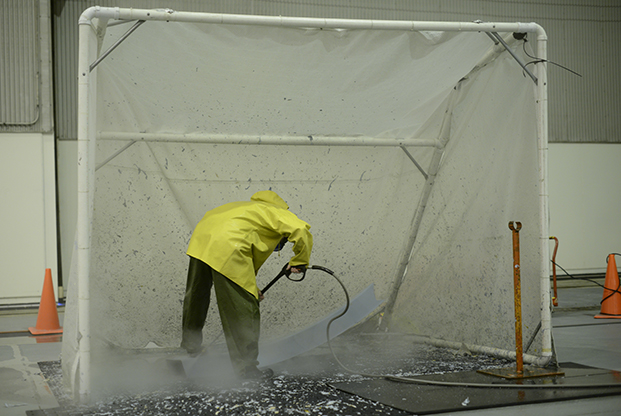 A member of the 105th Airlift Wing C5M refurbishment team uses the Wixon Wash process to strip paint off of an aircraft component so that it can be repainted. 105th Airlift Wing courtesy photo.
With the wing's C-17 mission still going strong, the next question is whether the 105th will step up to take on the refurbishment of that fleet, including its own nine aircraft, when the time comes.
And, Donnell said it's a question the unit has already considered.
She said the wing has already attempted "a soft-sell, so to speak" of its aircraft-refurbishment capabilities to Air Mobility Command in the past, explaining that it's "very open to whatever possibilities might be out there if the Air Force has the need for C-17 refurbishment in the future."
"We're up for the challenge," she said. "Bring it on."