The 374th Airlift Wing at Japan's Yokota Air Base held its annual Beverly Morning 24-1 training exercise starting Oct. 16, focusing on its ability to rapidly respond to threats and deploy in less-than-ideal conditions across the Indo-Pacific.
"Beverly Morning makes certain we can execute our tactical airlift mission under pressure," Col. Andrew Roddan, 374th AW commander, said in a statement.
As part of the exercise, aircraft at the base swiftly launched after simulated missile attack warnings, using the principles and procedures of what the 374th FW calls the "Launch to Survive" concept.
"'Launch to Survive' ensures that aircrews remain poised to respond rapidly, positioned in close proximity to the airfield around the clock," a release stated. "This state of readiness guarantees that Yokota's aircraft can be generated to depart the base at a moment's notice, effectively safeguarding valuable Air Force assets from potential harm."
Simultaneously, Airmen conducted Rapid Airfield Damage Repair to practice keeping airfield operations going during conflicts or challenging conditions.
The training also involved multiple C-130J Super Hercules aircraft launching and landing on the base's Foxtrot taxiway instead of its runway. The exercise demonstrated the Airmen's proficiency in executing precise landings on short, narrow, crowded, or unmarked land.
This is the second time in recorded history Airmen at Yokota have performed successful landings on the taxiway, the first time being in 2020.
"We can establish landing zones anywhere that meets our requirements when a conventional runway isn't available or accessible," said Tech. Sgt. Ryan Rathke, 374th OSS airfield management specialist.
Such an ability is crucial for the Air Force's concept of Agile Combat Employment, in which aircraft have to be able to operate from remote or austere locations, sometimes with limited space and resources.
Yokota's Foxtrot taxiway originally served the legacy C-130H models from 1991 to 2001. After that, they switched to operate on the main runway's permanent hard surface.
U.S. Air Force and Japan Air Self-Defense Force Airmen also assisted in a unit relocation mission involving MQ-9 Reapers from the 319th Expeditionary Reconnaissance Squadron shifting from Japan Maritime Self-Defense Force Kanoya Air Base to Kadena Air Base.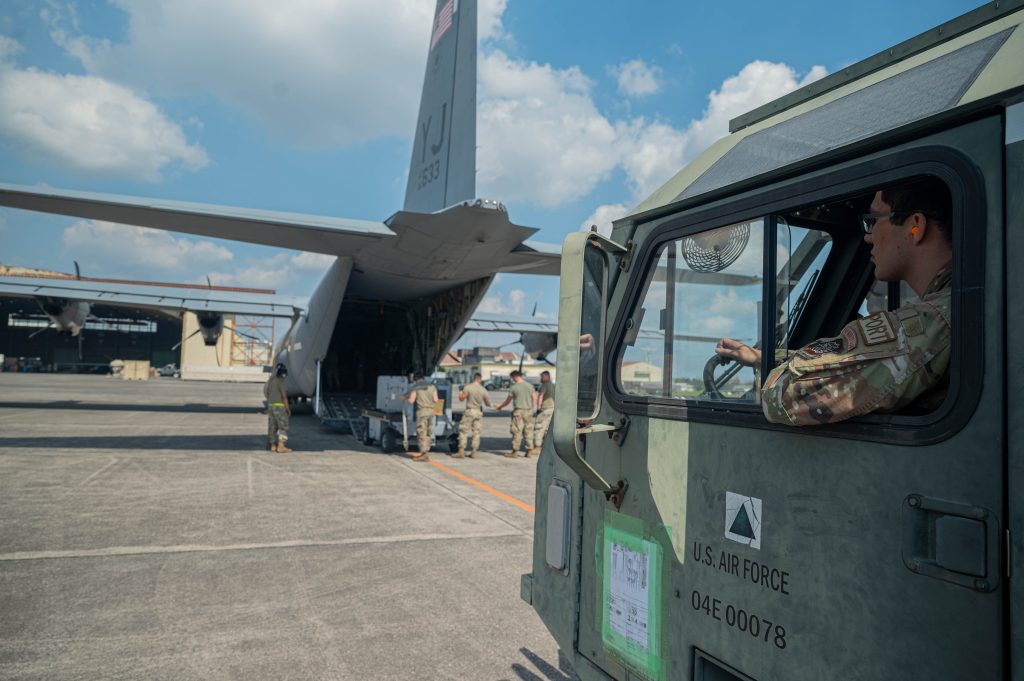 This relocation, incorporated into the exercise, is to enhance regional intelligence, surveillance, and reconnaissance (ISR) capabilities.
Airmen also conducted drills in response to simulated events like a false credential alarm, an aeromedical evacuation, and a mass casualty scenario to practice response procedures.
Maj. Jason Tingstrom, the 374th AW inspector general, said Yokota Airmen's performance garnered commendable feedback.
"We've placed them in a difficult scenario, but their performance thus far tells me that Yokota will be ready to meet whatever challenges the future holds," Tingstrom said in a statement
The exercise's focus on training Airmen for base readiness, crisis communication, and contingency operations aligns with Pacific Air Forces commander Gen. Kenneth Wilsbach's priorities. He has stated that "not one person is excused from being an ACE Airman" in PACAF, and he recently released an updated "PACAF 2030" strategy.
The strategy emphasizes the need for the command to swiftly respond to crises, enhancing theater posture against demanding circumstances.
In addition to environmental challenges, natural disasters, and global health crises that can intensify regional security concerns, the strategy underlines how the authoritarian leaders from China, Russia, and North Korea jeopardize regional security by "threatening or waging wars of aggression."
The People's Liberation Army, in particular, is rapidly modernizing its weapon systems and fielding new all-domain capabilities to transform into a force on par with the U.S. military.