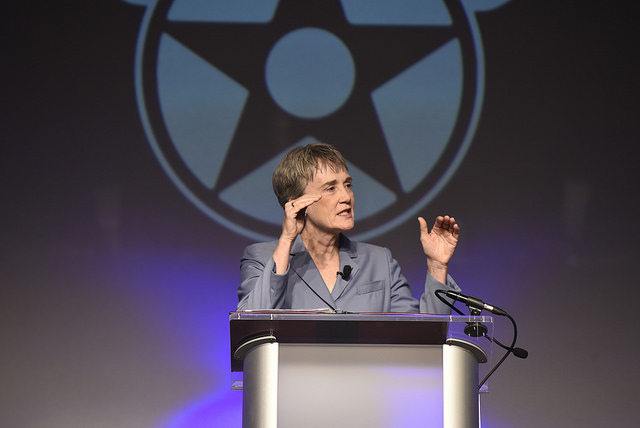 Secretary of the Air Force Heather Wilson addresses the standing room only crowd at the Air Force Association's Air Warfare Symposium on Feb. 22, 2018, in Orlando, Fla. Air Force Magazine photo by Mike Tsukamoto.
The Air Force's plan to not recapitalize its E-8C Joint STARS fleet may face a tough road with a skeptical Congress, but the service thinks it has a convincing argument.
If the service is required to buy a new battle management plane, it will not be able to do the battle management mission simply because that new plane would not survive a fight with a country like Russia or China, Air Force Secretary Heather Wilson said at AWS18.
"If that's the solution, it won't survive," she said.
The Air Force, in its Fiscal 2019 budget request, plans to end the recapitalization of its JSTARS fleet and move toward an integrated battle management system, with more ground-based operators working with air, sea, and space-based sensors. In the near term, the Air Force will buy back seven E-3 Sentry AWACS and keep some JSTARS flying through the mid-2020s.
In the meantime, the Air Force would develop a new way for battle managers to work, with more integrated sensors and communication systems on aircraft such as MQ-9 Reapers and RQ-4 Global Hawks.
"We think we presented something that can help us in a highly contested environment," Wilson said.
This plan, however, has already met resistance on Capitol Hill. During a Feb. 14 hearing on Air Force posture, Rep. Austin Scott (R-Ga.) said the plan is a "mistake" because of the ongoing need for intelligence, surveillance, and reconnaissance.
Wilson said the Air Force is still in the early planning, with more "detailed planning" to come. The service is still committed to the mission, but there is a need to "change the way we do things."