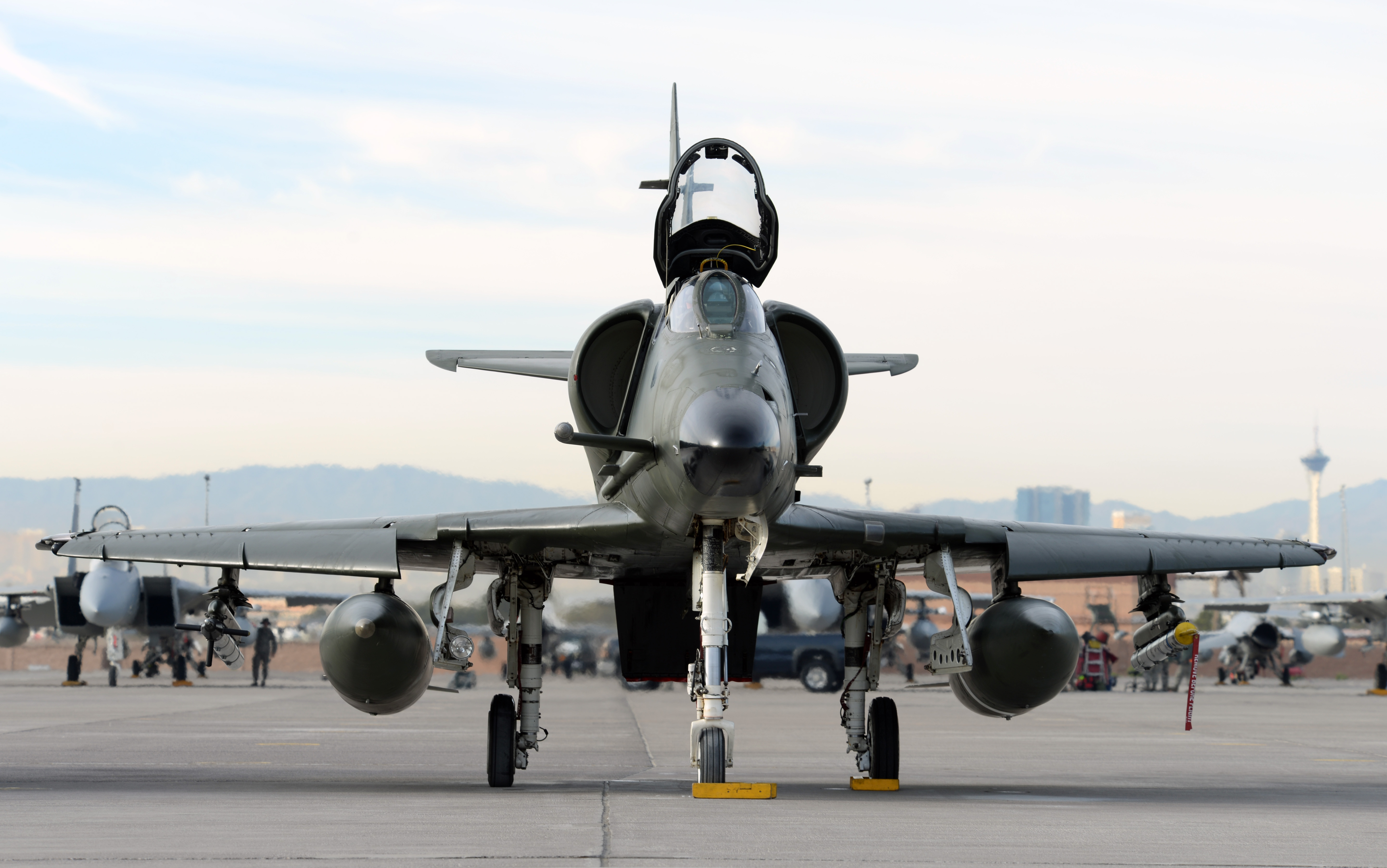 The Air Force intends to contract out an additional 5,600 hours of adversary air at Nellis AFB, Nev. Draken International, shown here with its A-4 Skyhawk at Nellis, is the only commercial company to fly Red Air for the US Air Force. Air Force photo by Airman 1st Class Rachel Loftis
The Air Force is moving forward with plans to contract out up to 5,600 flying hours of realistic advanced adversary air threats at Nellis AFB, Nev.
The multi-award contract will be worth a maximum of $280 million for one base year, with four option years. It is part of the service's overall effort to free up aircraft and airmen for operational missions while meeting the growing demand for Red Air at the US Weapons School at Nellis and in major exercises such as Red Flag.
The 57th Adversary Tactics Group and the 99th Contracting Squadron will host an industry day at Nellis on Wednesday to discuss newly released requirements.
The Air Force does not specify what is the best platform for the job, but ideally it wants an aircraft capable of flying one and half times the speed of sound, or Mach 1.5, with a service ceiling of 35,000 feet, and a 45-60 minute fight endurance. Aircraft must be equipped with fire control radar capable of detecting, tracking, and simulating "ordnance employment against an opposing aircraft," and have the ability to "replicate semi-active missiles out to a range of 20 [nautical miles], and active missiles out to a range of 45NM," according to requirements document posted online last week.
Within a month of contract award, the service expects the contractor to be able to fly as many as 22 sorties a day, with each sortie averaging about 90 minutes. "Tactical profiles may include Beyond Visual Range engagements, operational test support, dissimilar air combat maneuvers, offensive and defensive within visual range maneuvers, multi-ship tactics, and merges and flight," according to the document.
Contractors will provide their own aircraft, pilots, aircraft maintenance, required support equipment, and quality assurance/quality control, while the Air Force will provide parking and hangar space.
Industry has been aggressively building up its fleet over the last year in anticipation of the contract. Draken International is the only commercial company currently providing aggressor air at Nellis. It recently announced the acquisition of 12 South African Atlas-made Cheetah supersonic fighters, bringing its total fleet to 109 jets.
In September, Textron Airborne Solutions acquired 63 Mirage F1 aircraft formerly owned by the French Air Force, making it the "world's largest private supersonic air force," said Jeffrey Parker, chief executive officer of the Airborne Tactical Advantage Company (ATAC), which was bought by Textron last year.
And, Tactical Air Support recently procured 21 Jordanian F-5s, bringing its total fleet to 26.
"In a perfect world, we'd have enough resources to maintain the aggressor squadrons we used to have and bring [this training] in house," Air Combat Command boss Gen. Mike Holmes told reporters in September at AFA's Air, Space & Cyber Conference. However, budget constraints have forced the service to shut down two of its four aggressor squadrons and demand for Red Air has not decreased.
"Our take is the next best thing is to see if we can contract some portion of that Red Air out. … Why spend valuable training sorties being a training aid for somebody else if we can bring on contract Red Air and not only get dedicated people to train against but also reduce the amount of time for our guys?" added Holmes.