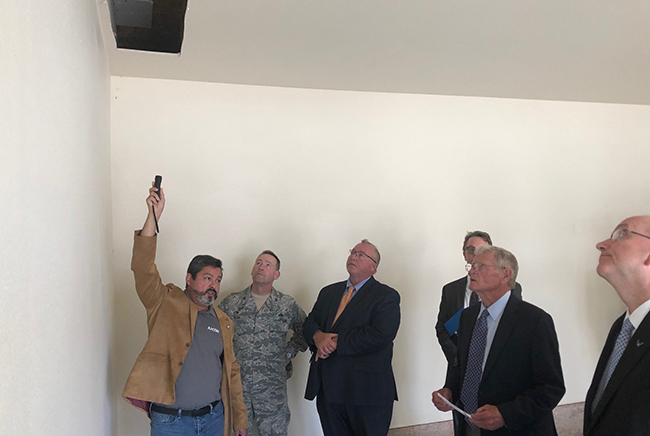 Air Force officials tour military housing at Tinker AFB, Okla., with Senate Armed Services Committee Chairman Sen. Jim Inhofe (R-Okla.) on Oct. 1, 2019. Photo courtesy of the Office of Sen. Jim Inhofe.
John Henderson, the Air Force's assistant secretary for installations, environment, and energy, raised concerns about military housing provider Balfour Beatty Communities in a Sept. 30 letter to the company, saying Tinker AFB, Okla., is suffering from newly discovered issues in on-base homes.
"The Air Force recently discovered an issue at Tinker AFB caused by a flooring subcontractor failing to test for asbestos as required prior to disturbing floor tiles in occupied homes," Henderson wrote to Balfour Beatty. "This follows upon the earlier discovery in July of 2019 that BBC failed to construct firewalls as required in certain duplex housing units at Tinker AFB."
Henderson, Acting Air Force Secretary Matt Donovan, and Senate Armed Services Committee Chairman Jim Inhofe (R-Okla.) visited Tinker's Balfour Beatty-managed homes on Oct. 1. The company oversees 21 USAF housing sites.
All 292 duplex units built by Balfour Beatty at Tinker need repairs, including 77 units that do not meet fire safety code, according to Inhofe's office. Homes also suffer from mold, rodents, pests, radon gas, and other structural deficits, Inhofe's office said in an Oct. 2 release.
"Seven months ago, Balfour Beatty testified in front of the Senate Armed Services Committee that they would move quickly to address systemic issues. They have not," Inhofe said in the release. "We put them on notice then, and now they have been put on notice by the Air Force that they have 90 days to fix these problems."
The real-estate company must submit a performance improvement plan, including a schedule and milestones for remedying "unacceptable" failures, for Air Force approval by the end of 2019 to ensure airmen have safe and healthy living conditions, according to the service.
Balfour Beatty is also working with the Air Force Civil Engineer Center on an audit of its maintenance and work order management, plus an internal review of its top-level oversight and quality control, Henderson wrote.
Even though the company is addressing the problems, Henderson said further action is still on the table if it doesn't make progress on a "growing list of serious construction, maintenance, repair, management, and oversight performance failures."
"Unless the Air Force sees prompt and substantial improvement in BBC's performance at all 21 housing privatization project sites, and specifically Tinker Air Force Base, we intend to initiate formal action under the dispute provisions of the project documents for certain BBC projects where serious performance failures have not been resolved or continue to arise," Henderson wrote.
The Air Force also held a quarterly meeting with privatized housing project owners Oct. 2 to discuss five ongoing lines of effort to address housing quality reforms. A release noted that Tinker is one base that has hired additional personnel to provide more oversight of management and residents' complaints, among several bases to do so. Seven positions were filled at Tinker and MacDill AFB, Fla., the service said.